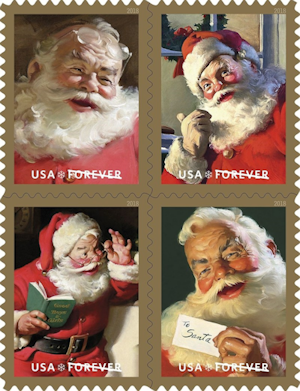 The United States Postal Service announced today the first of their new holiday stamps for 2018, this year featuring the traditional images of Santa Claus as envisioned by Haddon Sundblom. The images were an effective marketing campaign by the Coca Cola Company, who has long used the image of Santa Claus in combination with their traditional red and white colors to advertise during the holiday season.
The stamps — sure to be as popular as the Charlie Brown Christmas stamps of 2015 — will be issued as Forever Stamps and will likely be released in early October in concert with other yet-to-be-reveal Christmas and holiday designs.
The artist, known as "Sunny" to his friends, was commission by Coke in 1931 to use Santa's image in Coke advertisements. The company wanted a less strict, more relaxed Santa, who of course would turn to Coke in his travels as a way to refresh himself.
The campaigns not only established Coke as a formiddable national brand it advanced the unified image of Santa Claus as an older, larger and jollier man than depicted from the century before. Today just about anyone portraying Santa Claus in person, on stage or in film is more apt to look like the Coke salesman than the traditional, benovolent figure of Saint Nicholas.
In the beginning, Sundblom painted the image of Santa using a live model — his friend Lou Prentiss, a retired salesman. When Prentiss passed away, Sundblom used himself as a model, painting while looking into a mirror. Finally, he began relying on photographs to create the image of Coke's Santa.
The images have been beloved for generations.
People paid such close attention to them that when anything changed, they sent letters to The Coca-Cola Company to complain.
One year, Santa's large belt was backwards (perhaps because Sundblom was painting via a mirror). Another year, Santa Claus appeared without a wedding ring, causing fans to write asking what happened to Mrs. Claus.
The images of Santa inspired by Sundblom have in turn inspired creators of Christmas fantasy — everyone from television's Santas in Rudolph the Red Nosed Reindeer to Tim Allen's The Santa Clause — all have shades of Sundblom's vision of The Big Guy.
Plan to get to the post office early — or order heavily online in advance — to get a piece of this year's historic collection. It is sure to be a huge seller and the preference for anyone sending out traditional Christmas cards.