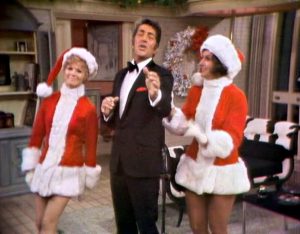 It's a Marshmallow World was introduced by Bing Crosby, of course, way back in 1950. It was a golden era for new Christmas music and Bing cranked them out better than anyone.
It was a hit, but a minor one for Crosby, at least compared to his other Christmas tunes.
The song was covered by several artists over the next several years but it never found its lasting identity until Dean Martin recorded it in 1966 as part of The Dean Martin Christmas Album.
Funny thing is it wasn't hit for Martin at the time.
The album did well — as did the four other albums Martin released in 1966 (who does four albums in a year anymore?).
Despite the British Invasion and the emerging era of Rock 'n Roll Martin was one of the hottest artists of 1966.
But this song, A Marshmallow World, was yet to become the Christmas classic as many think of it today.
It is one of those rare songs that depends on a variety of media — mostly television — to support it as a Christmas classic.
This clip, from Martin's 1968 Christmas television special, showcases one of the reasons why the song is so fondly remembered.
Here he is in classic Dino form — cigarette in hand, a girl on each arm, and horsing around with a poor performance so signature in nature it is a classic in its own right:
You cannot watch that clip and not enjoy Martin or the kind of Christmas he represents. It is just fun.
Martin was an actor, a singer and a comedian — and completely natural and unapologetic in front of a camera and an audience.
He possessed rare qualities as an entertainer that few stars of today duplicate.
In terms of Christmas music, Martin is a wonder. He lacks the overall dollar sales of Crosby, Como, Sinatra and Williams — yet his Christmas tunes are considered every bit the lasting classics that theirs are.
For a song first made famous by Crosby it is something poetic that it is best remembered as coming from Dean Martin.

Long-time Christmas freak, first time expert. B. Francis Morlan has written for MyMerryChristmas.com since 2013. He lives in Beaumont, Texas with his ...