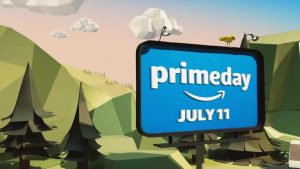 The Internet has changed so many things when it comes to how we spend money. Amazon hopes that is true as it touts Prime Day, the third year in a row of what they are hoping is an annual shopping event that rivals Black Friday.
That is their hope, but it will never be their reality.
But for the savvy Christmas shopper – even a very forward thinking Christmas shopper – Prime Day can indeed become part of great Christmas in July celebrations.
It begins by understanding what Prime Day really is and what it is not:
1. It's a clearance sale
Amazon is no different than any other retailer in the history of time.
July is a dead sales period. It is a time of vacations, travel, and activity that doesn't really include heavy shopping. There are no real reasons for people to buy right now – no pending holidays, no huge must-have-stuff events.
Amazon, like other retailers, sees July as a ding in their year. It is a period when the sales don't come in and like other retailers that means they have to make something happen.
This is why you have seen retailers holding sidewalk sales and Christmas-in-July promotions through out history. These are not necessary events for anyone but the retailer.
The same is true about Prime Day. It's not about Prime Members – it is about Amazon GETTING more Prime Members. And, like other retailers, it is a time for clearing out a bunch of stuff to make way for the piles of stuff it is sure to sell in the months ahead.
2. Just as Black Friday doesn't kick off Christmas shopping, Prime Day isn't Black Friday either
Amazon hypes it as an event as big as Black Friday. And that's all it is – hype.
You're not missing anything if you miss Prime Day.
Black Friday is Black Friday because what else are you going to do on a cold weekend in November with Christmas staring you down in 30 days?
There isn't that need or that urgency here – unless YOU create it. And…you might. See below.
3. Ya Gotta Know What You Want
The value in Amazon Prime Day may be in buying something you are not sure you want or need. For example, if you've been on the fence about getting an Amazon Alexa maybe Prime Day will change your mind.
And that is because Prime Day allows you to get Alexa at a discount…for the first time since last Black Friday. And it will likely be the last time it goes on sale before the next Black Friday.
So if you know what you want maybe Prime Day will be some fun for you.
But it won't rival Black Friday because, obviously, you don't have those kinds of needs right now.
4. Don't Buy Christmas Decorations on Prime Day
While Prime Day to Amazon will definitely mean clearing out the old to bring in the new and there will be a few bargains to be had there are some things you should definitely avoid on Prime Day. Anything related to Christmas décor should be avoided on Prime Day.
Why?
Because that peak season is just ramping up. The time to buy Christmas decorations at a discount is January – even on Amazon.
The Christmas lights, Christmas trees, and Christmas kitsch Amazon might be hawking this Prime Day isn't old stuff, it's new.
And that means they have to make a profit on it. Avoid.
5. To Prime or Not to Prime – that is the question!
The best value on Prime Day may be Prime itself.
It costs $99 a year for the benefit of calling yourself an Amazon Prime customer. A lot of people think that is a small price to pay for lots of movies and music downloads that "free" with Prime plus 2-day shipping on most other things they buy on Amazon.
But if you're not a big shopper online or don't value Amazon's way of dealing movies and music…that $99 is a major stumbling block.
For Prime Day you can lower that cost by $20 – and that might be enough to convince you to go Prime.
But just remember — go to the Amazon page dedicated to Prime Day 2017.
Just try to count how many times they mention the words "Amazon" and "Prime" on that day.
That's what it is all about, kids.
Last year Amazon Prime Day was the biggest day of business the retailer ever had up to that point. In other words, the retail gamesmanship worked. And they will go all out to top it this year.
Will that mean good deals for you?
Well, that depends on you.

Father of 7, Grandfather of 7, husband of 1. Freelance writer, Major League baseball geek, aspiring Family Historian.