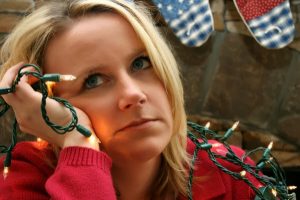 The post-Christmas blues are a very real thing. Once the date of December 25th has passed the specter of December 26th is an ominous marker to many.
It sits there on the calendar like the Ghost of Christmas Yet-to-Come. Silent and foreboding, the very image of the hooded Angel of Death it seems to be.
And why not?
Just about anywhere you look Americans are tossing trees to the curb, ripping down lights from rooftops and radio stations are flipping back to everyday music.
What took months to build gets deconstructed in a matter of a couple of days.
It does not have to be like this.
You do not have to take down your tree.
You do not have to kill your lights.
You do not have to turn off your music.
You can, instead, stand up to the madness around you and let Christmas linger a little longer.
The secret to avoiding the post-Christmas blues is deconstructing it much the way you built it in the first place.
For me, Christmas often gets started in July. It is easy then, in the heat of summer, to imagine the frosty glow of our Christmas windows, the frothy foam of our cocoa, and the homey warmth of the decorated tree. Of course, we can't GET those things in July…but it's fun to think of them as we sit in a darkened room and watch Christmas movies when it is blazing outside.
This is classic, hardcore denial. And it is good for you.
What's good for you in the heat of summer is good for you in the bitter basement of winter. You can deny Christmas is leaving in December just as you can deny it's not here in July.
Leave the lights up, on and annoying everyone around you. There's nothing bluesy about that. That is called self-preservation and you need not apologize for it.
Recognize that as Americans we have been doing Christmas wrong for many, many years.
The 12 Days of Christmas do not end on Christmas. That's when they begin!
Granted, the 12 Days of Christmas are not viewed as valued in the secular America because the 12 Days are filled with religious significance. Embrace that, don't shy away from it.
You might be amazed at how ready you will be to let Christmas go when you celebrate it for 12 days instead of just for one.
How do you do it?
Clean up, but don't take down. – Of course it isn't going to look the same after the fun of Christmas morning. It doesn't have to look the same. It just has to look like Christmas. Unless your tree is a fire hazard there is nothing wrong with delaying in taking it down. In most areas, the dark of winter justifies the light of Christmas.
Don't stop giving. – Part of what makes Christmas fun are the surprises. They don't have to stop. They don't have to be huge, either. In some homes, Santa stops by again on his way back to the North Pole. But often he finds things on clearance (usually Christmas related stuff) that look pretty festive wrapped up and under the tree for opening on New Year's Day. Sometimes it is a prank gift, or a white elephant gift or whatever. We're not talking about making a big production of things. Just don't stop the surprises.
Keep the culture flowing. – For many the wonderful nature of Christmas comes from surrounding ourselves with art, music, movies and books that never seem to be matched by activities through-out the year. If you missed something, watch it between Christmas and New Year's Day …or even after. This is also a great time to not only embrace the tried-and-true but also a time to see or experience something new. You might find a new tradition if you explore culture elements of the season you previously have ignored.
Lose yourself. – Stop thinking about yourself and think of others! Is there someone more sad that you are? Make their day! Is there somehow you can serve? Is there some way to make someone else's day brighter? You'll be amazed at how fast your blues will slip away the minute you think of someone else.
Plan your closure. – Chances are there was a method to your Christmas madness and that it did not just spontaneously combust in your living room. Many put their lights up in October, pull their tree out in November and rock it all in December. Why not take it down slowly? Make a plan. There is no rush.
Look forward. – Planning for next Christmas should happen now. Take inventory of what makes you feel good. Think about what went right, what went wrong and what you can do different the next time around. Write it down. Put dates on the calendar. Begin the process of the delicious anticipation of Christmas by actually giving yourself something to anticipate!
Find something new. – Many complain there isn't enough time to do everything that there is to do at Christmas. Events are missed and stuff you might want to do but can't because of time constraints are just a natural part of the season. It is quite easy to look back at what happened this year that you missed – and plan NOT to miss it next time around.
The Christmas blues are real enough, yes, but they are a choice. You can act or be acted upon. It's up to you.
There's nothing wrong with hanging on.

Long-time Christmas freak, first time expert. B. Francis Morlan has written for MyMerryChristmas.com since 2013. He lives in Beaumont, Texas with his ...