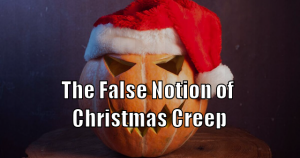 A new survey is making the rounds on news media today that declares a large percentage of people begin holiday activities much earlier than thought. According to Minted, 43 percent of Americans think it's suitable to put up holiday decorations before November 1.
The poll of 2,000 Americans discovered people start their holiday preparations pretty early in the year.
In fact, over half (57 percent) of those studied revealed they start their holiday shopping before the first day of November. And eight in 10 begin preparing for the holidays well before the autumn leaves begin to change — between January and August.
A study commissioned by Minted examined the holiday spirit and holiday habits of 2,000 subjects, and uncovered that three in 10 have no problem seeing holiday decorations displayed in stores before Halloween or Thanksgiving.
This flies in the face of a constant narrative put out by the media for more than a decade about what they call "Christmas Creep". It has become an annual media tradition to call out Christmas creep by highlighting retails who put holiday items on sale as early as August.
Some retailers have even jumped on the Christmas Creep bandwagon. Most recently, eBay came out against early holiday advertising…all in hopes of driving their Christmas sales. (Seriously. Read this.)
While the idea of Christmas creep has burned brightly with the media and even some uppity retailers it has not caught on with the general public. (Target famously took aim at Christmas creep in 2017, while Nordstrom annually draws praise for covering their windows with brown paper the week of Thanksgiving because they "like to take their holidays one at a time")
Another seeming nod to Christmas creep is the growing number of retailers who "refuse" to open for sales on Thanksgiving Day.
Of course, none of them close their websites on Thanksgiving Day and most use the day to promote Christmas sales. But what's a little hypocrisy among friends, eh?
The folks at DefendChristmas.com have been rallying behind the hoax of Christmas Creep for years. They do not deny that Christmas is promoted early. They just claim that people out there just don't care.
Perhaps this new survey by Minted will give the media pause – or perhaps convince them that whatever a retailer advertises or stocks doesn't really matter to anyone.
If it sells – and apparently it does – retailers are going to do it.
That doesn't make Christmas itself guilty of anything. It just means that people think of and enjoy Christmas related activities even when it isn't Christmas.
There's nothing wrong with that.

Father of 7, Grandfather of 7, husband of 1. Freelance writer, Major League baseball geek, aspiring Family Historian.