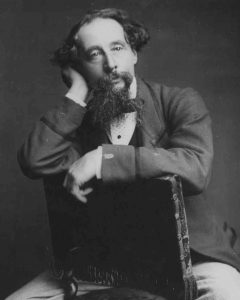 Over the years we have openly mused in dicussion on the Merry Forums — who would we put in a Christmas Hall of Fame?
We no longer need to wonder about that question. We can now do something about it.
We can approach all the great debates of Christmas and settle them: Who played the best Scrooge? Which is more important, the Angel or the Star? Is Die Hard a Christmas movie?
There are individuals we could honor, if only to keep them in the memory of a rising generation that scoffs at all history. People like Clement Clark Moore, Martin Luther, and Washington Irving could actually be remembered.
Others of legend such as Jesus Christ, Nicholas of Myra, and Charles Dickens could be immortalized forever as their names and stories are engraven on cyber-memorials.
We would not have to stop at people, either. We could honor almost anything associated with Christmas that we love. Movies. Music. Places. We could even set aside the can't miss stuff of Christmas: decor, symbols, and food. There is simply no limit to how a Christmas Hall of Fame could define Christmas now and forever for everyone.
The Christmas Hall of Fame is now a reality – and one year from now, on Thanksgiving Day, 2020 – the Christmas Hall of Fame will announce its first inductees.
We have one full year to put ten names to a vote. Some will make it, others may not. You, the fans of Christmas, get to decide that.
You also get to decide the next voting class for the Christmas Hall of Fame by making your recommendations for who, what, and where that should be nominated to vote on next.
We are asking that the voting be as wide spread as possible. We want as many websites, podcasts and Christmas venues as possible to spread the word and bring in voters. In order to make this a successful and serious effort we need the votes of millions. Everyone needs to be heard.
What's great about a Christmas Hall of Fame is that we take the debates and conversations of Christmas to the next level. We push to the forefront every Christmas season those people, places and things about Christmas that we love the most.
Thanksgiving Day will be at the heart of it. On this day we make our honors official. On this day we throw out a new class to be considered.
Let's make it our new Thanksgiving tradition.

Father of 7, Grandfather of 7, husband of 1. Freelance writer, Major League baseball geek, aspiring Family Historian.