Christmas stamps for 2021 will soon become available from the US Postal Service. New this year are two designs, the first called A Visit from St. Nick, will become available on October 7th. Here is what they look like: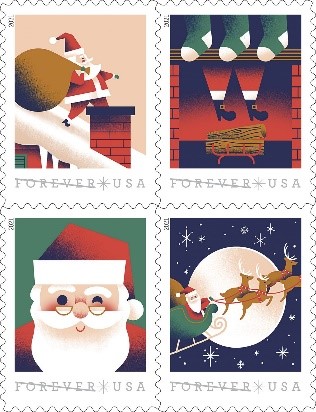 A Visit from St. Nick stamps feature four festive, vividly colored designs that evoke the story of Santa's visit on Christmas Eve.
In the first stamp, Santa stands on a snowy rooftop against a star-filled, pink-hued sky, his sack slung across his back and one leg inside the red-brick chimney.
The next stamp shows Santa as he descends through the chimney, his legs dangling over the hearth, clad in black boots and his trademark fur-trimmed suit. A log sits in the grate of the red-brick fireplace, while three green stockings, with white toes and heels, hang on the mantel.
The third stamp is a close-up of a winking Santa set against a green background.
The fourth shows Santa in his sleigh, with four reindeer visible, as they fly across the face of the full moon in a dark, starlit sky.
Art director Greg Breeding designed the stamps with original art by Brad Woodard.
The A Visit from St. Nick stamps are being issued as Forever stamps. These Forever stamps are always equal in value to the current First-Class Mail 1-ounce price.
~ Otters in the Snow ~
The 2nd new series of stamps is called Otters in the snow: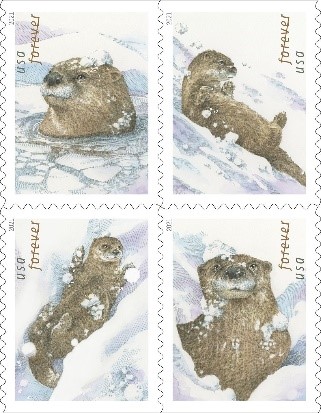 This booklet of 20 stamps features four scenes of the alert and playful North American river otter reveling in winter's white landscape.
The original illustrations were rendered in pen and ink, with watercolor in shades of brown for the otters, using black for facial features and crosshatching. The wintry background is white, with blue water, light blue and violet shadows, and black crosshatching.
Art director Derry Noyes designed the stamps with artwork from illustrator John Burgoyne.
~ International Stamps ~
The USPS also sells a Global Forever Stamp in a Poinsettia design. The Global forever stamp works just like other forever stamps – but it costs more, $1.30 this year for a one-ounce letter. This is what the design looks like: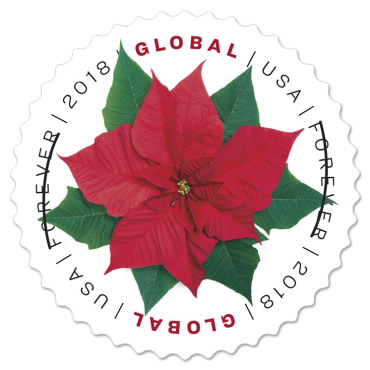 ~ What Forever Stamps Mean ~
Most stamps purchased from the United States Postal Service are now called "forever stamps".
They carry no printed monetary value. They are worth whatever the current first class rate is for a 1-ounce letter or card. So if you buy a stamp for $.50 cents now and the price increases you don't have to pay additional postage to use the stamp – once purchased it is good for first rate postage no matter when you by the stamp.
This has helped the collectability of new Christmas stamps from previous seasons.
The post office is reporting that these styles below, which were introduced in previous years, are still available for purchase: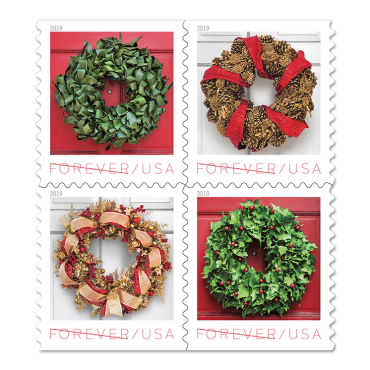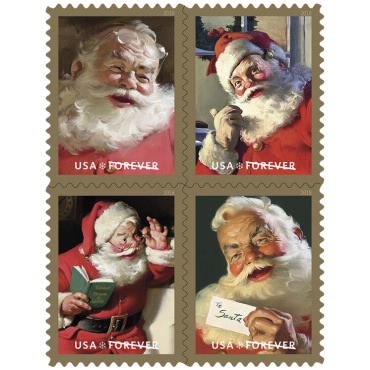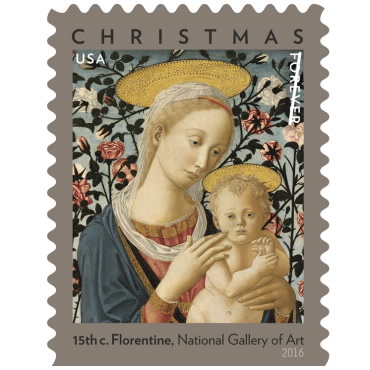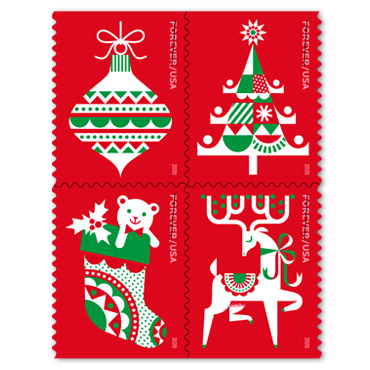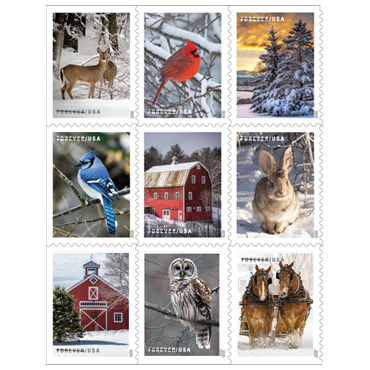 ~ Finding Other Christmas Designs Online ~
The postal service has issued new Christmas stamps now for years. Most older designs are out of date and no longer printed or available via the USPS. However, collectors have purchased large quantities of these and they remain available on many online marketplaces such as Amazon and Ebay. Here are some older designs still available online: