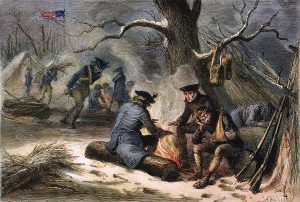 Picture it: George Washington leads his army of 11,000 men – a third of which he estimated did not even have shoes – into Valley Forge just before Christmas 1777. There, just days before Christmas on the 19th of December, the Continental Army and George Washington himself would find a way to reverse the course of the war.
That Christmas was just the beginning of both an incredible tale of survival and redemption.
Valley Forge was so named thanks to an iron forge owned by a family named Potts. It had been in their family for years. Washington selected the location for wintering the army for several reasons. It was just 20 miles outside of Philadelphia – which was now in the hands of the British – and Valley Forge gave Washington a high defensive position from which to keep an eye on British troop movements.
The year 1777 had been a year of continual, bloody losses for Washington. His army had been run on a shoestring by a Continental Congress who was woefully unprepared to keep an army equipped and fed. By December of 1777 Washington was competing with the British in foraging for food and supplies from the local countryside just to keep his army alive.
Valley Forge was in no condition to receive them. The first order of business Washington gave his men was for them to build wood huts to spend the winter. They would dig two feet into the ground in an area 16 feet by 14 feet in a space designed to hold 12 men each. The walls would be constructed of logs, with hastily constructed stone fireplaces, and the floors were of dirt. If lucky they had a sheet to cover the door way to keep out the cold.
While his army built their huts Washington himself refused to live outside his own tent. It was December, it was cold and they were in for a harsh winter of misery.
Washington had every reason to be bleak. He was fighting Congress not only for provisions but also for control of the army itself. Just weeks before arriving at Valley Forge, after a series of brutal losses, Congress reorganized the Board of War and stripped the Commander in Chief of some of his authority by making him answer to the one man he felt was over his head as a military general.
Worse, the poor condition of his army could not be understated. They were malnourished, anxious, battle weary and discouraged. Washington employed a regular army of spies and informants and with each dispatch he received the news seems to only get worse.
Christmas was far from the mind of Washington as he looked to find hope in Valley Forge for that winter. In his personal history we know his annual celebrations of Christmas at Mount Vernon and within his family's tradition that Christmas was usually a high point of the year. For Washington Christmas was a time of gathering, of thanksgiving and celebrating the good fortunes of the year past with parties, games and gifts.
As he considered this Christmas of 1777 upon arriving in Valley Forge, Washington was despondent.
Known for his spirituality, Washington was a faithful church-goer. Wherever he was, each Sunday without fail, Washington was content to join the worship of any Church he could locate. The denomination did not matter.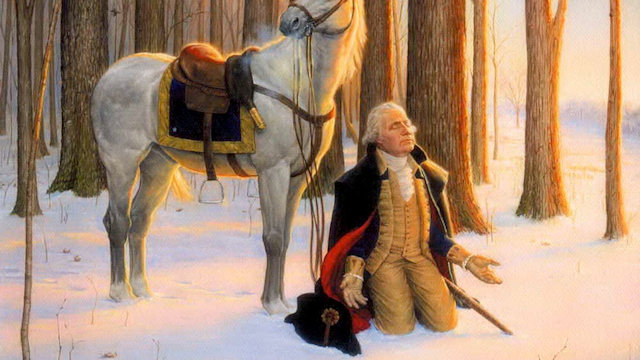 The fact that Washington was a praying man was discovered by Isaac Potts, one of the owners of the land Washington had requisitioned for housing that army that winter. Potts was a loyalist who feared the British could not be overcome. His opinion of that changed only after watching Washington that winter on his family's homestead (Washington later requisitioned the Potts home for his headquarters at Valley Forge).
"It was a most distressing time of the war," Potts later said. "All were giving up the ship but that great and good man. In that woods (not far from the Potts home), I heard a plaintive sound, as of a man at prayer. I tied my horse to a sapling and went quietly into the woods and to my astonishment I saw the great George Washington on his knees alone, with his sword on one side and his cocked hat on the other. He was at prayer to the God of the Armies, beseeching to interpose with his Divine aid, as it was a crisis, and the cause of the country, of humanity and of the world. Such a prayer I never heard from the lips of man. I left him alone praying. I went home and told my wife I saw a sight and heard today what I never saw or heard before. We never though a man could be a soldier and a Christian (Potts was a Quaker), but if there is one in the world, it is Washington."
Despite his prayers, those first few days at Valley Forge saw little comfort come to George Washington.
In his own tent, Washington took pen in hand and wrote a letter to the President of the Continental Congress to tender his resignation and to declare the cause hopeless.
"I am now convinced beyond a doubt," Washington wrote, "that unless some great and capital change suddenly takes place, this army must inevitably be reduced to one or other of these three things. Starve – dissolve – or disperse, in order to obtain sustenance in the best manner they can. Rest assured, Sir, this is not an exaggerated picture, and that I have abundant reasons to support what I say."
Washington knew he and his army were in for a miserable winter in Valley Forge and he knew not when or from where relief would come.
After all, the Continental Congress had fled Philadelphia, running from the same British troops that so frequently had defeated Washington.
Washington's men were not professional soldiers. Many had left the farm on a moment's notice to join the cause, and many had deserted in the middle of a march to tend to crops and family.
To be away from home on Christmas, in such destitute circumstances, fighting for a cause that many were beginning to doubt, Washington could hardly blame those who deserted.
Hearing a noise outside of his tent, and fearing yet another mutiny, Washington left his sad letter to check on his men.
In row by row he found his men huddled together around fires, chatting and making merry over a bit of hunted game.
He was amazed at their good cheer and fellowship and tried his best to smile as each wished him a Happy Christmas.
As his imposing figure was seen by more and more of the men Washington was astounded to hear from them a chanted cheer:  "Long live the United States! Hail to our Chief! May Liberty prevail!"
Washington, who was not wearing a coat or a hat of his own, was moved to tears to see men wrapped in blankets and feet clad in rags cheer him while the snow fell.
As Washington inspected his troops he asked his men if they had not suffered enough.
"Having come this far," one lieutenant said, "we can but go the rest of the distance."
As he returned to his own tent, Washington and an aide were stunned to see that in his absence from his quarters some men had gathered garlands of holly and cedar twined draped above the tent-flap door.
General Washington took the letter he had started to Congress. He burned it at the fire his aides had built outside his tent.
"May God relieve your sufferings, if the Congress will not. And a good Christmas to you!" Washington said.
In that small, brief moment of Christmas – a giftless, cheerless, merry-free Christmas – Washington was inspired by the will, the grit and the spirit of his own men.
The clouds did not part and the burdens were not lifted on that Christmas Day of 1777. But from the depths of that Christmas came a resurgence in the hope and confidence of George Washington.
History has clearly marks Valley Forge as the turning point of the American Revolution. Washington over the course of fighting the brutal conditions of Valley Forge rebuilt, retrained and re-inspired his men to the cause.

Father of 7, Grandfather of 7, husband of 1. Freelance writer, Major League baseball geek, aspiring Family Historian.