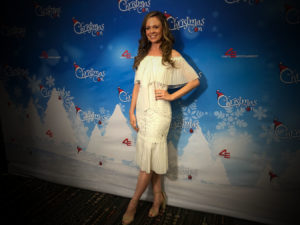 Last year the world saw the debut of something called ChristmasCon. Sounds fun, eh?
With all kinds of hype and good PR the event held in New Jersey in early November 2019 drew thousands of attendees.
The Hallmark driven event featured stars from made-for-television Christmas movies, hosts of Christmas podcasts, and vendors of Christmas wares.
There was just one small problem with the whole thing: it was missing Christmas.
~ What It Really Is ~
MyMerryChristmas.com did not go to Christmas Con. But we sure heard a lot about it from some that were there.
They really were not all that happy.
The event was really nothing more than an extreme extension of the commercialization of Christmas. ChristmasCon cost a lot to go to and it required plenty of open wallets while there.
Some would say this is just the way it is with all "con" themed events. The idea, they argue, is to submerge oneself in the theme of the convention. The added benefit of rubbing shoulders with even semi-famous Christmas celebrities somehow makes it all worth it.
But that's the problem.
Christmas is a lot bigger than the cable media "stars" they were pushing. Sure, they covered Hallmark movies and there are no shortage of fans for Hallmark.
But Christmas is just a wee bit bigger than Hallmark.
~ What Was Missing ~
Christmas is huge. There are dozens and dozens of subset communities related to Christmas that have huge amounts of fans.
There are Christmas light fanatics, Vintage Christmas geeks, Christmas music fans, Christmas history snobs, Christmas literature freaks, Christmas foodies, Christmas Radio die-hards, Christmas tree enthusiasts and Christmas candy nuts.
All of those had nothing for them at ChristmasCon.
Hey, if Hallmark Christmas movies are your thing and you're willing to shell out the Christmas bucks to geek out about Hallmark with 3000 of your closest friends, we say go crazy.
But don't think for a second the ChristmasCon is actually about Christmas.
~ Cost Seems to Be the Biggest Complaint ~
Those we heard from were a bit angry. They did not feel they got the bang for the buck.
That's because ChristmasCon is really only about the money.
Building on last year's show – where thousands were crammed in to a reportedly very small venue – they are going coast-to-coast this year.
In July they will hold a 3-day Christmas-in-July event in Pasadena, California. And in December they go back to New Jersey.
So far the California event seems to be the bigger deal. Why? Because that's where all the Hallmark stars live (yawn).
Tickets run about $50 per day or you can get front-of-line-VIP-access for all three days for $225. That, of course, does not include the $8 lanyard. (That's weird).
But, wait! There's more.
Despite shelling out those bucks to get in if you actually want to meet and get a photo with one of those Hallmark stars you'll need to add anywhere from $60 to $80 – each.
I kid you not.
That makes the pictures with Santa they sell look like a relative bargain. (Which they are not, we are told by those who were there)
Everything, by the way, is non-refundable.
Feeling Christmasy yet?
~ You're Gonna Get Hyped ~
Like all crass commercialized Christmas products you're gonna get hyped.
You will see all this stuff about ChristmasCon on network news shows, in People magazine and, of course, all over the Hallmark Channel.
Where you won't see the stuff about ChristmasCon is online where real Christmas communities exist.
There are lots of them. The shows associated with Christmas lights and decorations are far bigger than ChristmasCon, for example. It's just that none of them have the power of the Hallmark Channel behind them.
They have been running for years and they draw tens of thousands of fans to convention centers each year.
What sets them apart is that they offer Christmas fans real information, usually presented by experts in their respective Christmas fields.
But ChristmasCon will never acknowledge those communities or the fans of them. They are not Hallmark's target.
There are many reasons for that and you know what they are. Well, you know if you actually get what Christmas is all about.
The folks at ChristmasCon don't get it — and it is sad we cannot recommend them.
If you like Hallmark, by all means, ChristmasCon might be for you. But realize what you're getting into.
And another tip: beware of those who are associated with ChristmasCon who want to ride on those Hallmark coattails to build their sales and audiences. There is guilt to be had by association.
As Stan Freberg once said, "Christmas has two S's in it and they're both dollar signs".
We'd like to think the lessons of Dr. Seuss have been learned. Sadly, they have not.

Father of 7, Grandfather of 7, husband of 1. Freelance writer, Major League baseball geek, aspiring Family Historian.