By Jeanette DiCamillo

Rope light offers a unique light display that can be used for holiday lighting, as well as every day lighting and design. Rope light is best described as a sort of tube lighting, featuring either pure tungsten filaments or LED bulbs encased in durable PVC tubing. Rope light is available in long spools that can be cut to custom sizes, or as pre-cut rope light kits that are ready to plug in and light.
If you think you have never seen rope light, think again. Rope lighting is probably used in every parade that has ever consisted of lighted floats, it is tucked in alcoves and behind furniture in fine homes, outlines bars, pool areas, and theater steps, and is used in lighted signs, decorative Christnmas motifs, and on rooflines of homes and businesses across the world. Most rope light can run a minimum of 150′, and sometimes as much as 900′ before needing to be cut. Rope light is available for DC use, making it a popular option for parade floats, boats, and cars.
Some of the most creative holiday lights consist of a blend of Christmas light strings and rope lights. Look closely the next time you and your family drive looking for neighborhoods with amazing Christmas light displays. When Frosty is skating in someone's front lawn, the skating rink typically uses blue or white rope light to create the border of ice. Stars and snowflakes that hang from trees to bring snow to the holiday are motifs that have ropelight secured to the wire frame, and controllers allow the lights to chase, blink, or remain steady.
Have you ever stopped and admired an animated scene of elves climbing a stocking to fill it with gifts, or a waving Santa on a golf cart? Have you visited a Festival of Lights and exhaled in admiration as drummer boys beat their drums, and Santa and his reindeer flew overhead? More likely than not, each of these animated designs is constructed using rope light, which is bent and shaped, with different color rope lights being joined together using splice connectors.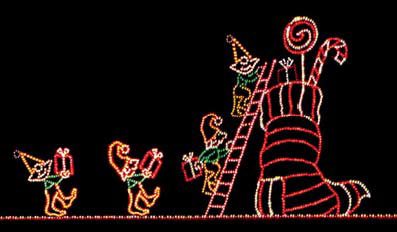 In Marietta, Georgia, on a long and busy road, there is a span of road where multiple homes shoot rope light straight up the tallest trees. The visual result at night is a lighted magical forest, with trees of every color.
Rope light can create a gingerbread house effect when used on the exterior of a home, and can be secured to almost any surface with small mounting clips. To create the gingerbread house, outline doors, windows, and the roofline with different light colors, and run the rope light straight down the banister and along the front walkway. Combining the gingerbread house appeal with a forest of trees using rope light straight up the trunks is a sure bet to attract some extra drivebys all season.
Rope light can offer various lighting effects with the addition of controllers, and can also be found in every color, as well as bi-color and even tri-color. As with all Christmas lights, rope lights are now available in LED, staying cool to the touch and reducing watts used per foot by almost six times, as well as extending use by an average 65,000 hours.
Ideal for custom projects, large and small, rope light is as easy to customize as 1,2,3:
1. Unravel rope light before plugging in, and cut heated rope light only on designated cut marks, a pair of regular kitchen shears works great
2. Bend rope to the left and right, and trim off any extra copper wiring
3. Secure an end cap on one end, and a power plug on the other end, or join two rope light with the same wire count and voltage together using a splice connector
One of the more popular brands in rope light is LynxLite, which is a brand many professional installers and designers choose, as well as home owners and regular design enthusiasts. LynxLite rope light can be found online as well as in many retail stores, and in the hands of installers across the country. Add some rope lighting and lighted motifs to your holiday decor this holiday and enjoy the ease of use and brilliant lighting effects.
Still in need of something amazing? Try rope light that uses 16 bulbs per foot instead of 12, or choose square or strip lighting instead of the traditional round rope light shapes.