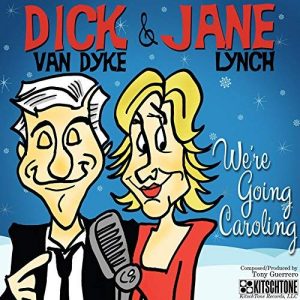 We have known for decades that Dick Van Dyke is a merry soul who can sing.
But we have long lacked the great Hollywood Christmas musical or even Christmas music of Dick Van Dyke.
We can't say that any more.
Now 92 and soon to be seen in screen again in the remake of Mary Poppins, Dick Van Dyke released a Christmas song in 2017 much to the delight of fans of all ages. "We're Going Caroling" is an infectious little tune and the video of Van Dyke proves he still has the moves:
The song, performed with Jane Lynch, is full of Van Dyke's signature good cheer.
Peformed as well with famed piano man Jim Brickman the song appeared on Brickman's 2017 Christmas album, A Joyful Christmas. Brickman, of course, has been a life long fan.
"The first movie I had ever went to, my grandmother took me to Mary Poppins and I was enthralled," says Brickman. "It had an impact with the music and joy and just the energy of it. I was so enamored with Dick Van Dyke. I told my mom that I wanted to call him on the phone and tell him how much I liked his performance. My mom said I couldn't. When I met him, I told him it only took me 50 years to get his number. It's the only kind of song he could sing and have it be like that. It has to be nostalgic. Dick is 92. He sounds like he hasn't aged at all. It was a perfect talk/singing song for him."
Van Dyke is the older brother of Jerry Van Dyke and father of Barry Van Dyke, and his entertainment career has spanned seven decades. He first gained recognition on radio and Broadway, then he became known for his role as Rob Petrie on the CBS television sitcom The Dick Van Dyke Show, which ran from 1961 to 1966. He also gained significant popularity for roles in the musical films Bye Bye Birdie (1963), Mary Poppins (1964), and Chitty Chitty Bang Bang (1968). His other prominent film appearances include roles in The Comic (1969), Dick Tracy (1990), Curious George (2006), Night at the Museum (2006), and Night at the Museum: Secret of the Tomb (2014). Other prominent TV roles include the leads in The New Dick Van Dyke Show (197174), Diagnosis: Murder (1993-2001), and Murder 101 (200608) which both co-starred his son Barry.
Van Dyke was the recipient of five Primetime Emmys, a Tony, and a Grammy Award, and was inducted into the Television Hall of Fame in 1995. He received the Screen Actors Guild's highest honor, the SAG Life Achievement Award, in 2013. He has a star on the Hollywood Walk of Fame at 7021 Hollywood Boulevard and has also been recognized as a Disney Legend.

Long-time Christmas freak, first time expert. B. Francis Morlan has written for MyMerryChristmas.com since 2013. He lives in Beaumont, Texas with his ...