Dickens might be sick. The long awaited first preview of the Charles Dickens biopic awkwardly titled The Man Who Invented Christmas is here and it is as horrid as we feared.
The movie hits theaters on November 22nd and it is billed as the big Christmas movie release of 2017.
The movie casts Christopher Plummer as Scrooge and features every computer animated/generated special effect to give you the feel of Victorian-era England.
Dan Stevens stars as the great Charles Dickens, author of A Christmas Carol and a long time legend of Christmas.
This movie purports to tell the story of his creation of that classic work.
While the clip is no doubt entertaining don't think for a second you're getting any kind of accurate history here — and certainly nothing resembling the truth about Uncle Chuck.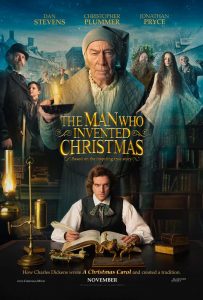 In fact, based upon the formulaic preview above, we now strongly encourage you to listen to this episode of the Merry Little Podcast for just how twisted this movie is going to be in its portrayal of Charles Dickens and its telling of the story of the creation of A Christmas Carol.
That podcast episode was published in May 2017, long before any movie preview. It's predictions are manifest fully in this preview.
How did we know this was going to happen?
Well, first, because the book this movie is based is mostly fiction that takes broad liberties with history. And second, Hollywood has become that predictably bad.
Yes, we'll still see the movie but we might not review it because we strongly feel we already have.
Your mileage may vary, of course, and depending upon how serious you are about Dickens or Christmas.
For our money, we'd rather see something more respectful of the esteemed Charles Dickens and one that explores more his moody and tragically dark side. This movie preview makes him appear to be a giddy school boy, one incapable of the deeper and darker themes of A Christmas Carol.
The only way they could possibly make this worse would be to cast Jim Carrey in the title role of Scrooge.
Oh wait. They already did that.
Christopher Plummer is a better choice, for sure.
But remember kids, Dickens never spoke to Scrooge in his life. What you're seeing is fantasy and it is cheap fantasy that sells out the true story of a real Christmas hero.
It's a shame.

Father of 7, Grandfather of 7, husband of 1. Freelance writer, Major League baseball geek, aspiring Family Historian.