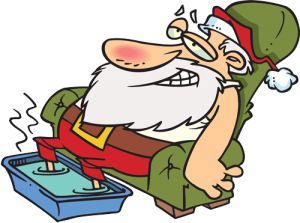 In a world where "Christmas Creep" has become a thing nary a word is said about the abrupt end of Christmas. Ending Christmas each year happens without warning and absent of ceremony.
I was aghast to see on Facebook a friend who had tossed their tree to the curb on the evening of December 25th. Being charitable, my first thought was "maybe it was really dry".
No. They bragged about it! "We are the first to de-Christmasify the house on our street." they said.
To them it was an accomplishment – a badge of honor, a gold star ripped from the top of their tree and placed like a hunting trophy for all to see on social media.
There is Christmas – dead, stuffed, bagged, boxed, and butchered – ready to emerge from a forced slumber only to be criticized when brought out after Halloween the next year.
How odd all this seems to me.
For months Christmas seems to build with such anticipation that it feels strange to see the tree tossed out, the lights turned off and the radio stations abruptly flip back the switch the day after Christmas.
Even more bizarre are the cries of "post-Christmas blues" while unceremoniously un-decking the halls. People brag about getting it down then complain that Christmas is no longer there.
It does not have to be this way.
In many places around the world Christmas continues for weeks.
But not in America. By mid-January we're hip-deep in low fat foods and exercise machines.
Our collective ADHD feeds our collective OCD. We're obsessed first with overdoing Christmas and then we rush to push it out the door.
The reasons for this are obvious. But nobody really wants to talk about it. They don't want to admit it.
If you travel the world in early January you will see cultural celebrations of Christmas that continue. In Armenia, for example, January means two continuous weeks of family gatherings, gift giving and celebration.
In England Christmas continues for 12 days, culminating on Twelfth Night or Epiphany Eve, a time when the Magi are celebrated as part of Christmas.
In Russia, Greece, Italy and many parts of Eastern Europe Christmas lingers in public. Trees stay up, lights stay lit and churches remain active with programs and services.
What lingers of Christmas in the world at large is what was once normal in the United States: the religious Christmas.
Traditions within the Church more than two centuries ago dictated that just before the 25th of December Christmas began with decorating of the Churches with evergreens and such were not taken down until February 1st – the day before a day known as Candlemas.
Candlemas is a Christian observance celebrating the presentation of Christ at the temple and the "purification" of Mary – a traditional 40-day period of post-natal seclusion for the mother of any new born child.
This window of time conveniently falls within markers of seasons – Winter Solstice and the mid-way point of the Spring Equinox. These are among the darkest days of the year in most northern locations.
This is the season of the "celebration of light" in many cultures.
It is a time when a bounteous harvest is celebrated and wishes for the new year are extended. It is a time when light is recreated and celebrated when the sun is mostly absent.
These elements fit within the agrarian society of early American history.
Christmas as a season of celebration happened at a time of the year when work was famously light on the farm. And when there was little work to be done fast fun was always to be had.
From the February 5th, 1891 edition of the Philadelphia Inquirer we read of Christmas as it was celebrated in America before the Civil War. "From Christmas Day to Twelfth Night – popularly known as Old Christmas – the only work done was that of charity or necessity. December was taken up with getting ready for the holidays. Axes rang merrily at every woodside; wagons piled high with oak and hickory logs…all the houses were open houses. The young folk went nightly from one to another to dance or play the old fashioned ring games. When New Year's came, the most pious people watched it with hymns and prayers. Those not so pious danced the old year out, and slept deeply into the morning of the new one."
The great religious diversity in America of the 18th and 19th centuries saw great diversity in Christmas celebration.
In New England, a place many consider the birthplace of Christmas in America, Christmas was famously celebrated in some churches and yet even more famously shunned in others.
Such diversity extended to all of America, where Christmas lingered long for some and was shorter for others.
But almost all of it featured ceremony – even when it came to the Christmas tree.
This poem from the 1870s highlights the tradition of putting out the lights on the tree for the last time:
When holiday week's almost over,
And broke are some of the toys,
When Christmas Tree needles are dropping,
And drums will not give out a noise,
When someone has said, "it's a nuisance"
This tree must be carried away.
And we stand around and look gloomy,
And beg for it "just one more day"
There's one thing that keeps up our spirits:
The best of the week's merry nights
Is just at the last, when we children
May blow out the Christmas tree lights.
The little tots, Doris and Douglas,
They blow out the ones lowest down.
Their faces get redder and redder;
Their foreheads are all in a frown.
The Alice, the next high by measure,
Put out all the candles half low;
And then I, the eldest and tallest,
I blow, and I blow, and I blow!
But even I can't reach the top ones,
So father lifts up baby Grace;
Her dear little mouth is a circle,
All wrinkled her sweet little face.
She blows out the tiptopmost candles;
We clap and hurrah when she's done.
And that is the end of the Christmas,
The very last bit of the fun.
But all through the year it's a pleasure
To think of our holiday nights–
The best coming last, when we children
May blow out the Christmas tree lights.           
What makes the modern American heart want or need to end Christmas so quickly?
That is matter of speculation.
I only suggest that it need not be so. It was not always so in the world of our ancestors and it does not have to be so today.
The darkest days of winter are still upon us for weeks to come.
For me, the lights of Christmas can help burn through those days better.

Father of 7, Grandfather of 7, husband of 1. Freelance writer, Major League baseball geek, aspiring Family Historian.