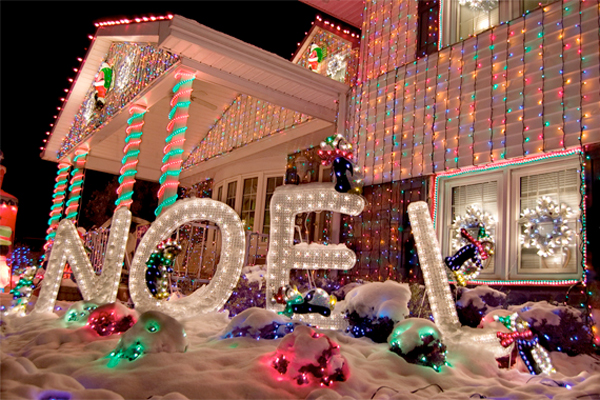 Ron Behringer thinks back to his epic Christmas displays of the late 1990s with great fondness.
"It was a new age for Christmas lighting," he says. "Computer technology was really cutting edge. It was expensive but it was so exciting. It took it all to a new level and I was all in."
Once upon a time Behringer lit up his home – and his neighborhood – with more than half a million lights.
His synchronized display drew thousands of people, was featured on television news and was the envy of nearly every other Christmas fanatic in Arizona.
Those were the good old days, it turns out.
These days Ron is back to stringing a single modest strand of lights on his home. He is content with those lights and a few old blow mold Christmas figures he puts out on his lawn.
What happened? Why doesn't Behringer go all out any more?
Ron's story is not all that uncommon.
He remains, at the end of the day, a huge fan of Christmas and still loves to celebrate the season each year.
But he no longer lives in Arizona. His income is not what it used to be, his house is smaller, and, as he claims his wife likes to remind him, he's not 26 anymore.
But there are other reasons Behringer no longer plans and build a mega-epic display – reasons that he claims many in the Christmas lighting world would like to talk about very much.
"People either love you," Ron explains, "Or they hate you. There is rarely anyone in between. You're either the son of Santa for what you do with lights or you're the spawn of Satan himself."
Ron's experience highlights the first of five things you should think about before going too crazy with your Christmas lights.
1. Not everybody likes big Christmas light displays – especially on homes.
At first Ron's lights were a huge hit with the neighbors. They all enjoyed them.
The problems started when others wandered into the neighbor to enjoy them, too. Ron openly admits that his first year was the best year – mostly because nobody knew about his display.
For years the Behringers' home was decorated quite simply – a few lights along the rain gutter, some lights on the bushes by the front windows and those blow mold Santa and Mrs. Claus figures he had inherited from his father.
But Ron's interest was piqued as he fell in with an Internet group of Christmas lighting enthusiasts and he learned all about Christmas lights programmed through a computer.
After nearly two years of learning and planning – plus a little more experimenting over those two seasons – Ron mapped out his first big year by engineering a display with more than 50,000 lights.
The results were stunning, the neighbors were thrilled, and all seemed to enjoy a glowing Christmas season because of Ron's efforts.
The next year Ron upped his light total to more than 150,000 lights.
The more lights he added the more people flocked to the Behringer neighborhood.
One night, about four days before Christmas, a steady stream of cars paraded in front of the Behringer home for four straight hours and Ron kept the lights flipped on until midnight.
People began to park and walk to Ron's home, just to get a closer view.
But as the crowds grew Ron noticed something. His neighbors started not only to retreat indoors but a few started to avoid Ron altogether – and this happened all year long.
His relationships with them changed.
He didn't know at first that his Christmas lights would come with a price in his friendships.
And to this day, he regrets it.
2. When you start meeting "officials" – beware.
But Ron kept adding to his display.
The lights spread from the front to the top of his house. It extended to every bush and every tree in his yard. His fence became not only a conduit for electrical cords but also a handy display space for more lights.
He added more and bigger elements – a giant blow up snowman, an animated Santa in his sleigh on the roof, complete with Rudolph's nose lit brightly red.
In his big picture window Ron managed to build an electronic reader board that wished visitors a Merry Christmas.
As his display got bigger, so did the crowds.
Ron was featured in the local newspaper – causing thousands more to flock to his display.
He was interviewed on television. And he built a website all about his display.
His first sign of trouble outside of his neighbors came in the form of a letter from the city, informing Ron that his lights could be violating a city sign ordinance and asking him to turn off his lights by 10:30pm each night.
A fire marshal visited Ron on one of his busiest nights and asked him what he planned to do about road access for emergency vehicles.
The issue within days became very real when a medical emergency took a neighbor nearly a block away to the hospital in an ambulance.
The neighbor ended up being okay but the story of the ambulance fighting the crowds also made the local news.
There was a small public backlash against Ron, who publicly apologized profusely and turned off his lights for the rest of the season.
A small group of supporters talked Ron into keeping his display going.
But when his lights went up the next year Ron was visited by a city official. Ron had to gather volunteers to help direct traffic and pick up trash.
Throughout it all Ron tried to remain sensitive and responsive.
He figured the "holiday spirit" would be enough to keep any real trouble at bay. Unlike some, Ron never endured a public battle with the city or the police over his display. But he admits there were uneasy feelings and awkward moments.
That enough, Ron said, should cause you to question what you're doing.
3. There aren't enough energy drinks in the world to help you keep up.
While his display grew in size and seeming popularity Ron began paying a price in other ways.
His work as an electrician sometimes gave him odd working hours and frequently he would have to rush home from work to manage yet another night of crowds.
The pace of arising early for work and continuing until almost midnight every night took Ron away from other favorite Christmas and family activities.
He did what he could to balance and compensate.
He took vacation time during November and December. He prepared his displays earlier and earlier each year.
Yet with each passing year Ron actually looked forward less to Christmas because of the toll it took on him in time, resources and family relationships.
4. Fake snow is better than the real thing.
Putting lights up during the fall and winter months in Arizona is far different than putting up lights in Pennsylvania.
Ron knows because he moved from Arizona to Pennsylvania in 2005.
His living circumstances were completely changed.
His house and lot in Pennsylvania were smaller, older and closer to his neighbors.
Behringer said that there was just no way he could put 200,000 lights on his new home. There just wasn't room.
Still, he worked hard and built as much of a display as he could – using just a fraction of his collected items from his old Arizona display.
And he hated every minute of it.
"It was misery," Ron said. "There I was out there two days after Halloween and I could not get warm. It was a different kind of cold entirely. I just couldn't work as long and I just hated it."
Ron, from the warm of Arizona, thought his display in the Christmasy snow of Pennsylvania would look better than ever.
"I was so wrong." Ron said. "It looked like crap. I felt like crap and it looked like crap." Weather, you see, is hard on Christmas decorations.
Ron found the lights went out faster, required a lot more reworking because of frequent high winds and most of his décor beyond the lights just did not hold up in the extremes of a Pennsylvania winter.
"I never threw so much stuff away as I did after that first season in PA," Ron said.
5. It is hard on couples.
Ron's Pennsylvania display never gained the notoriety of his Arizona display.
"The reaction was much more subdued," Ron said. "I think the weather has some to do with it. In Pennsylvania people don't get out of their cars when they go look at lights. They keep the windows up. There isn't that interaction. Almost nobody gets out of the car to walk around the yard. It's totally different."
But Ron's wife, Andrea, was the first to speak in opposition of Ron's Christmas display in Pennsylvania.
"She was right," Ron admits. "It took up too much of my time. I was more involved with the lights than I was the family. Andrea started to resent the season and hated when I started to fiddle with things in early June."
Andrea also fielded the complaints.
Because of Ron's work and his busy schedule Andrea was the one answering the phone calls and opening the letters.
One of their new neighbors politely asked the Behringers to "please move so Christmas can be peaceful again". This was especially hard on Andrea.
These and other issues associated with Ron's display drove a wedge in their relationship.
Then, a devastating family event changed everything.
Ron's father had a stroke on Thanksgiving weekend.
Ron and Andrea flew to Arizona and spent weeks out there as they rushed to focus on Ron's ailing parents.
There was nobody in Pennsylvania to turn on the lights. They just never went back on that season.
Ron's father, sadly, died on New Year's Day that year.
"But he gave me an unknowing gift," Ron says. "That Christmas, tough as it was, taught me that family is more important than anything else. It was a hard Christmas, but it was a good Christmas because we all knew we were spending precious time with him and with each other. It completely re-centered me."
Over the ensuing years Ron has maintained his love of Christmas lights.
He still frequents Internet communities where Christmas light fans gather. He still reads about the new technology and, yes, he visits as many light displays – large and small – as he can each season. He still claims it is all a hobby to him.
But he claims he will never again do what he once did with his lights.
"It was a season of my life and I enjoyed it," Ron says. "But it isn't for everyone and I learned it wasn't for me. For those who dedicate themselves and resources to it, I applaud them. I appreciate them. I even understand them. But Christmas includes so much more now."