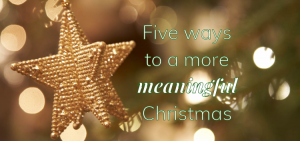 I lost my husband on September 11th, 2001 – that awful day etched in the memory of millions.
He was there. Then he was gone. No goodbye.
That first Christmas without him was as dark and empty as could be. There was no cheer, no celebration, no light to speak of for me. It was a dark, sad time.
Christmas had always been special before. Each year we would fill our calendar and our home with the brightness of the season. We had music and food and decorations. We did everything that you probably do – except celebrate it right.
My husband's passing was fast, cruel and earth moving. In dealing with that I could not deal with Christmas as we had known it. I felt as if I was violating something if I were to even try doing any of the things we loved to do so much together.
They told me it was normal to feel that way about a lot of things. Special days and special things had now become bitter reminders to me. Birthdays, our anniversary and even the days that represented special occasions in the past were difficult days to get through.
I would hear one of "our songs" and have to turn off the radio. All around me it seems as if there were reminders that would make me feel guilty if I acknowledged them as I had before. Losing him in my present and for my future somehow seemed to mark a betrayal of sorts to the past – including Christmas.
But as the lonely weeks turned to months and the seasons changed I slowly came to realize that my guilt and my grief were preventing me from living. I knew there is no way he would have wanted me to continue that way.
The process of grief and guilt taught me to re-examine nearly everything I was doing and why I was doing it. Including Christmas.
The years since that awful day have not lessened the sting of loss. But time has helped me get past the guilt and slowly I have reintroduced old, special routines back into my life as I have repackaged them in my mind.
I have especially returned home to Christmas. It took me several years to find my way back. These are the lessons that I learned in making Christmas meaningful again:
It is okay to be sad and to miss loved ones you have lost at Christmas.
My father passed away a little more than 2 years after my husband did. His passing hurt nearly as bad but unlike my husband I had time with my Dad to say goodbye. His death was not unexpected.
I am forever grateful he was there for the aftermath of 9/11. His steadiness and ever present shoulder to cry on got me through so many difficult moments. It was my Dad who helped me find Christmas again in 2002.
But before Christmas 2003 came along he was gone and I fell deep into a similar darkness.
But what made it different was not the fact that Dad taught me Christmas was okay again. It was that Dad taught me that Christmas could be celebrated even if we were sad and missed people who were dear to us.
He told me a story in 2002 of Christmas for him when he was 11 years old. His mother died just after Thanksgiving that year. I never knew my grandparents or their story much because both were gone before I was born.
I cannot imagine having to deal so closely with death at such a young age. But it was Dad who taught me that tears and memories of loved one lost had become something of a tradition for him at Christmas and it was something he actually cherished.
For him, it locked up the Christmases of his youth as a magic time that he alone remembered. My mother always told me of one tradition with my father that she never interrupted. Every year since the year they married Dad would go to his room after Mom was done with the tree.
Like most folks, Dad did the lights and Mom did everything else. But when Mom was done, off on his own Dad would go fetch this box. Mom tells me that as Daddy would take the old Christmas stuff from the box and put them on the tree he would always do so with tears streaming down his face.
It took him years to tell Mother the story and, for the life of me, I don't know why I never witnessed it. I guess it was a moment that only happened after I had gone to bed. Of course, those things were from his mother and this private moment of Christmas was part of his ritual, his tradition.
So it was Daddy who understood better than I knew how Christmas hurt in the shadow of a devastating loss. And it was Dad who taught me that tears were just fine during the season because they were, after all, just an expression of love – which is what Christmas is all about.
Christmas is better when you reach out.
In my married life Christmas was always a time of celebration and big events together. While we did things for each other it was not until I was alone that I started to reach outside my circle to others at Christmas.
I learned very quickly that I had denied myself and my family great joy by doing this.
I was attending a church – something my husband and I never did – and it was through them that I was given the opportunity to serve others.
It was simple stuff like raking yards and taking in meals to the elderly. But at Christmas time these things when to a whole new level as it became easier to find more spontaneous ways to brighten someone else's day.
I was assigned once to accompany an older woman from the church to the doctor. She had no one else to escort her and her schedule fit mine, so I was chosen. I frankly was not looking forward to it because I did not really know her and she seemed to be a grumpy lady. I was afraid of offending her or hearing her say something that I just could not respond to.
My judgment of her could not have been more wrong. She was so very gracious and thoughtful of me. I had completely misjudged her and the situation. As we shared our stories with each other this woman with the grumpy face morphed, it seemed, before my eyes as she laughed and we cried. It became a dear and precious moment to me that still delights me to remember it.
When it was over, I had to think who was really serving who in that experience.
Of course, that experience opened me up to others that I before never would have considered. What I learned is that there is goodness in people all around us if we will but find time to just talk to them.
It IS better to give than to receive.
I have never known a time of real need. Yes, losing my husband was difficult but never in my life did I have to struggle to have a home or to worry about where the next meal is coming from.
I have, I admit, lived a life of great abundance.
The whole life-changing experience of 2001 took me away from the comfort zones that I had ever known. It lifted my eyes to others in ways they never saw before.
I recall going to a group meeting of other 9/11 victims and hearing so many awful things that happened to families and couples and individuals even after the events of that day.
Some families split up, others had to leave homes, and many had to take on new jobs because of what happened. There were genuine stories of continued heartbreak because these people had to go on living and so many were dependent upon those they lost for the lives they knew.
I didn't have that. I did not lose my home or my job. I had money still and could take care of myself.
That really opened my eyes to the one thing about Christmas I had never learned during my abundant life up to that point: to really give.
Real giving, I learned, sometimes meant sacrifice. In other words, giving until it hurts – until you feel it.
This was a completely foreign thing to me.
I do not want to share the details of what I gave because I do not want to appear self-serving.
In fact, the biggest lesson I learned besides sacrifice in our giving is that we must learn to give anonymously.
I have decided this is one of the great secrets of Santa Claus. He gives but nobody knows where he gets it and he does nothing to seek attention for giving. He just gives.
I had to learn to do that. Giving great things, sometimes at great sacrifice, to people I did not know who had real needs, did more to heal my heart than anything else.
Lifting another's burden is a small price to pay in order to make your Christmas merry. It has been worth it every time.
Let some traditions go and start new ones.
Just like my father had locked in his heart Christmases with his mother that could never return I too had to let some things that were part of Christmas just stay in the past.
It would be easy to say that it just hurt too much to do those things any more. But that's not it.
Christmas I think is such a nostalgic thing for people simply because some seasons past created magic that cannot be duplicated. Remembering them in the perfect way they were is kind of a way of preserving the magic – by not trying to duplicate that again.
Does that make sense?
My Christmas traditions of today are not the same as they were entirely before 2001. There are new things, things I never considered before. And trying new traditions has been very liberating.
For example, I never traveled before on Christmas. Now I do it frequently. I still enjoy the homebound Christmas, as I like to call it, but my family now has introduced me to the magic of Christmas discovery by sometimes going somewhere new.
Over the past ten years or so I have experienced a southern Christmas, an island Christmas and a European Christmas. These have all been filled with their own unique magic.
Don't criticize those who celebrate a shallow Christmas.
This one, finally, is more difficult for me to talk about because I was, once upon a time, a shallow celebrant of Christmas.
I was one whose Christmas centered on flavors and ambience and feels of the season. All of that comes from stuff – shallow stuff like trees, candles, candies and brightly wrapped packages.
But Dr. Seuss had it right: Christmas does not come from a store.
It took an earth shaking event to teach me this lesson. It took the stark realities of death for me to face the real message of Christmas.
I found God.
That is not a popular topic these days and not one that will resonate with a lot of people. But sometimes you have to reach bottom to look high enough. And I reached rock bottom.
Christmas became a spiritual thing to me because I had learned what God was trying to teach the shepherds who were abiding in the fields by night. "Glad tidings of great joy" were things I had not heard about Christmas before…because I wasn't seeking them.
I have decided that we are all on a journey and for many their train has not arrived at the real Christmas station. We cannot and should not judge them for their shallow or even phony connection to the season. They just do not know and that is not their fault. Their train has just not taken them yet to that destination.
Someday it will and we would be wise to patiently wait for that to happen so that we can help them find Christmas again when it happens to them. So many did that for me and Christmas now is meaningful in ways I could have never seen before 2001.
Anonymously submitted to My Merry Christmas