Christmas music is unique in that it can uplift, inspire and entertain in a variety of ways. Stories within the music give us teachable moments for all ages. In fact, Christmas carols were intended to do just that — to teach children.
Great music makers today do the same thing. Here is a new release from Grant Maloy Smith featuring EmiSunshine with a tale about Santa's, um, possum:
This is not just a song, it's also a new children's book, also by Grant Maloy Smith.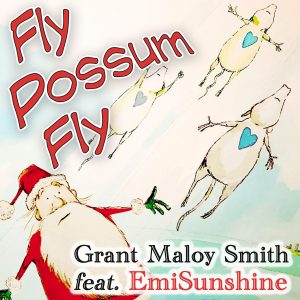 "Fly Possum Fly" is Smith's debut book. His 2017 album "Dust Bowl – American Stories" was critically acclaimed and rose to the top 10 on Billboard's Folk/Americana and Country album sales charts. The album was inspired by the history of the Dust Bowl of the 1930s. Smith's credits include the nationally syndicated public television concert programs "Song of the Mountains" and "WoodSongs Old-Time Radio Hour," both of which were taped recently and will air at later dates.
EmiSunshine has been attracting national attention since she was about nine years old, appearing at music festivals throughout the world, as well as on NBC's "The Today Show," "Little Big Shots," the Grand Ole Opry and elsewhere. Recently, several of her songs were used in the Elvis Presley documentary "The King."
"When we were in the studio, I felt like I had gone back in time and was singing with a 14-year-old Dolly Parton," Smith said. "Emi has that kind of voice, that caliber of talent, and such a sparkling personality."
This is a fun story and a great song.