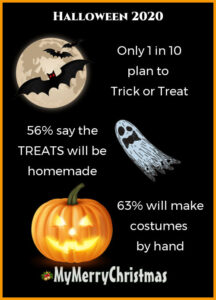 Halloween will see only 1 in 10 braving the elements to trick or treat this year. Survey respondents of MyMerryChristmas.com's annual survey of holidays said that long before the CDC recommended folks forego the door-to-door tradition this year.
It is just one many holiday trends shifting in 2020. World events such as the pandemic, election year politics and civil unrest have changed everything about holiday celebration, as we shared previously in discussing the trends of Christmas 2020.
"Halloween has been evolving for well over two decades as a more adult-driven celebration," said Jeff Westover of My Merry Christmas.
The survey this year relating to Halloween does not really surprise when it comes to the children. Parents very clearly would rather avoid the spread of the virus. They were very clear in their comments that keeping the kids safe would be easier by showing them a good time at home with a small family-centered celebration."
The anticipation of a more home-centered Halloween celebration is impacting other anticipated trends of Halloween. There will still be treats and costumes. But they may be more homemade than in past years. 56 percent of respondents said treats this year would be homemade, up significantly from previous surveys. Not surprisingly, the same thing is true of Halloween costumes: 63 percent plan to try their creative hand at home, rather than buying a costume this year.
Those metrics are already being supported by a reported drop in seasonal sales associated with Halloween. The changes to Halloween this year are freaking retailers out a bit.
Halloween is on a Saturday this year. That is usually a cause for both retail and adult celebration. But this year the concerns seem to outweigh the anticipation of Halloween. Many are concerned about what older teens, young adults and adults will do to celebrate the holiday.
"The survey said that many see Halloween that falls on a Friday or a Saturday as a potentially more dangerous time this year, and perhaps that is a nod to the protests, riots and violence seen on the streets of some cities in recent months," Westover said. "After months of quarantine, stress over politics and economic uncertainty many respondents say Halloween will just be safer at home, at least for families with children."
Although the survey did not specifically measure this it appears decorating for Halloween is trending up this year.
Just as Christmas trees and lights have punctuated the pandemic doldrums it looks like folks getting in the spooky spirit are planning to carve more pumpkins and hang more lights for Halloween 2020.
Home seems to be where it is at for all the holidays of fall: Halloween, Thanksgiving and Christmas.
With fresh outbreaks of Coronavirus reported with the return to school in many places the caution predicted over the summer in our survey seems to be well founded.

Long-time Christmas freak, first time expert. B. Francis Morlan has written for MyMerryChristmas.com since 2013. He lives in Beaumont, Texas with his ...