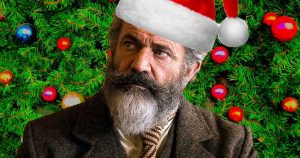 Hollywood just won't quit. They just cannot wait to showcase Santa Claus again in a horrible way. Just announced is an all new Santa film to be called Fatman that will star Mel Gibson as Santa Claus.
Fatman will showcase Gibson as a rowdy, unorthodox Santa who is fighting the decline of his business.
If that's not a weak enough premise they mix in a 12 year old character who is so displeased with Santa Mel that he hires a hitman to knock off The Jolly Old Elf.
Yeah. Can you believe they think this is a good idea? I'll bet Gibson's Santa has to be unorthodox with a plot line like that.
I'm sure the producers and writers are feeling emboldened by the success of Kurt Russell's hip Santa from the Netflix film titled The Christmas Chronicles.
What they don't understand is that the reason Russell's Santa found so much success was not because he was unorthodox. In fact, quite the opposite. Russell's Santa may be been set in a modern day situation but he still had all of Santa's old magic. That's what people love. That is what people want to see.
But, mark my words, this will go down in history as another in a long line of Santa failures.
Think about it. How many bad Santas have we seen over the years?
Chris Elliott, Leslie Nielsen, George Wendt, Paul Sorvino, and Billy Bob Thorton are just the first few members of the bad Santa hall of fame.
Even famous actors in decent Christmas movies have been bad Santas. Ed Asner in Elf was one of the gloomiest Santas ever on film, for example.
You cannot have a good Santa in a bad Christmas movie. If Santa is going to be any good both the story and the actor have to excellent.
Edmund Gwynn and Tim Allen were great Santas. And why? Because they had great stories and they were Santa-like.
Gibson playing Santa as a businessman whose customers want to kill him is not "darkly comedic", as the producers have described the script. There is nothing relatable in that.  In fact, Fatman sounds like a really bad Saturday Night Live skit.
The movie films next year in Canada but only if it can get funding.
We're hoping that somewhere along the line someone will look at how stupid this is and pulls the plug.

Long-time Christmas freak, first time expert. B. Francis Morlan has written for MyMerryChristmas.com since 2013. He lives in Beaumont, Texas with his ...