Like Christmas, the origins of Thanksgiving are hotly debated.
Like Christmas, we can thank stories of Thanksgiving passed down through generations by word of mouth, in letters and documents, period media reports, and great literary works for the making of all that we celebrate of the holiday today.
Historians these days love to deconstruct "the facts" surrounding Thanksgiving. They tell us we are wrong to think of it as we do. They say the "first Thanksgiving" celebrated in grade school plays likely never happened.
But facts are stubborn things, noted President John Adams. Here are some stubborn facts about Thanksgiving that cannot be dismissed: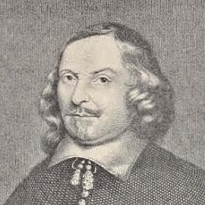 Edward Winslow was a real person. He was 26 years old when he sailed on the Mayflower yet he is one of the few heralded Pilgrims of the Plymouth settlement.
That is regrettable because he was a key player in the survival of the colony. In December 1621 he wrote a letter to a friend describing a hunt where the settlers and the Indians brought in a large variety of game, including wild turkey and deer.
In 1622, without his approval, Winslow's letter was printed in a pamphlet that historians commonly call Mourt's Relation.
This published description of the first Thanksgiving was lost during the Colonial period. It was rediscovered in Philadelphia around 1820.
Just as with the evolution of Christmas in America, the period from 1820 to about 1870, when both Thanksgiving and Christmas became national holidays, great interest in the history of the Pilgrim era and particularly the celebration of Thanksgiving was generated by media attention and great literary works.
Thanksgiving had always been celebrated on American soil at one time or another and in one way or another for decades. Presidents Washington, Adams and Monroe all proclaimed national Thanksgivings.
Yankee family traditions had, by 1800, already established end-of-harvest celebrations that started with Thanksgiving at the onset of winter in November and culminated with Christmas in December.
Plenty of evidence of this resides in journals and local histories of the period.
In 1827 Sarah Josepha Hale began a campaign to reinstate the holiday after the model of the first Presidents. She publicly petitioned several subsequent Presidents to make Thanksgiving an annual event.
Her efforts were fueled by several cultural and literary successes in the marketplace. In 1844 Lydia Maria Child published "The New England's Boy's Song about Thanksgiving Day" , a poem drawn on the Thanksgiving gatherings of her youth when the family would travel "over the river and through the wood" to celebrate.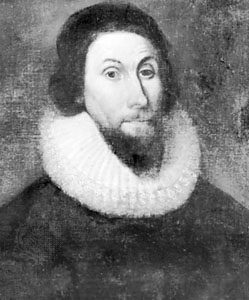 The journal of colony governor William Bradford also resurfaced in the 1840s, after being lost for decades. It fueled the publication of many histories of early America that captured the imagination of the reading public. It caused great interest in 19th century Americans to trace their roots to the 120 souls who traveled on the Mayflower.
One of those souls was a man by the name of John Alden, who reportedly was the first to step on Plymouth rock in 1621. Alden was a friend to Myles Standish, a figure who as a soldier was charged with defending the colony.
If ever there was a superhero figure of the Pilgrim era it was Myles Standish. Just barely five feet tall with flaming red hair, Standish did not have the stature of a fighter. In fact, his height was frequently mocked and when that happened Standish was known to lash out in rage.
In the spring of 1623 Governor Bradford received some intelligence from native friend Massasoit that some Indians were threatening to attack the English colonies at Plymouth and Wessagusset. Standish and a troop of men were sent to investigate.
The leader of the troublemakers was a native named Pecksuot who was said to be a man of gigantic stature. Standish and his men met Pecksuot and his men at a small village.
According to most accounts, Standish and Pecksuot went inside a small house to perhaps parley. Pecksuot then started to insult Standish, apparently making remarks about his small stature. It is said that Standish tired of these insults grabbed Pecksot's knife and plunged it into his chest killing him.
While Standish was something of a legend for his bravery in battle with women it was a different story.
In fact, in the Alden family a story had circulated for years that John Alden once tried to stand-in for his friend Standish with a girl named Priscilla Mullins.
The family legend was popularized by Alden descendent, Henry Wadsworth Longfellow, famed 19th century American poet.
Longfellow is still known to many for his great works, including the touching story of the beloved hymn, I Heard the Bells on Christmas Day, based on his poem "Christmas Bells".
His poems sometimes told great stories, including Evangeline and The Song of Hiawatha.
Longfellow, caught up in the re-discovered manuscript of William Bradford's journal and the legends of his own Mayflower ancestry, composed and published The Courtship of Miles Standish, written in 1858.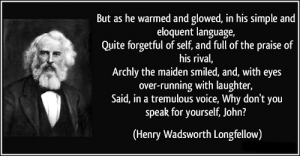 Historians to this day debate whether the story told by Longfellow of his grandparents is fact or fiction.
While Standish's affairs with Indians were a matter of some public record his matters of the heart were not. Still, the legend of it all was passed down within the family – the Alden family.
Another descendant of the John Alden, Timothy Alden, first told the story of the Pilgrim love triangle in his book American Epitaphs in 1814.
The story would become famous with Longfellow's "epic poem" of the tale, a story he loved and struggled with for more than two years to write.
After it was published, Longfellow famously said of the story in 1858 "…it is always disagreeable when the glow of composition is over, to criticize what one has been in love with…"
In the poem, Myles Standish asks John Alden to court Priscilla Mullins on his behalf. This causes John to be torn between faithfulness to his "captain" and the longings of his own heart.
Of course, as the tale is skillfully woven, John and Priscilla fall in love and the dilemma reaches a climax as Priscilla famously mused, "Why don't you speak for yourself, John?"
Longfellow's attempt to balance a romanticized view of Puritan values and culture with an epic exaggeration of Standish's heroism and exploits captured the imagination of American readers in the 19th century and made household names of John and Priscilla.
Longfellow's success in selling the story was not far removed from Dicken's tale with A Christmas Carol.
It reportedly sold 25,000 copies in the United States in the fall of 1858 and saw nearly 10,000 copies sold in a single day when it arrived in London.
What Dickens did for Christmas Longfellow did for Thanksgiving. It took the Old World traditions of Thanksgiving and forever cemented them in the consciousness of the American public.
Meanwhile, as the American political climate broiled towards Civil War, the unifying idea of Thanksgiving – as much a national declaration of God as it was a day of celebration – was growing in popularity and acceptance.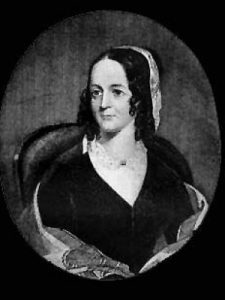 Sarah Josepha Hale's efforts finally succeeded in 1863, when she was able to convince President Abraham Lincoln that a national Thanksgiving might serve to unite a war-torn country.
The President declared two national Thanksgivings that year, one for August 6 celebrating the victory at Gettysburg and a second for the last Thursday in November.
By 1870, when Congress finally and formally put both Thanksgiving and Christmas on the national calendar, Thanksgiving was thoroughly embedded as a day celebrating heritage, food, and God.
Monuments were built to all the figures mentioned above – to Bradford, to Standish, to Alden, and to Longfellow and Lincoln.
Historians of the 21st century are actively working to deconstruct the history of the Puritan era in America. Their efforts will largely fail for one glorious reason:
John Alden and Priscilla Mullins married.
They had 11 children. Millions of Americans today count themselves as descendants of the Aldens (including this author), putting them in association with Longfellow.
Longfellow thought it was a compelling story. It was told to him in his family circles and we continue to tell it in ours.
It is a story of love, of family and of gratitude. That is what Thanksgiving is all about.

Father of 7, Grandfather of 7, husband of 1. Freelance writer, Major League baseball geek, aspiring Family Historian.