The year 1947 is remembered in Christmas film history as the year Miracle on 34th Street came out. But in April of that year another yuletide movie came out that did pretty well at the box office – a movie called It Happened on Fifth Avenue.
It Happened on Fifth Avenue is the convoluted tale of Aloysius T. McKeever, a goldened-hearted drifter who has made it his winter routine to take up his residence in the home of the second richest man in the world, who bails from New York to Virginia as soon as the snow flies.
McKeever hooks up with other individuals who are likewise down on their luck and, curiously, all are connected in odd ways to the Michael O'Connor, owner of the empty mansion.
One such individual he connects with is O'Connor's runaway daughter, Trudy. She is in love with one of the other characters in the film but does not want to win his love through her father's wealth. So she plays the part of being young and poor while convincing her father to crash the scene by pretending to be a bum.
So, what we have is a drifter playing a rich man while the rich man plays a drifter. (Following all this?) This comedy takes a variety of comedic and smaltzy turns typical of the 1940s with Christmas as a backdrop.
All of these characters find themselves together on Christmas Eve in this ritzy home as things come to a head:
This clip features one of four songs from the film. Titled
That's What Christmas Means to Me
, it should not be confused by similar songs from artists Eddie Fisher or Stevie Wonder. The song is both patriotic and Christmasy, something you would be hard pressed to find in any film today.
The movie was originally intended to fall under the direction of Frank Capra, who instead involved himself in It's a Wonderful Life in 1946. Capra passed the story on to producer-director Roy Del Ruth and Allied Artists.
Capra did promote the film, along with a list of Hollywood's biggest names. The film did well at the box office, too.
The movie would get regular airplay on television until about 1990 when it inexplicably disappeared. It resurfaced in 2009 on Turner Classic Movies and it has since then become a cult classic the likes of Miracle on 34th Street and It's a Wonderful Life.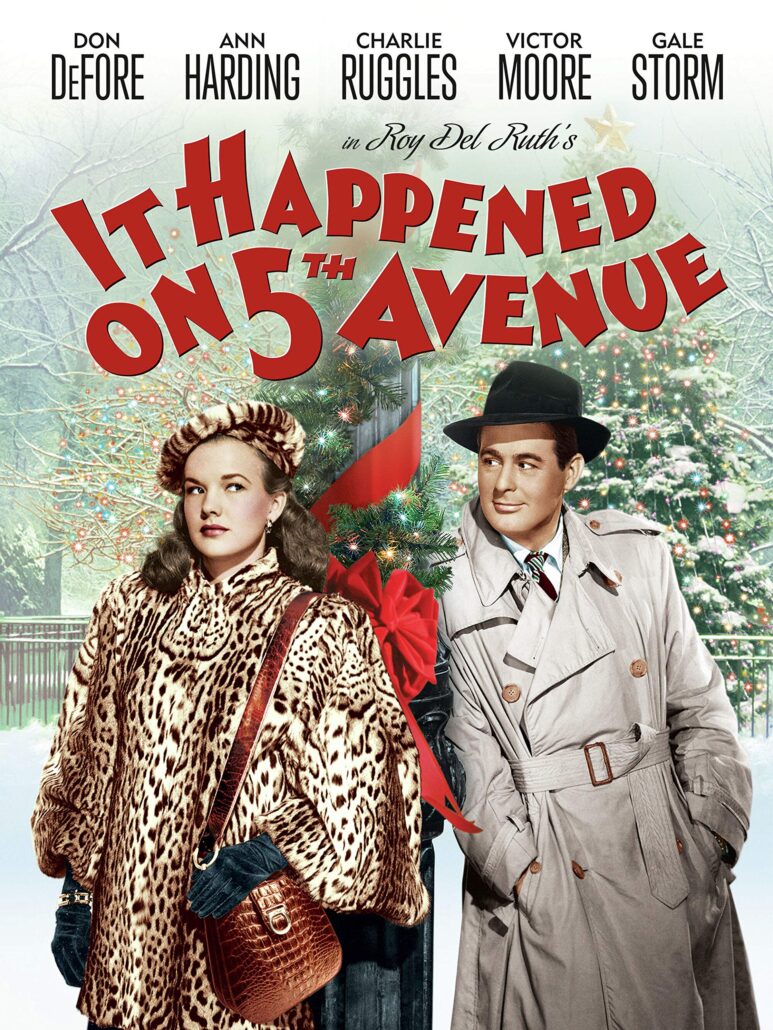 It Happened on Fifth Avenue stars Victor Moore, star of Broadway and film (both silent and sound movies). Co-starring is Don DeFore, who is better remembered for his later television work in The Adventures of Ozzie and Harriet.
Charles Ruggles, a familiar face in American film and television, plays the eccentric billionaire Michael J. O'Connor who owns the home on Fifth Avenue where most of the movie is set.
Interestingly, Alan Hale Jr. plays a supporting role in It Happened on Fifth Avenue. He's better known as the Skipper on Gilligan's Island of television fame.
It Happened on Fifth Avenue was nominated for an Oscar for Best Story. It lost out to Miracle on 34th Street.
It Happened on Fifth Avenue is a joyous film with plenty of positive messaging. Given the movie audiences of 1947 it is plain to see how a holiday-set feel-good comedy was popular and accepted.
For today's movie watchers It Happened on Fifth Avenue is both escapism from the modern Christmas and entertainment on the skirts of Christmas past that should be more appreciated and certainly more viewed.
It Happened on Fifth Avenue has been released on DVD in several different editions, including a TCM collection of Christmas movies and a different Christmas collection. It also had a release on VHS.
The movie can be rented for streaming from Amazon.
For the past several years It Happened on Fifth Avenue has been a December staple on Turner Classic Movies.

Father of 7, Grandfather of 7, husband of 1. Freelance writer, Major League baseball geek, aspiring Family Historian.