It's a Wonderful Life premiered in New York City at Christmastime in 1946, making it 75 years old in 2021.
Originally slated for a 1947 release the movie's premiere was moved up so that it could compete for the 1946 Academy Awards. It was, in fact, nominated for six Oscars but won only one – for technical achievement.
At the time, It's a Wonderful Life was considered a flop as critics dismissed the movie as overly sentimental and contrived. It cleared just over three million dollars at the box office, falling far short of expectations for a movie competing for Best Picture.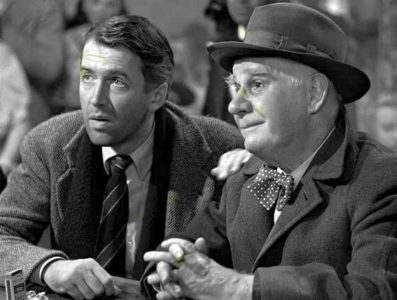 Yet after 75 years It's a Wonderful Life stands atop the Christmas universe as a holiday standard and is even considered one of the best movies of all time.
The journey of this movie's rise from flop to Christmas star is one no Academy Award could fuel.
It's a Wonderful Life is beloved as a classic because Christmas fans have simply said so – over and over again for generations.
~ Making of It's a Wonderful Life ~
Perhaps one of the reasons It's a Wonderful Life is so popular with Christmas enthusiasts is because it's loosely based on A Christmas Carol by Charles Dickens.
It's a Wonderful Life tells the story of a bitter and destroyed man on the verge of suicide. Just as with Dickens, he has a heavenly encounter with an angel who shows him the true value of his life.
Unlike Dickens, however, the story is set in the 20th century and features a man whose appeal to everyday folk just has not waned over the decades.
Like A Christmas Carol the movie is based on a short story, one self-published by Phillip Van Doren Stern and used by him in his Christmas cards in 1943 – exactly 100 years after Dickens published A Christmas Carol.
The story was originally titled The Greatest Gift. Rights to the story bounced around Hollywood during the war and at one time were held by RKO pictures as a potential project for Cary Grant.
Perhaps due to the production challenges presented by the war the project never really saw the light of day.
The story was toyed with in various ways until the head of RKO, Charles Koerner, gave it to Frank Capra to read after the war was over.
Capra had been making documentaries and training films during the war and liked the story as his return to tradition film making as the war drew to a close.
Capra purchased the rights to the film for $10,000 and was given three different versions of the screen play as a bonus. He famously brought in five different writers to come up with a final version. This proved to be a problematic collaboration that led to a debate over who would get credit for writing the movie.
Though the movie is clearly set in a fictional American town in New York it was entirely filmed in California. The set covered more than four acres on an RKO property in Encino. Main Street of the fictional Bedford Falls extended more than 300 yards and featured 75 business facades and a residential neighborhood.
Besides the realistic old town post-Victorian feel to the set the movie would boast scenes of rain and snow that were familiar to viewers. The snow in the film was state of the art for the time. It was made with a variety of foam chemicals and soap, a real departure during an era when snow was simulated with painted cornflakes. It is said the snow was one of the big reasons It's a Wonderful Life won the Academy Award for technical achievement.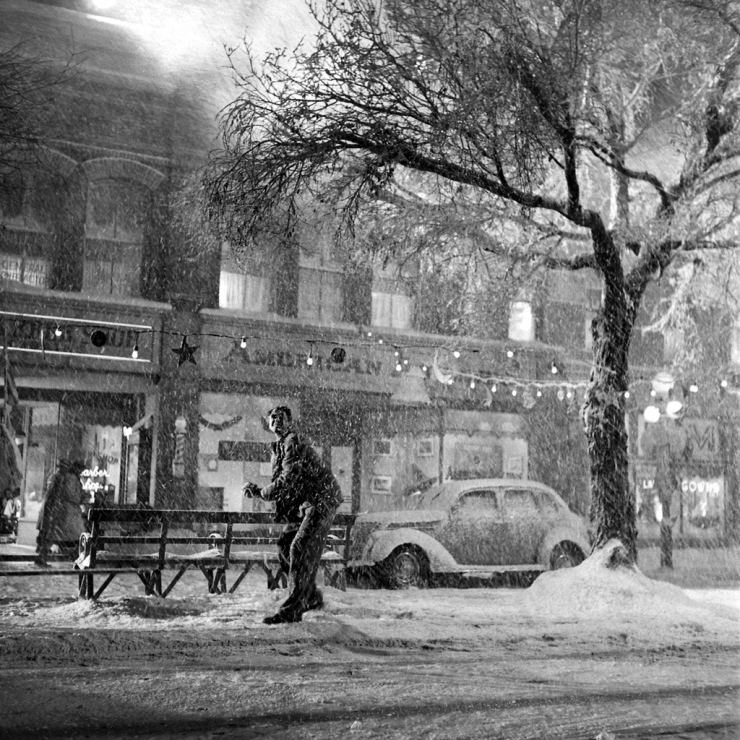 ~ The Right George Bailey ~
In A Christmas Carol the main character, Scrooge, is a hardened soul in need of redemption. In It's a Wonderful Life, the main character of George Bailey is a hero in need of rescuing.
Capra knew he needed the right George Bailey. He could not have the polished, chiseled looks of a Cary Grant. For this story Capra needed a man who looked like everyone else.
His first targets were Henry Fonda and James Stewart. Ironically, both Fonda and Stewart were best friends who found themselves again as roommates after the war trying to reignite their Hollywood careers.
Fonda, however, had already found a project in 1946. So Capra called Stewart, who he later claimed was who he wanted in the first place.
Capra and Stewart had together worked on films famously before the war with You Can't Take it with You and Mr. Smith Goes to Washington. Stewart was thrilled to hear from him after three years away at war.
Stewart later wrote about the first conversation he had with Capra about It's a Wonderful Life:
"Now, listen," Frank began hesitantly. He seemed a little embarrassed about what he was going to say. "The story starts in heaven, and it's sort of the Lord telling somebody to go down to earth because there's a fellow who is in trouble, and this heavenly being goes to a small town, and…"
Frank swallowed and took a deep breath.
"Well, what it boils down to is, this fellow who thinks he's a failure in life jumps off a bridge. The Lord sends down an angel named Clarence, who hasn't earned his wings yet, and Clarence jumps into the water to save the guy. But the angel can't swim, so the guy has to save him, and then…"
Frank stopped and wiped his brow. "This doesn't tell very well, does it?"
I jumped up. "Frank, if you want to do a picture about a guy who jumps off a bridge and an angel named Clarence who hasn't won his wings yet coming down to save him, well, I'm your man!"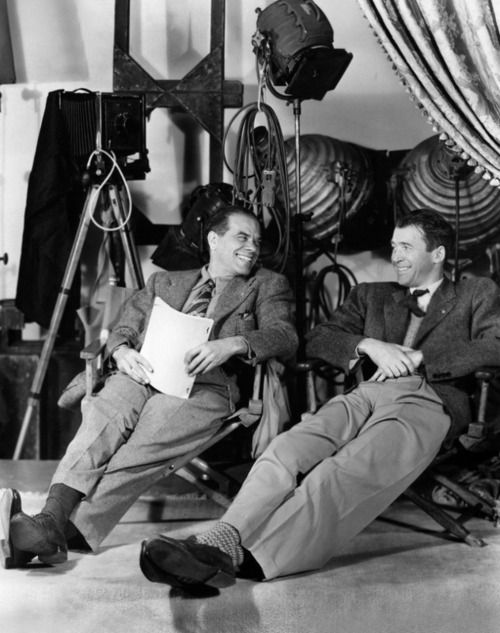 ~ Slipping Through the Cracks of Television ~
The movie premiered in New York on December 20th, 1946 and was given a general public release just after the New Year in 1947. It was soon out of theaters and forgotten after the award season in the spring of 1947.
Capra's Liberty Films was purchased by Paramount who later sold the movie and all of its rights in 1955. There it languished in the vault, unseen and unappreciated until 1974. That year the copyright expired and was not renewed, allowing the film to be shown on television at nearly no expense.
It played as a TV rerun every Christmas on a variety of channels. And it played to an adult audience who looked upon the film's set and story with a nostalgic sense of wonder.
On that small screen, in the intimate confines of the home by the Christmas tree, It's a Wonderful Life found the following it could never establish on the big screen.
The same copyright issues transferred over to a home video market that emerged in the 1980s. It's a Wonderful Life became one of the first Christmas classics widely available on VHS and other home video formats, further extending its reach among Christmas fans.
The movie, in fact, was a leader in home video. In 1993, the movie became one of the first to be released on CD-ROM, again due to expired copyrights that made the film cheaply available. The film also led out in release on DVD and again on Blu-Ray, making it one of the most widely distributed movies ever.
~ One of the Best Movies Ever ~
It's a Wonderful Life was recognized in 1990 as "culturally, historically and aesthetically significant" by the US Library of Congress and selected for preservation in the National Film Registry.
The American Film Institute ranks the movie #1 on its list of 100 Years 100 Cheers and as of 2020 it still lands on their list of the greatest films of all time at #20.
But it remains in the world of Christmas the gold standard. It's a Wonderful Life is like the song White Christmas – far and away the classic among the classics as the best ever.