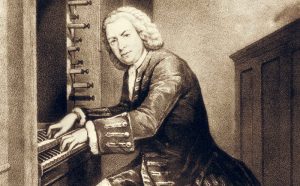 Bach's Toccata in D Minor might not be known by name for those who don't follow classical music but it's signature sound is recognizable by millions as being associated with suspense, terror and especially Halloween.
Here it is in spooky splendor as presented by the great Richard Elliott, famed organist for the Mormon Tabernacle Choir.
It is the perfect mood setter as we head into Halloween:
Many think this was written specifically for the organ but experts say it was intended instead for the violin. However, a history of use in 20th century film and on stage for various scenes of murder, horror and suspense has taken the 18th century work into the mainstream sphere of Halloween. Somehow the tune has become associated with Phantom Of The Opera, although it has nothing to do with it.
Now, what does this have to do with Christmas?
We've spoken before of the connection between Halloween and Christmas.
But for those who seek spiritual significance to their holidays it is plain to see how Halloween's 'day of the dead' honoring of ancestral past is connected to Christmas. It has to do with overcoming death and the reality of the afterlife.
And what's so spooky about that?
Regardless if you buy into to the spiritual associations of Halloween and Christmas or into the so-called pagan-roots that anciently begat both Christmas and Halloween there is no doubting that in a modern society Halloween is the gatekeeper of holiday fun associated with this time of year and that it all reaches it's peak at Christmas.
From costumes to role reversal to roaming neighborhoods in search of treats there is much in Halloween to ties us to our ancient past and to the redemption of love, sacrifice and service so representative in our Christmas celebrations.

Father of 7, Grandfather of 7, husband of 1. Freelance writer, Major League baseball geek, aspiring Family Historian.