Christmas has stubbornly persisted in these times of pandemic. As the world went into quarantine in the Spring of 2020 many turned the Christmas lights on outside and some put the tree back up.
It was a way of coping with sudden changes brought on by isolation and long waits for the return of normalcy.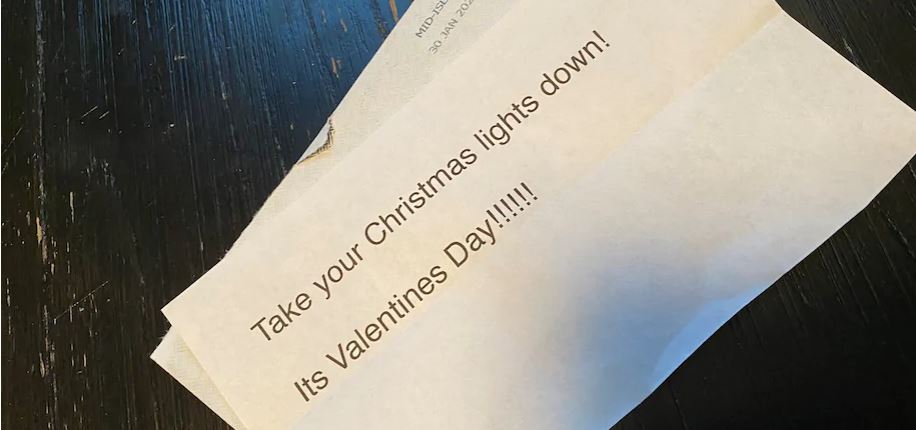 As the long, ugly election year of 2020 passed Christmas came and went with valiant efforts to keep things merry and bright. Some claimed more Christmas lights than ever were strung as a way for communities to safely celebrate the season while social distancing.
Christmas came and went – and for many, the lights have stayed on.
But not everyone has understood.
In Long Island a family is working through their grief brought on by COVID-19 deaths in the family by keeping their lights on well into the New Year. Their story is not unique. But an anonymous letter has brought attention to their situation.
The letter chided them for still having their lights on:
Their neighbors responded to the story shared on local news by putting their lights and decorations of Christmas back out and back on. It was the least they could do to grieve with their saddened neighbors during this long, dark winter.
Christmas lights, trees and decorations are not only for the grieving.
Super Bowl-winning Tampa Bay Buccaneers cornerback Sean Murphy-Bunting still has his Christmas tree up. It's been up since before the Bucs went on an 8-game winning streak that led them to victory in the big game.
He didn't want to mess with the win streak. So his tree stayed up, stayed on, and, some say, was all the lucky charm needed for the win.
Christmas persists in this way. It's for winners and for the suffering. That is, at the end of the day, the great story of Christmas, whether you buy the religious side of Christmas or not. It is a season of hope, light and looking-forward.
~ The Persistence of Christmas Lights ~
Steven Anderson of South Jordan, Utah has not taken down his Christmas lights since he put them up in October of 2019.
"We just moved here and in the course of buying our first home we of course dreamed of decorating it for Christmas," Steve said. "We both did that when we were kids. We debated where the tree would go. We have wanted to do this since we married. The long years of saving and finally being able to say we own our own home meant we could bring back a tradition of Christmas we had as kids. We could not wait to do it."
But the Andersons did not know then that their lights would stay up so long.
"Our original plan was to take them down sometime in January," Steven's wife Alison said. "But Steve's Mom got sick and I just had a baby and they were still up on Valentine's Day. We just didn't have them on."
As news of the virus spread and the Anderson children ended up staying home from school at one point during a snowstorm in March 2020 Steve flipped the lights back on.
"The boys wanted to watch Elf and drink hot cocoa," Steve said, smiling. "It just seemed like a good idea that night. We had Christmas going, even without the tree, with the snow and all."
As the days turned to weeks and Steven started working at home eventually the tree went back up.
"Our Easter tree," Alison called it. "In fact, we decorated it for Mother's Day, then Memorial Day and Father's Day and 4th of July. We kept coming back to Christmas."
At first, there were smiles from family and the neighbors. Most just shrugged and said "Why not?"
But as the hot days of summer came on the Andersons say there were some sideways glances and more than enough jokes about their persistent Christmas.
"We have a five year old," Alison explains. "He missed Kindergarten and he could no longer play with his friends, all because of the pandemic. The tree and the lights and the Christmas movies are all very important to him. They are his teddy bear."
~ The Persistent Christmas Spirit ~
For 72-year old Beth Babcock the feeling is very much the same. Widowed just three years ago, Beth lives alone. The pandemic has been hard on her because she cannot get out and see her grandchildren or visit with friends.
Beth was deeply concerned with catching Coronavirus. So she kept herself isolated all from early in 2020.
To lift her spirits she shopped QVC's Christmas in July and started decorating early.
"I love Christmas but this year I really loved it," Beth laughs. Her small home featured three trees, all decorated with different themes. She even had a son-in-law help string one solitary string of Christmas lights up on her small balcony. At the time, Beth did not think they would lead to trouble.
Just after Christmas Covid-19 came calling for Beth. As she feared, it put her in the hospital where she wrestled with it for just under 4 weeks.
Things got so bad that Beth's 98-year-old mother, from a nursing facility in Virginia, had to call Beth's daughter in Georgia to go check the mail and water the plants.
In the mail was a nasty-gram from the home owner's association about Beth's solitary string of lights. Because she was gone and did not see the notice, the lights stayed up past the warning period. Another letter imposed the $100 fine by the HOA.
Beth's mother got a bit riled up about that. She called the HOA and got the fine waived but the HOA insisted that the lights come down because, they said, "there were complaints from other residents".
"Mama got my son-in-law back over there with his ladder. But she got them back." Beth chuckled. "Mama decided to have lights put up in every room so when I came home it would be bright and cheery."
Beth's homecoming was a Christmas party, complete with a Zoom call from her mother in Virginia. Beth, whose 75 year old brother had also suffered and recovered from Covid-19, laughed when her mother teased about looking after the kids.
"Mama said they could make you take down the lights outside but they can't take Christmas from the inside," Beth said. "Mama still heals as mother's always do."
Beth claims to have a new appreciation for Christmas. She says the experience of Christmas 2020 has reignited her love for the season. "It is an effort of making happiness happen," Beth explains. "At first I did it for myself and it worked. Then Mama did it. I never focused on it that much before but I will going forward. These times are hard with everything going on. Christmas is not hard. Christmas is healing".

Father of 7, Grandfather of 7, husband of 1. Freelance writer, Major League baseball geek, aspiring Family Historian.