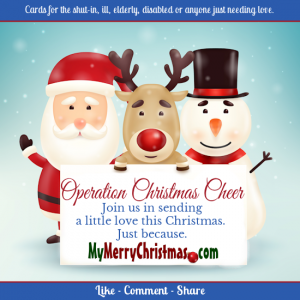 Christmas represents for many people an ideal time to think of others. Many have time off, some have extra resources and most have a desire to lend a hand at this time of the year.
That is one of the keystone message of Christmas.
But finding opportunities to serve is not always so obvious for some.
We offer something simple, something inexpensive and something nearly everyone can do: send cards through Operation Christmas Cheer.
Operation Christmas Cheer was born of a desire to give back as part of our Annual Christmas Card Exchange. We knew how WE felt receiving cards from all over the world — how simple could it be to just provide that for someone else?
So each year we do this. We gather names of those who can't get out during Christmas. Perhaps they are elderly or sick, maybe they have been injured or, in a year like this one of so many natural disasters, perhaps they have been displaced from their homes.
We offer this link to those who want to send cards. And this link for names and addresses of those who would like to receive them.
Of course, there a many more ways you can reach out to serve at Christmas. Instead of just writing and mailing cards, for example, why not deliver them?
Most of us know someone in a secluded situation. Most judge wrong that these folks just want to be left alone. If you know of someone in your neighborhood who you feel inside needs a friend, why not reach out to be one? No time is better for that than Christmas time.
You can also reach out to serve by asking those who work in schools, nursing homes, churches and service organizations what you can do to help. There are many out there looking for people just like you who want to serve.
Giving of self and giving anonymously are the magic ingredients that build Christmas spirit. We tend to forget that during events like Black Friday or Cyber Monday.
The frenzy of attending parties, going to events, attending concerts and seeing the Christmas sights tends to overwhelm our sense of others at this time of the year.
Stop.
Think.
And find a way to reach out to serve.
Your Christmas could never be better.

Father of 7, Grandfather of 7, husband of 1. Freelance writer, Major League baseball geek, aspiring Family Historian.