The news has been decades in the making: iconic retailer Sears is closing its doors for good this year. The effect of their loss, like that of Toys R Us, will not matter one bit to consumers. But the loss of Sears to Christmas history is worthy of note.
Once upon a time Sears was the yearly watch-word for Christmas shoppers and Santa dreamers coast to coast. Kids everywhere marked the day when the Sears Christmas Wishbook would show up in the mail.
Generations took their children to Sears to have their pictures taken with Santa.
It was the place to get the latest in Christmas tree fads.
From decorations to gifts, Sears was the destination especially for remote consumers that could depend upon their catalog services to fill their stockings.
After years of enduring criticism and bad press, the American original retailer is finally getting some love in the media as it closes its doors. Most are calling Sears "the Amazon of its day".
The comparisons are entirely inappropriate.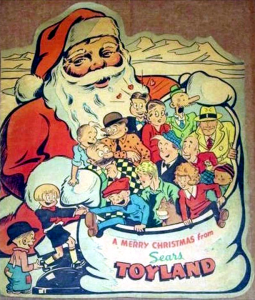 Sears did far more than Amazon has ever accomplished and faced obstacles Amazon is yet to encounter.
Sears was a byproduct of late 19th century marketing. It began as a seller of watches and jewelry that expanded into a thriving catalog business. The 500+ page catalogs Sears produced offered by-mail access to thousands of products that folks in remote areas just couldn't find in local stores.
But unlike Amazon, Sears accomplished great growth in the face of stiff competition. Many others were in the business of mass merchandising through catalogs. Sears just figured out how to do it better than anyone else – opening massive mail order facilities in different areas of the country while developing delivery systems nobody else had.
Sears opened their first retail stores in 1925. The changing landscape of American retailing was driven by the automobile – and there were simply more customers to be had than Sears' catalog business in rural areas could offer. The first store opened in the Sears Chicago mail order facility and was an immediate success.
Sears expanded rapidly, opening more than 27 by the end of 1927 and more than 400 by 1933. In comparison, Amazon didn't open their first stores until 2016, nearly 20 years after opening online – and Amazon has remained a tepid bricks-and-mortar retailer.
Why? Competition. Sears had no fear of competition, however. Sears played to expanding markets where department stores like Macy's already and a foothold and then gleefully forced their catalog operations on every segment of their business.
Sears was expert in developing new products and establishing their own brands. Kenmore debuted in 1913 and remains a nameplate for quality appliances. All State was first branded for Sears-made automobile tires and was used to expand into the insurance business in 1931.
Sears would go on to make such legendary brands as Die Hard and Craftsman – something Amazon has not achieved in the least.
Sears catalogs and stores offered everything from cars and houses to clothing, tools, appliances, toys and candy. Their stores were destinations for Christmas shoppers out and about and their catalogues were found nearly everywhere.
Sears was at the forefront of nearly every new retailing idea – from self-service merchandising to Black Friday discounts.
But by the 1970s Sears was an outdated retailer who started to falter. How then did it last until 2018?
It lasted because it was diversified in so many different areas. Sears held on to their beloved brands until 2017. And their real estate holdings are still unmatched by companies anywhere – including Amazon.
Sears failed first to respond to late-20th century big box retailers like Walmart and Target and were late to the table online with the likes of Amazon. Sears had grown just too big and, frankly, too arrogant to survive against retailers who brought change and innovation.
But for generations Sears was Christmas coast to coast. And that will be mourned this Christmas season as the lights go out at Sears.
Amazon, for as much as it dominates the American retail marketplace these days, is no Sears. They do not have competition. They do not give "shoppers" the buzz of a bustling shopping season or the anticipation of great seasonal discounts. The Christmas experience on Amazon pales in comparison to the Christmas experience of old at Sears and other retailers of America's past.

Father of 7, Grandfather of 7, husband of 1. Freelance writer, Major League baseball geek, aspiring Family Historian.