You will need to shop early for Thanksgiving this year. Word got out fast about early Christmas shopping but few know of the problems coming in shopping for Thanksgiving. Significant food shortages on traditional Thanksgiving items are already showing with Thanksgiving now about a month away.
Major food distributors in the United States are scrambling to meet the anticipated needs.
Some are now saying that items such as boxed stuffing, canned pumpkin, canned cranberries, ice cream, marshmallow, and even pie crusts could be caught short.  Baking staples such as flour and sugar will be available but some traditional spices or even chocolate will be in short supply or could cost a lot more this year.
"The CDC is warning us all to have smaller gatherings," said Hector Jolley, a supply chain manager for a major west coast distributor. "That might make an individual family purchase less. But everyone is going to still be eating Thanksgiving somewhere. The demand is as great as it has always been. But what we have available to us is not the same".
Jolley says that rolling disruptions to manufacturing due to COVID shut downs are at least partially to blame for the lack of product. Other industries, such as agriculture and even shipping, have contributed to the supply woes because they too have been COVID-affected.
So what is the best advice in dealing with this?
Jolley says that if you find these items on store shelves now to buy them. He says that by the time we're two weeks out from Thanksgiving it will likely be too late to try to find some of these items.
The media has made mention of changes in the supply of turkeys. With traditional holiday gatherings scaled back they say the trend will be for smaller turkeys.
Jolley says the turkey supply is just fine, however.
If all he has are 17 pound turkeys when most only want 12 or 13 pound turkeys Jolly is confident that "the turkeys are gonna fly anyway". People will just be happy to have them. He said he does not anticipate a turkey supply problem, though he was less confident about hams.
He also says that folks need to bear in mind that most industries are still trying to recover from the panic buying that took place last spring at the start of the pandemic.
All summer long stores have been trying to stockpile popular items they feel people will want. This goes beyond food items. Jolley says they have been building stocks of paper towels, cleaning and sanitizing products, and baking items, which all proved extremely popular during the pandemic.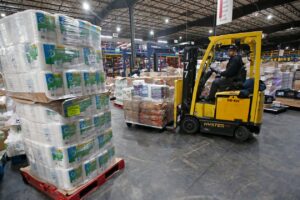 Associated Food Stores has loaded pallets with cleaning and sanitizing products — dubbed "pandemic pallets" — to keep inventory in warehouses.
"We will never again operate our business as unprepared for something like this," Darin Peirce, vice president of retail operations for Associated Food Stores, told The Wall Street Journal.
Campbell Soup Co. 's overall inventory is only about halfway recovered, and the team is pushing hard to fully catch up by January, according to CEO Mark Clouse. It is racing to get its Chunky and condensed soups and Swanson broths back in stock and adding production capacity for snacks such as Pepperidge Farm Goldfish crackers and Cape Cod potato chips.
Other items of concern include over-the-counter cold remedies, vaporizers, blankets, candles and diapers.
Some items are already being listed as difficult or impossible to find even now: Clorox announced some of their products, like disinfecting wipes which have been MIA all year, will continue to be scarce for many more months. Hormel Foods, the makers of Skippy Peanut Butter and SPAM, said their inventory is still 24% lower than a year ago, and General Mills still hasn't caught up with the demand for Progresso soups, Betty Crocker cake mixes, and Pillsbury dough.
Complicating matters for suppliers such as Associated Foods is the fact that restaurants have tanked during the pandemic while home food preparation has soared.
"Everything needed has to be in completely different packaging. We're not selling 50 pound bags of sugar to restaurants, we're selling 10 pound bags to stores for consumers." commented April Grant of Amherst Foods. "That shift happened over night. The whole thing caught our industry off guard and we have been scrambling to adjust."
Coca-Cola Co and its bottling network are still making fewer varieties of drinks to meet demand for its top beverages. That has made it difficult for shoppers to find things like Fresca and caffeine-free Diet Coke in the pandemic. Meanwhile, Coke's business serving restaurants and other venues has suffered declines.
All of this translates to changing variety available on grocery store shelves. What consumers want will not be there as readily in the past. So consumers need to be watchful and make purchases earlier instead of at the last minute.

Long-time Christmas freak, first time expert. B. Francis Morlan has written for MyMerryChristmas.com since 2013. He lives in Beaumont, Texas with his ...