Apple TV+ will soon produce Spirited, a musical retelling of Charles Dicken's A Christmas Carol, according to Collider.
The big money project ropes in the talents of Ryan Reynolds and Will Ferrell to star in the flick. Reynolds will be playing the "Ebenezer Scrooge-like" lead.
An additional report from Slash Film says that Oscar Winner Octavia Spencer is in talks to join the cast. She will appear as a co-worker of Scrooge who helps the Ghost of Christmas Present (Ferrell, evidently) teach kindness. Slash Film calls Spencer's role the "Bob Cratchit" character of this adaptation.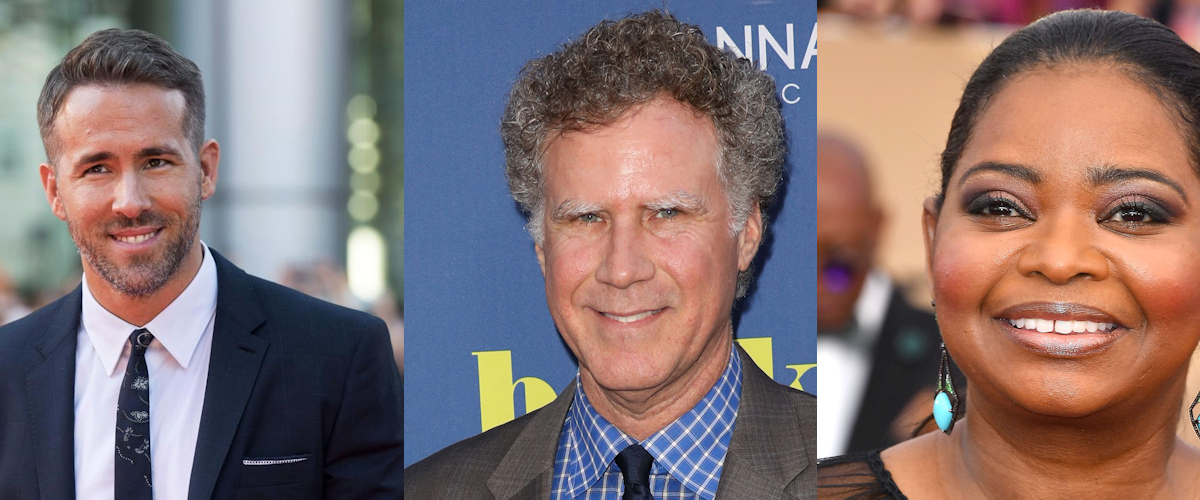 According to several sources the musical take on A Christmas Carol was considered a "hot project". Paramount and Warner Bros both pursued the project.
Sean Anders and John Morris will be directing the script they have produced. There is no word yet on who will be behind the musical creation.
~ A Brief Film History of A Christmas Carol ~
A Christmas Carol has had two noteworthy magical musical adaptations: 1970s Scrooge, which starred Albert Finney in the lead, and the much beloved Muppet Christmas Carol which was released in 1992.
The Muppet version has easily risen to cult/classic perennial holiday favorite among Christmas enthusiasts.
Fans are admittedly cautious of any new production of the Christmas tale.
In the past few years the public has endured a profane BBC/FX television production by Steven Knight and a flat and dark animated feature that did not even have characters who spoke.
There is, perhaps, no other story that has been told and re-told like Dicken's A Christmas Carol.
In 1901 it was presented as one of the first movies ever made in a silent film production called Marley's Ghost. It was remade as Scrooge in 1913 with Sir Seymour Hicks starring.
Hicks famously starred in a remade Scrooge, this time with sound, in 1935 in a version that still sees a lot of replay on video and television.
Reginald Owen was Scrooge in a 1938 version of A Christmas Carol that featured Gene and Kathleen Lockhart at the Cratchits.
In 1951, a more congenial Scrooge played by Alistair Sim in A Christmas Carol was produced and it too remains a fan favorite.
Finney's Scrooge came along in 1970, followed by a made-for-TV version of A Christmas Carol that featured American George C. Scott as Ebenezer Scrooge.
Bill Murray then famously took on the role of Frank Cross, the Scrooge-like television executive in a sour comedy adaptation titled Scrooged that has seen more life in reruns than when released to the big screen.
The Muppets followed in the early 1990s with their child and family friendly musical version with Michael Caine. Patrick Stewart then brought his forced Scrooge in 1999, which was driven by Stewart's one-man stage version of the story.
A Christmas Carol has been adapted hundreds of times for the stage, for radio and for animated specials such as Mister Magoo's Christmas Carol, The Stingiest Man in Town, Mickey's Christmas Carol and the hollow Disney 2009 computer animated A Christmas Carol that saw Jim Carrey star in several roles.
~ Comedians Struggle with Dickens ~
The failures of comedians, musical and comedic takes on Dicken's story makes new productions suspect long before they become public viewing.
Throwing money at the production – 2009's Disney/Robert Zemeckis version is a good example – does little to produce a meaningful re-telling.
This newest adaptation is from the creators of Daddy's Home, another Will Ferrell comedy that grossed better than $250 million at the box office. It sports a nasty 30% score at Rotten Tomatoes with the consensus opinion that the film suffered from "a dearth of genuinely funny ideas". (The ratings for the follow-up film are even worse).
The new Christmas Carol film, to be titled Spirited, will reportedly pay both Reynolds and Ferrell $30 million each.
Word on the street is that Apple is sparing no expense on production.
We'll see.
There is no anticipated release date at this time and production on the film has not yet started.

Father of 7, Grandfather of 7, husband of 1. Freelance writer, Major League baseball geek, aspiring Family Historian.