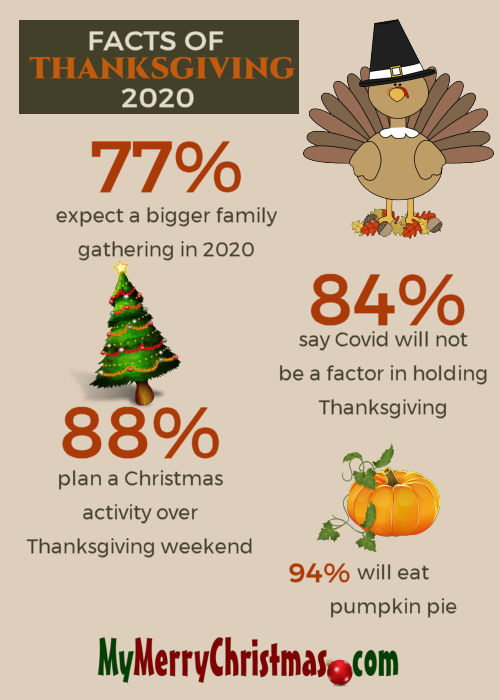 Thanksgiving 2020 is going to happen. The annual holidays survey commissioned by MyMerryChristmas.com shows that Thanksgiving has been on the mind of a lot of people nearly all year – and they are not going to skip it.
77 percent of people are expecting a slightly bigger family gathering and a whopping 84% say Covid will not be a factor in celebrating Thanksgiving.
~ Careful with Covid ~
However, that does not mean folks are taking chances. The CDC can rest assured after publishing their guidelines for Americans this Thanksgiving.
Nearly all respondents say frank family discussions about who is healthy, who might not be, and what they plan to do about it are most definitely happening.
94 percent of respondents plan to serve Thanksgiving meals to quarantined family members while the healthy in a family will gather for the traditional meal.
Thanksgiving polled quite differently than Halloween or Christmas. Only 38% of respondents expect a family gathering for Halloween and 56% of survey participants said the big family Christmas would be set aside this year.
Why the difference with Thanksgiving?
Most polled respondents identify Thanksgiving as a more must-have event with extended family. Unlike other holidays that would include outdoor activities or interfacing with the public many see Thanksgiving as more controllable and more flexible.
93 percent felt their family could gather with social-distancing easily in place. In warm weather areas some are opting for an outdoor setting for the meal while others are planning for smaller gatherings.
Still, Thanksgiving celebrants do show plans for an increase in "virtual" celebrations plans this year compared to year's past. 68 percent say they will use technology such as Facetime, Zoom and Facebook messenger to reach out to family at a distance.
~ Christmas at Thanksgiving ~
88 percent are going to slip in some Christmas activity during Thanksgiving. Of those with Christmas on their minds, 78 percent say it will be because their family may not be able to gather for Christmas a month later.
Decorating and Christmas tree activities will dominate Thanksgiving weekend as 89 percent say is their tradition. That is almost no change from previous surveys.
Black Friday will be the biggest change in tradition this Thanksgiving. 84 percent they would not go shopping on Black Friday even if stores plan big sales events. 81 percent plan to shop online over Thanksgiving weekend.
One of the biggest changes in the survey from years past is that Christmas shoppers this year plan to have their shopping done before Thanksgiving.
63 percent say they will complete it early and ship it out sooner this year. That is way up from the near 30 percent level of past surveys.
Interestingly, the food plans for Thanksgiving 2020 do not look to change. 81 percent plan on eating turkey with all the traditional fixing – just as last year. In terms of COVID worries in relation to food this Thanksgiving 98 percent say they are not concerned and plan only to handle things very carefully.
~ Pumpkin Pie Traditions ~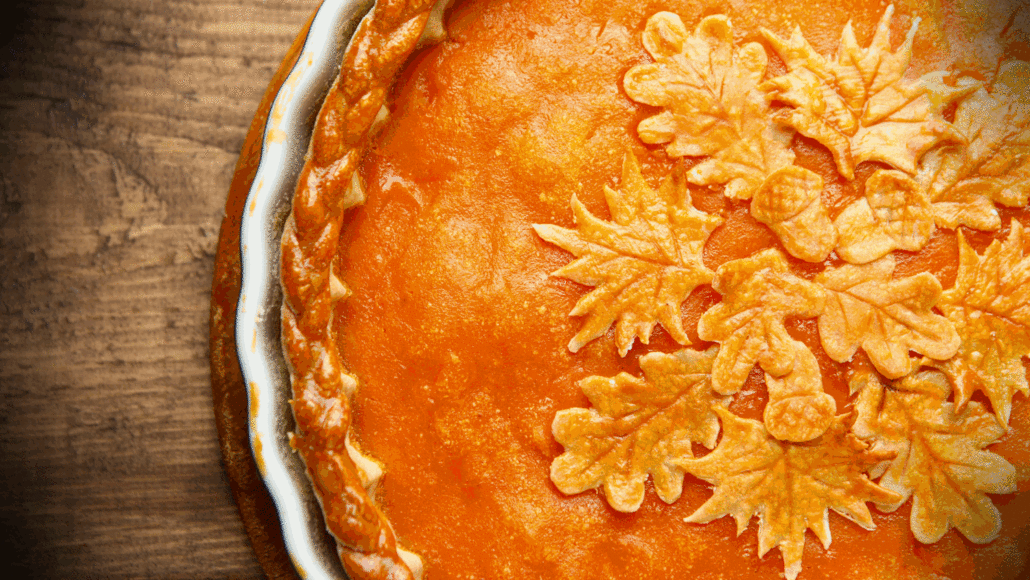 94 percent plan on pumpkin pie, up just slightly from last year. 41 percent plan to make their own homemade crust this year – which is a jump from just 32 percent a year ago.
(In a new question to the survey 49 percent said the home cooking done in 2020 due to extended periods of lockdown have improved home cooking skills and built Thanksgiving meal prep confidence!)
61 percent are slightly concerned that traditional Thanksgiving day activities will not be available with most expressing disappointment that the Thanksgiving Day parade will not happen.
In the absence of parades and football, most plan to jump right into Christmas when they are not feasting.
91 percent insist that Thanksgiving is important – many saying it is the most important family holiday on the calendar.
Nearly all admit Thanksgiving 2020 will be different.

Father of 7, Grandfather of 7, husband of 1. Freelance writer, Major League baseball geek, aspiring Family Historian.