The cars of A Christmas Story are a thing. The 1983 movie, written by Jean Shepherd, quietly features a number of classic automobiles of the late 1930s and early 1940s.
These vehicles are celebrated by car enthusiasts every year, as a matter of Christmas tradition.
The funny thing is that cars really have little to do with the story – except for the fact that Ralphie's old man is an "Oldsmobile Man".
Of course, Ralphie was based on Jean Shepherd himself.
So what we see in A Christmas Story is just an extension of Jean Shepherd, his old man, and the cars of his youth.
~ Jean Shepherd and Cars ~
A Christmas Story was the work of Jean Shepherd, an American humorist, writer and radio and television personality of the 20th century.
While most famous in Christmas circles for his classic film A Christmas Story, Shepherd spent decades in media entertaining and writing about topics of Americana.
Most do not realize that Jean Shepherd was also a car freak.
He owned MGs, Porsches, and Morgans, even a Goggomobil. He was an announcer at sports car rallies and a monthly columnist in Car and Driver magazine.
So while A Christmas Story was never about cars there are subtle references to classic vehicles that car enthusiasts celebrate every Christmas.
~ Oh Fuuuuuuudge ~
Shepherd narrates A Christmas Story with many brilliant and comedic expressions such as when he says "Some men are Baptist, others Catholic; my father was an Oldsmobile man."
That is backed up by the few scenes in the movie where the family heads out in their 1938 Oldsmobile Touring Sedan.
The car used in the movie is frequently on display at A Christmas Story House & Museum in Cleveland.
The blue four-door sedan shows up during the "Ohhhh fuuuuuuudge" fiasco when Ralphie's helping his dad change a flat tire on the car.
You can also see the family's primary mode of transportation parked outside their house and at the Chinese restaurant.
The model originally cost an affordable $900 MSRP and offered enough fuel efficiency, power, and size to function as a family vehicle.
Its six-cylinder engine and rear-wheel drive gave it enough muscle to transport a family and their Christmas tree.
140,000 models were produced, and the one used in the movie was donated by a local Cleveland car collector.
The car, along with the home's furnace, was frequently a source for the Old Man's profanity.
That profanity was also authentic in the sense that the 1938 Oldsmobile featured technology that was primitive compared to our day.
"That hot damn Olds has froze up again! That son of a bitch would freeze up in the middle of summer on the equator!" Antifreeze then was methanol, and cooling systems were not sealed, so it would quickly evaporate. We use ethylene glycol today, which is much less volatile.
These details – and many others – fill the Christmastime pages of car collector and enthusiast websites every December.
~ More than Just Oldsmobile ~
Other classics appear in the movie in the background and those details are missed by most of us.
But not by car enthusiasts.
For example, when Ralphie takes on Scut Farkus he walks through a rusted out Ford Model A:
When Flick sticks his tongue to the flagpole all the car nuts notice two things: the police car is a 1948 Chevy Stylemaster and the firetruck is a 1938 Ford.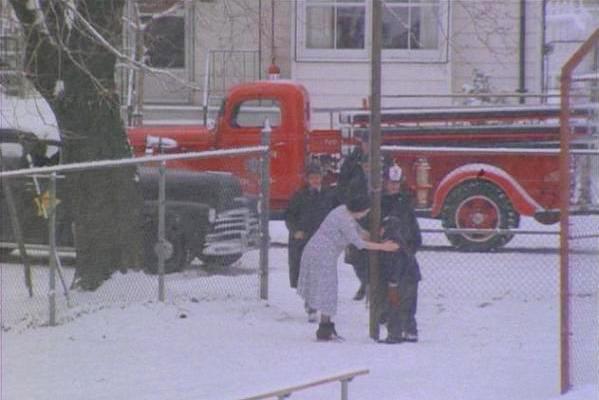 What most of these car websites and fans are pointing out is the same charm that captures the rest of us when we watch A Christmas Story.
For me personally it is one Christmas movie I can recall actually seeing for the first time in a movie theater.
My Dad took our family to it as part of a Christmas vacation. It is THE one movie where I can recall Dad laughing hysterically at. That was not something he would ever do in public.
But my Dad was a child of the 1940s.
Everything – from the kitchen appliances to, yes, the cars – was a gleeful throwback for him. Dad was the kid who wanted the BB gun for Christmas. He could completely relate.
And so can the rest of us – even if we cannot specifically identify the cars used in the background.

Father of 7, Grandfather of 7, husband of 1. Freelance writer, Major League baseball geek, aspiring Family Historian.