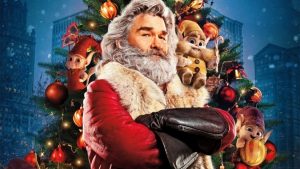 There's a new Santa in town. Everyone is talking about him.
Over Thanksgiving weekend Netflix debuted their new Santa-driven Christmas film they dub, probably because they will make this a regular holiday thing, The Christmas Chronicles.
In others words, it's a story – a Christmas tale. This one is a Santa story – a fantastical, magical story as most Santa stories are. It is a Santasy.
Suiting up for Santa this time is Kurt Russell. The previews for weeks have raised the eyebrows of men and set a-tingle the hearts of women. The Christmas Chronicles with this casting suddenly made this must-see family viewing.
My friends and family, upon seeing the trailers, immediately asked me my opinion. They know very well my almost-sacred reverence for the Big Guy.
The trailers make this Santa out to be anything but reverent.
Those who know me smelled an epic rant about to pour forth on these pages. After all, I'm the guy who dissed Jim Carrey as The Grinch and Will Farrell as Buddy-the-Elf.
Chill. I like Wyatt Earp as Santa.
Netflix reached down deep into Santa's bag to touch many nerves on this one for me. Kurt Russell was just the first of many right decisions.
But viewer beware: there is some formulaic Christmas slop you have to wade through in The Christmas Chronicles.
For weddings they say "something old, something new, something borrowed and something blue". The Christmas Chronicles kind of sticks to that script.
As most Santa stories go there is the obligatory broken family plot line to first endure before you get to the good stuff. There's a single working Mom dealing with two kids who are facing their first Christmas without Dad, who died saving others in a fire.
Little sister, age 11, and Big Brother, age 17, are in perpetual sibling conflict. One of their many squabbles is the existence of Santa Claus.
Left home alone on Christmas Eve (Mom has to work), after discovering a sliver of evidence of Santa from an old family Christmas video, the two feuding siblings come together to trap Santa and catch him on video this Christmas.
They succeed wildly, almost too easily, and this of course leads them to Santa, his sleigh, the reindeer, the elves, the North Pole and everything magic about it all.
Best of all, Santa turns out to be thoroughly charming.
You see, Santa isn't the jolly fat man Coke made him out to be. In fact, Santa's a bit sensitive about that. He doesn't care for how his image has been crafted and he doesn't say "Ho, ho, ho!".
He works out at the gym, he sings the blues and he still somehow gets those dimples to flash from beneath his feathery beard.
This ain't your Daddy's Santa Claus.
Kurt Russell's Santa is thoroughly modern. He's tech savvy, has great vision. He still winks and has the twinkle in his eye. He wears his red coat long, giving him a jolly Wyatt Earp kind of vibe, and he's robustly physical.
But this Santa is still magically traditional. He pulls out all the stops to make Christmas magic with every person he encounters on this adventure. He knows the end from the beginning every time.
But there are worrisome details that many have fretted over before the film was released.
The plot elements of Santa getting into a scrape with Chicago police, getting thrown in jail and stealing a car did not escape the critical eye of some professional Santas in that community. There was some Santa smack going on over these things.
But context is everything. Any time you mix Santa with a plot line you've got to make room for magic. It's his great escape. And it generally works.
In this tale Santa is willing to bend a little: he'll take that car since it was stolen before he got into it. After all, he's Santa. He'll just return it to them better than new when he's done.
When he's in jail – because the cops aren't buying the whole grand theft auto thing – he turns a collection of drug addicts and street walkers into a blues band and does his best Elvis.
This Santa is amazingly diverse.
When he busts out of jail he, as Santa is wont to do, admonishes his fellow cellmates to be good. They shrug. Santa knows how it all works and he works with it. There is plenty of reality in this fantasy.
Now, The Christmas Chronicles are not all sugar plums and eggnog.
It's a Netflix feature, which is a thoroughly modern term for "made for television".
Some of the production values and special effects were lame. Maybe it's just my TV but some scenes felt more like video than film.
The time warp stuff, the bottomless Santa sack, and the reindeer in flight were all missing something in terms of true Hollywood special effects.  They gave the film a kind-of Mel Brooks' Spaceballs quality at times.
At one point, Santa turns to one of the kids and says, "Hey, I'm just Santa, not Yoda". That irony isn't lost on the viewer.
There is also a real tendency for déjà vu with this movie too.
The kids lay an ingenious trap by creating a houseful of horrors including a strung line intended to trip the intruder. Check: saw that in Home Alone. Santa gets captured by the cops and interrogated. Check: saw that in The Santa Claus.They borrow aplenty from the Ghost of Santa past from Hollywood.
There is also the weird little gremlin like elves in this film – an element that just didn't work for me. The magic in any movie about Santa is answering questions, not creating new ones. This film leaves you scratching your head in the elf department.
None of that really matters though. I watched and it struck me almost immediately this movie has the same re-watchable quality that sends people back to Elf every Christmas season.
Great lines, a feel good story, and a total escape from reality for a couple of hours.
Having seen many reviews of the previews I was curious what the "official reviews" now say about The Christmas Chronicles. It is an interesting thing to Google:
RogerEgbert.com? Hates it.
Variety? Hates it.
Rotten Tomatoes? Hates it.
These are all the same people who last year said The Man Who Invented Christmas was good. Hmm, curious. They like re-written history but can't deal with Santasy. How curious indeed.
In my book, comparing the lameness of The Man Who Invented Christmas to this made-for-Netflix Santasy, it's not hard to see what is wrong with Hollywood, its reviewers and just why it is so hard to see a good Christmas movie ever coming out again.
True Christmas fans, like true Santa believers, get it when it comes to The Christmas Chronicles. In the end, it is us, the fans of Christmas, to decide what is a classic Christmas movie, or TV show, or Netflix special or whatever.
This Santa will be around for a long time to come.
He may, in fact, someday make the Santa Hall of Fame, joining the likes of Edmund Gwynn, Mickey Rooney, Tim Allen and others who have donned the Red Suit.

Father of 7, Grandfather of 7, husband of 1. Freelance writer, Major League baseball geek, aspiring Family Historian.