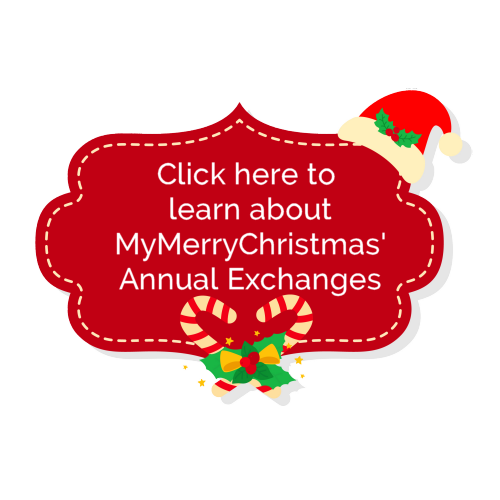 Online Christmas swaps have become a new tradition in the ever-evolving celebration of Christmas.
Folks online swap Christmas cards, ornaments, cookies, gifts and other themed elements of the season as a way of extending traditions of old.
But there are perils in the practice.
~ A Cautionary Tale ~
Last year Ken Childs of Jackson, Michigan joined a Facebook Christmas group that offered a Christmas card swap.
He says they had 9000 people sign up. So they grouped the swaps into several smaller groups.
Ken added his name and address to a list that went to about 1000 people.
Ken says he invested almost $300 dollars in buying and sending cards to this group.
He received 4 cards in return.
"Instead of adding cheer to my Christmas it made me mad," Ken said. "Others had recommended it to me because it changed their Christmas. They said it was good. But it didn't work out for me."
Maybe Ken could have prepared a little better for the experience.
Not all online swaps are the same and your mileage will vary based upon the venue you use and how well you are known.
~ Exchanges at MyMerryChristmas ~
At MyMerryChristmas we are hosting our 15th Annual Christmas exchanges. Our events have always been successful.
But we do them a bit differently:
Our exchanges are only open to premiere members of the Merry Forums.

Each exchange is structured with dates and follow-through requirements.

We encourage interaction in the community so that exchangers get to know each other
We require premiere membership for participation on purpose. We aren't making money off the exchange as premiere memberships go to support Santa's Sleigh, our annual outreach to help families in need each Christmas.
But a small monetary investment just makes for better and more serious exchange partners. (Not to mention that there are other year round benefits to premiere membership).
Frankly speaking this requirement weeds out the deadbeat exchangers. Deadbeats are far and away the biggest problem with online exchanges.
Our exchanges are smaller – typically less than 100 participants. We're totally okay with that.
We don't need thousands of sign-ups. You don't either, by the way.
You don't need your private information being shared. This is what will happen out on the Internet.
Within the confines of our Merry Forums we know each person in the exchanges fairly well.
While we cannot make any guarantees we do feel the tighter control makes for a better exchange experience.
That's not to say we have not had our challenges over the years. We have had a few occasions where some folks have not followed through.
That left us holding the bag in making sure someone who sent an ornament also received one.
We have learned our lessons over time. We know what to do.
And that's the thing: an exchange needs to be managed, monitored and supported. Many are not.
You need to know and trust your event host.
That makes Christmas in July a great time to shop for a Christmas swap online.
Join a group, ask friends for references and look before you leap. The better you know the people behind it all the better your experience swapping online will be.
~ How to Proceed ~
Here are some additional tips for joining an online Christmas swap:
Know your costs. – Investigate how many other people are involved in a swap event and what expectations are of you before you sign up. Any decent group will have rules and guidelines for you to access before signing up.

Set boundaries. – Like anything else Christmas-related, you'll need to know what this will take away from you cost-wise and time-wise. Don't commit beyond your capabilities.

Prepare for the right shipping address. – Consider using a work address or other alternative for any online swap. You need an address that can accept what will be sent. But be safe about it.

Know your obligation. – Make sure you double check with both the host and your exchange partners everything that is required of you. Act early and meet deadlines. The good experience others have as a result of your efforts is important.

Swaps to avoid. – There are many choices with online swaps. But some are not good ideas. Almost anything involving food (especially homemade food) is unwise. Glass ornaments, while lovely and traditional, require very good packaging and expensive shipping. Doable, yes. But advisable? That depends on your situation. Swaps involving used toys, vintage décor, or other previously handled stuff are sometimes disappointing. Not everything lives up to its billing. Avoid swaps of "surprises" or "mystery" billing. Generally speaking, the more simple an idea in an exchange the better.

Father of 7, Grandfather of 7, husband of 1. Freelance writer, Major League baseball geek, aspiring Family Historian.