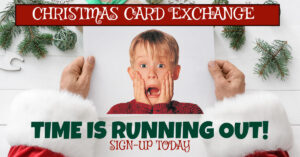 Christmas card etiquette is once again on the mind of publishers everywhere because it is Christmas card sending season.
They say the sending of Christmas cards is a dying tradition and that the Internet or even social media might be the reason why.
Do not believe that. Perhaps how Christmas greetings are sent is changing. But we are actually sending more Christmas messages than ever.
But the old rules of Christmas card etiquette need some updating – and most publishers are just not keeping up.
Here are the new rules of Christmas card etiquette:
Old Rule: Keeping a Proper List
New Rule: Send greetings to who you want
What happened: Christmas cards used to be a much more visible thing. That is why Christmas card etiquette mattered in the first place. "Experts" now recommend keeping a spreadsheet or even some sort of categorized list of the types of cards sent to certain kinds of people. And while sending card to professional contacts can still be a thing the age of buying hundreds of pre-printed cards in bulk to send to all clients, bosses, and customers is now a thing of a bygone era. There is also the sticky issue of sending a card in return to someone who sent a card to you who was not originally on your list. Because modern living is faster and card sending now has more options than in years past, perhaps this is not as much of a problem. The new rule applies even in this situation: send the card to who you want for whatever good reason you determine. It can be done, even at the last minute.
Old Rule: Choose a card that supports a charity
New Rule: Express yourself without condition or expectation
What happened: Etiquette experts hold fast to this rule and it is a bad one. Not that charities should NOT be supported. But are Christmas cards really the place to do that? Is it not just a bit preachy? How much of an alms giver do you want to be. With all the expert talk about personalization this rule is a head scratcher. The new rule focuses on the simple purpose of sending a Christmas greeting: it's about love and wishes for a Merry Christmas.
Old Rule: Choose an appropriate image
New Rule: Choose an image that reflects you
What happened: The political correctness of a woke society actually has little place at Christmas. In fact, if there is one clear trend it is that politics is invading nearly every conversation and nobody wants that in their Christmas. Yes, these issues are important to you. But you cannot really tell how important or triggering they can be to person who receives your card. Why go there? Christmas is about love. Love is simple to express. This can even be done simply with those who celebrate the sacred or the secular Christmas. There does not need to be one box of cards for believers and another for the faceless. Love is a universal message. Finding an image that reflects that and a message that conveys that is much easier than using your Christmas card as some kind of campaign. Keep it simple, keep it about a positive thought of love, and keep it a message they will want to remember.
Old Rule: Never send e-Cards
New Rule: Sometimes e-Cards are both okay and necessary
What happened: Pandemic life has caused the virtual reality of relationship management not only okay but sometimes it is vital. Personal conversations are sometimes held on Zoom. News is spread by text or private messages. Even personal things like photos are no longer shared on paper. Why is sending an electronic Christmas greeting so unacceptable. Gone are the days of tacky image-only e-cards. Professional greeting card companies such as American Greetings and Hallmark have taken e-cards to new creative heights. It's okay to send them in certain circumstances and you're smart enough to figure it out.
Old Rule: Make sure it is handwritten
New Rule: What you say is more important
What happened: We mourn the loss of beautiful handwriting and still support it as a measure of personalizing a Christmas card. But it's no crime to use mailing labels and return address stamps when you send a pile of cards. Saving time and money is something we all understand. It is the inside of the card that matters and the message it carries. Few cards can realistically be sent without taking a pen in hand. But if an alternative way to put a personalized message into a card these days no one is going to get their mistletoe shriveled over it.
Old Rule: Don't sign your pets name
New Rule: Sign your pets name
What happened: Ok, we get it. Nobody loves your dog like you love your dog. But that's what makes your pet special. They are family and pets are certainly ok in a Christmas card. In fact, dogs and cats are a trend in Christmas imaging that is only increasing in popularity. There is no need to not include them.
Old Rule: Don't use "Love" for everyone
New Rule: "Love" is Okay
What happened: Experts agree that the more personal your greeting can be the better. What is more personal than love? Is that not the core message of Christmas? Is it really that uncomfortable in today's environment to say it? Using a variation, such as "with love" or "sent with Christmas love" or something similar is ok. But love is not a four-letter word. Well, at least in a Christmas card.
Old Rule: Make sure to address people correctly
New Rule: The 1950s were 70 years ago
What happened: We are not advocating disrespect. But in everyday conversation how often do you really use titles? Titles are certainly appropriate for the envelope. After all, you want your card reaching the right person. But for a personal message do you really need to say Mrs or Doctor or Ms? If you feel that need perhaps you are not as personally acquainted with the individual as you think. If that is the case, why are you sending the card? Question your motives and you will discover the right way to do it.
Old Rule: Make sure you send your cards at the right time
New Rule: A good Christmas message is appropriate to receive at any time
What happened: The first week of December has traditionally been advised as the best time to send a Christmas card. And in most cases, that likely remains true. But the realities of modern living mean that sometimes we fall behind, we forget or we just make a simple mistake. Folks understand. People are very forgiving. The 12 Days of Christmas are too commonly mistaken especially in the United States as a time before Christmas Day. Christmas Day is actually the 1st day of Christmas. The sending and receiving of Christmas cards during the 12 days after Christmas is certainly appropriate and appreciated. Do not be afraid to use that window of time.
Old Rule: Play it safe by saying Seasons Greetings or Happy Holidays instead of Merry Christmas
New Rule: Say what you want
What happened: The politically correct sensibilities of the early 2000s need a reality check. Many holidays are celebrated in December and early January. "Happy Holidays" and "Seasons Greetings" are thus entirely appropriate. Some take those expressions as a refusal to say "Merry Christmas". But is the use of the word "merry" what you really want to use? Consider your card receiver. In some circles the word "Merry" means something other than to just be happy – and you should be sensitive to those who may understand the word differently. There is a reason some say "Happy Christmas" versus "Merry Christmas". In reality the personal Christmas card should reflect the sensitivities of both the sender and the receiver. It's a personal card. Say what you want – thoughtfully.