User name:
GWarren
Christmas Review Type
-- Christmas Product
What is it called?
-- All in one Christmas light clip
Please provide a link, if available
--
https://www.christmaslightsetc.com/p/All-in-One-Plus-Clip-100-Pack-40006.htm
Photo Upload
--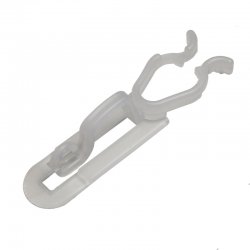 How did you acquire it?
-- I bought it
Where did you purchase it?
-- Big box store (Walmart, Target, etc)
How much did you pay for it?
-- 14.99 CDN
In your own words please explain your experience, what you liked, what you didn't, etc.
-- I was tired of trying to string lights outside the house every year and was searching for something easier and better to hold the multiple strings of lights around the rain gutters.
I found these All in One clips for the outside of the house. They easily slip into the gutter with the bottom clip and the lights slip into the top part of the clip. No need for extra wires or pins to hold the lights onto the house.
When the season is over, the clips slide out without damaging the raingutters or the house. The pack of 100 clips was more than enough to cover the whole house with plenty left over for spares.
The only downside is if you apply too much pressure, the clip may break. Also because of the temperature they may also break if you remove them too soon after the holidays. You just have to wait until the weather warms up. A minor inconvenience for the ease of using these clips.
Was it worth the money?
-- Yes
Please give a rating
--
3 Stars - Average
Would you recommend this to other Christmas enthusiasts?
-- Yes
Any advice or suggestions you would give to the maker, artist or producer?
--