User name:
GWarren
Christmas Review Type
-- Christmas Product
What is it called?
-- Candle-Lite Snowy White Spruce Candle
Please provide a link, if available
--
Photo Upload
--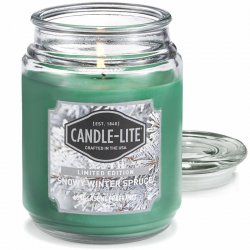 How did you acquire it?
-- I bought it
Where did you purchase it?
-- Big box store (Walmart, Target, etc)
How much did you pay for it?
-- 9.99 CDN
In your own words please explain your experience, what you liked, what you didn't, etc.
-- Do you ever want the smell of a Christmas tree in your home all year long? Want to wander among the winter wonderland in an evergreen forest? Then, this is the candle for you. Coming in at over a pound, this candle will fill your home with hours upon hours of wonderful spruce tree fragrance.
Also named, Snowy Winter Spruce, the candle has the wonderful scent of a grove of spruce trees, ready to be harvested to become your Christmas evergreen.
The Candle-Lite company has been manufacturing scents for over one hundred and eighty years, which means they have the history and the experience to create amazing memories with their candles.
Candle-Lite candles are the perfect hostess gift. They're affordable, considerate, and will remind the recipient of your thoughtfulness each time they kindle the flame.
When the candle is finished, the sturdy glass jar can be used for storage or re-gifted filled with your favourite treats.
Remember: do not leave a lit candle unattended.
Was it worth the money?
-- Yes
Please give a rating
--
4 Stars - Very Good
Would you recommend this to other Christmas enthusiasts?
-- Yes
Any advice or suggestions you would give to the maker, artist or producer?
-- Maybe offer gift packs in Christmas/holiday themes.