User name:
Gingerbread Latte
Christmas Review Type
-- Christmas Product
What is it called?
-- Candy Cane Lane tea, by Celestial Seasonings
Please provide a link, if available
--
http://www.celestialseasonings.com/products/green/candy-cane-lane
Photo Upload
--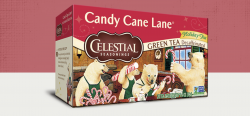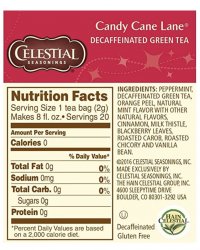 How did you acquire it?
-- I bought it
Where did you purchase it?
-- Big box store (Walmart, Target, etc)
How much did you pay for it?
-- $2.99
In your own words please explain your experience, what you liked, what you didn't, etc.
-- I like a variety of teas, and like trying new ones when I find them, but this is my very favorite Christmas tea. It's not an ordinary mint tea, it's a green tea with smooth refreshing mint, and a touch of vanilla and other flavors. Not only is it a completely guilt-free Christmas treat, but it's it's a soothing cup anytime, and especially good for settling upset tummies. It's only in the stores briefly at Christmas, anywhere Celestial Seasonings teas are sold, but available online also. I try to stock up enough to enjoy it year-round.
Was it worth the money?
-- Yes
Please give a rating
--
5 Stars - Outstanding
Would you recommend this to other Christmas enthusiasts?
-- Yes
Any advice or suggestions you would give to the maker, artist or producer?
--