User name:
ponytramp
Christmas Review Type
-- Christmas Book
What is it called?
-- Christmas Word Search
Please provide a link, if available
--
https://www.amazon.com/Brain-Games-...coding=UTF8&psc=1&refRID=HTESZDE96VRBXRZF19P9
Photo Upload
--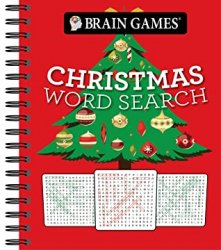 How did you acquire it?
-- I bought it
Where did you purchase it?
-- Amazon or other online retailer
How much did you pay for it?
-- 12.98
In your own words please explain your experience, what you liked, what you didn't, etc.
-- Do you like doing word search puzzles? If so, then this is the puzzle book for you!
It has over 80 Christmas themed word search puzzles of various sizes. Some are very easy, some are more challenging but all are fun.
Some examples of the themes in the book : "Holiday on Ice", "Decorating the Tree", "Christmas Trees", "Beverages", "Holiday Greetings", "Words Found in Christmas".
While most of the puzzles are the typical square puzzle, some are shaped like a Christmas tree. The words are listed on one page while the actual puzzle is on the other. The print is large print. The answer key is in the back of the book.
What I really like is that it is spiral bound.
I like doing word searches in general but having all the puzzles be Christmas themed is my favorite part. What a fun way to kill a little down time.
The hard part for me is to actually stop doing the puzzles! LOL
Was it worth the money?
-- Yes
Please give a rating
--
5 Stars - Outstanding
Would you recommend this to other Christmas enthusiasts?
-- Yes
Any advice or suggestions you would give to the maker, artist or producer?
--