User name:
GWarren
Christmas Review Type
-- Christmas Book
What is it called?
-- Rest Ye Murdered Gentlemen by Vicky Delany
Please provide a link, if available
--
https://www.penguinrandomhouse.com/books/318052/rest-ye-murdered-gentlemen-by-vicki-delany/
Photo Upload
--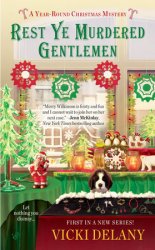 How did you acquire it?
-- I bought it
Where did you purchase it?
-- Amazon or other online retailer
How much did you pay for it?
-- 9.99 CDN
In your own words please explain your experience, what you liked, what you didn't, etc.
-- This is the first book in the series of Year Round Christmas Mysteries by Vicky Delany and it's a wonderful introduction to the town of Rudolph, New York and its amateur sleuth Merry Wilkinson. Merry is the owner of a wonderful gift shop in the middle of town and her father is always the town Santa in the Christmas parade every year. Merry makes a float for the town's parade but the parade comes to a halt when she finds a dead body under her float.
Filled with wonderful, colourful characters, this mystery is sure to keep any avid reader intrigued and anxious to wonder who did the deed. Like most cozy mysteries, there is little to no gruesome detail of the death, so it safe even for younger readers.
Any Christmas fan will love that the town's shops all cater to the Christmas spirit all year long. It really makes me wish this town actually existed, so I could visit. It's the perfect gift for any mystery reader. Plus there are four more books after this and hopefully more to come.
Was it worth the money?
-- Yes
Please give a rating
--
4 Stars - Very Good
Would you recommend this to other Christmas enthusiasts?
-- Yes
Any advice or suggestions you would give to the maker, artist or producer?
--