User name:
GWarren
Christmas Review Type
-- Christmas Music
What is it called?
-- Steve Bell - Keening for the Dawn
Please provide a link, if available
--
https://stevebell.com/product/keening-for-the-dawn/
Photo Upload
--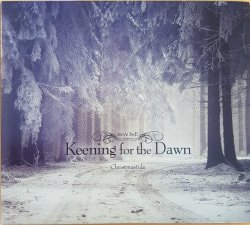 How did you acquire it?
-- I bought it
Where did you purchase it?
-- From the manufacturer
How much did you pay for it?
-- 16.99
In your own words please explain your experience, what you liked, what you didn't, etc.
-- I had the pleasure of seeing Steve Bell in concert one Advent season and he performed the tracks from this album. Christmas can be a time of hustle and bustle. Running from place to place. Frantic holiday shopping and trying too accomplish too many things with too little time.
Steve's album is the antithesis of that. He wants the listener to slow down and reflect on the time and meaning of the Advent season. Steve's gentle music and guitar blend well with his voice. The songs hark of the time of anticipation for the birth of the King of Kings.
While most of tracks are original songs, don't let that stop you from purchasing this album. They will quickly become classics in your holiday playlist. His haunting track of "In the Bleak Midwinter" transports the listener to a stable rude, making us part of the Christmas story.
If you want to just get away for a little while to appreciate the wondrous anticipation of the Advent season, then get this album. You won't be disappointed.
Was it worth the money?
-- Yes
Please give a rating
--
4 Stars - Very Good
Would you recommend this to other Christmas enthusiasts?
-- Yes
Any advice or suggestions you would give to the maker, artist or producer?
--