The tradition of Christmas cards is a story of constant change and stubborn longevity.
For generations experts and the media have predicted Christmas cards would slowly die as a tradition. Instead Christmas cards have persisted as a tradition by changing well with the times.
~ Disputed Origins of Christmas Cards ~
Conventional wisdom, as portrayed by History.com, claims that Christmas cards got their start by an Englishman named Sir Henry Cole when he commissioned the printing of 1000 cards in 1843.
This was the famous image of what many claim is the first Christmas card: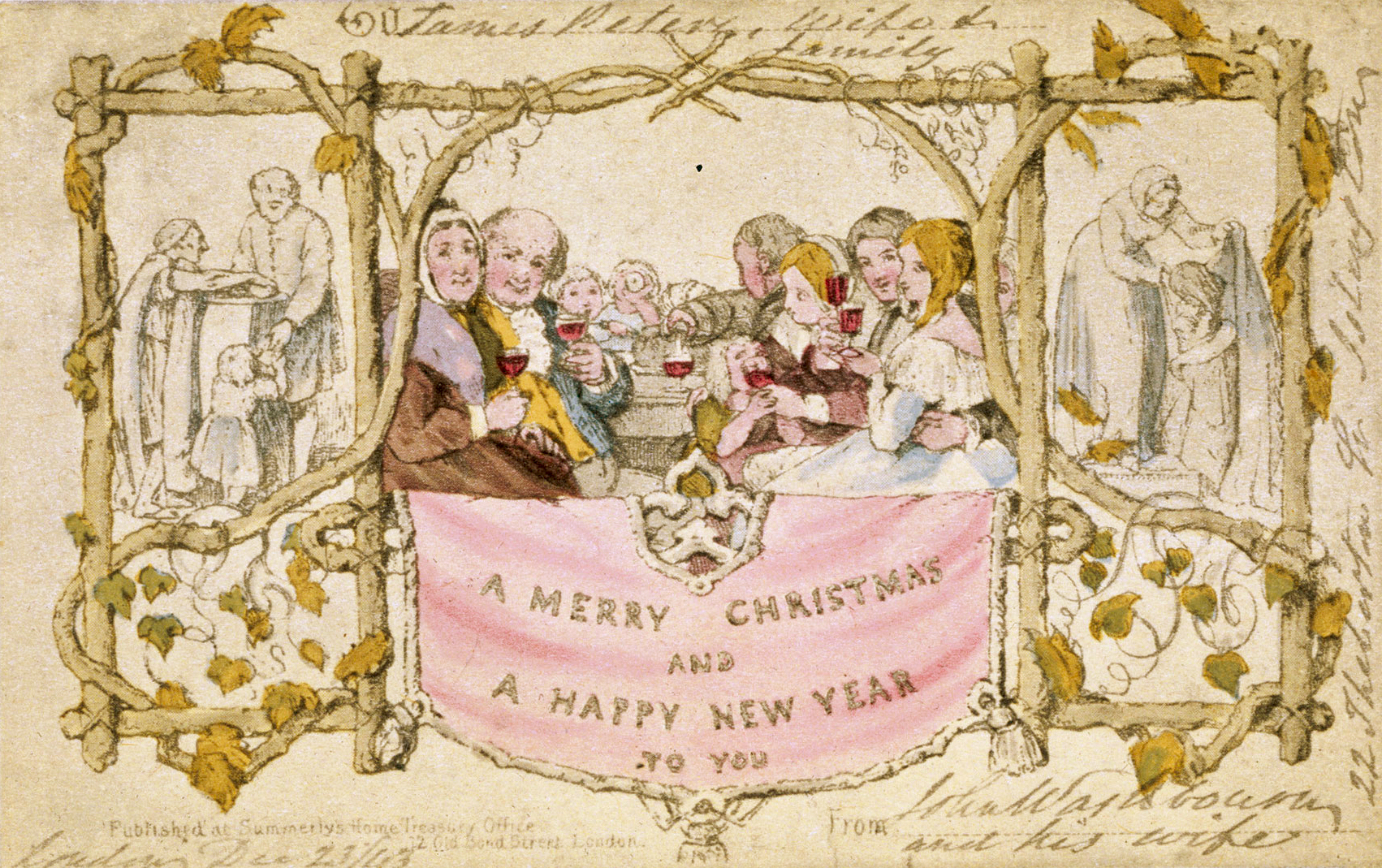 But Wikipedia says the first cards recorded in history is credited to Michael Maier who sent Christmas cards to King James I in 1611.
Knowledge of Sir Henry Cole or Michael Maier aside, some 19th century and early 20th century newspapers reported different origins for the Christmas card, including this from Cleveland's Plain Dealer in 1897 who credits a German lady: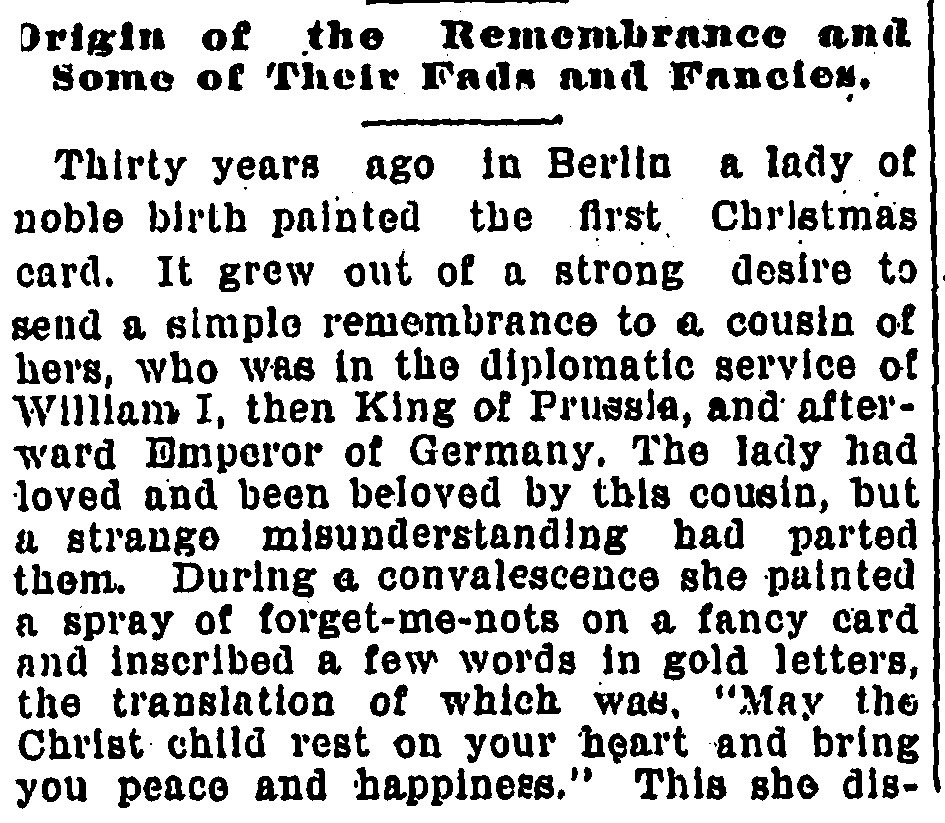 Another popular idea about the origin of the Christmas card circulated for over a decade around the turn of the 20th century. It credits a man named W.C.T. Dobson: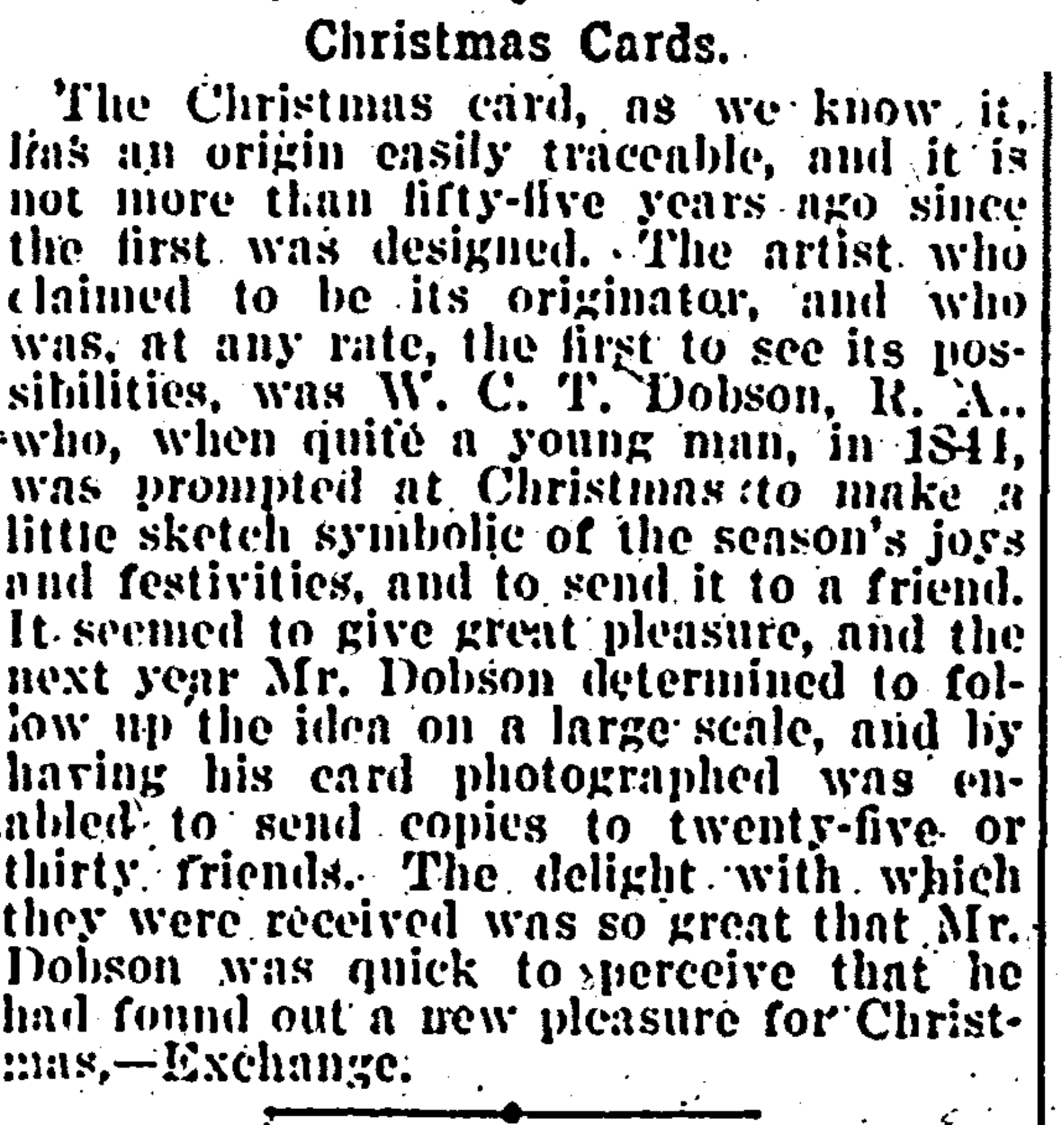 Likewise there are countless reports of a 16 year old British teen name William Egley who created the first Christmas card that for more than 60 years appeared in American newspapers. This account from 1946 from the Jersey Journal also mentions a commercial Christmas card promoting the store of R.H Pease of Albany NY as early as 1834: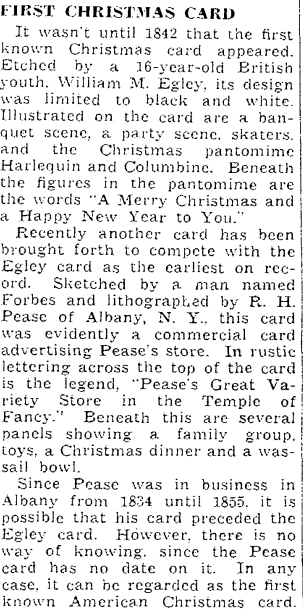 Others like to credit Queen Victoria as the inspiration for the popularization of Christmas cards in the 19th century.
The truth is that England, for all it's history with Christmas, cannot sincerely be credited for the craze that Christmas cards became.
America gets very little credit for inventing much of anything related to Christmas. It certainly did not invent the Christmas card.
But like with most fads of Christmas the popular advent of the Christmas card really happened in America.
It happened in the cradle of liberty in Boston. The man behind the American Christmas card was a Prussian immigrant named Louis Prang, who ran a print shop there.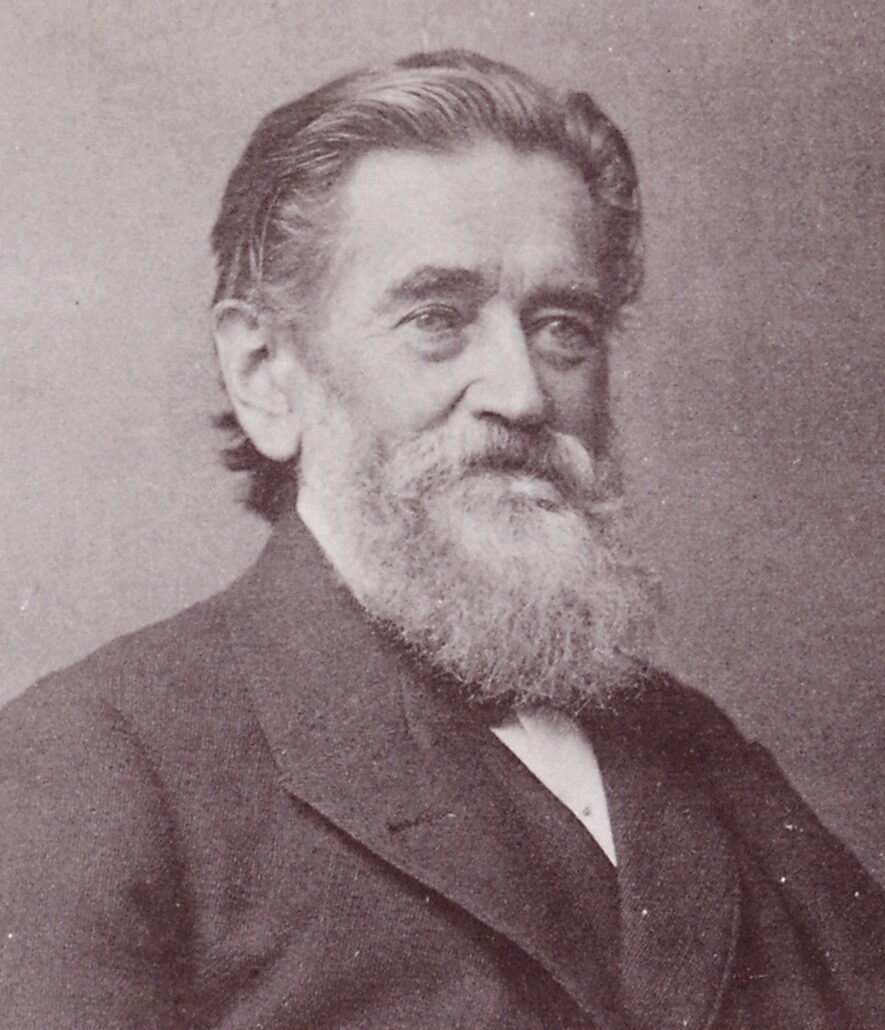 ~ Christmas Cards in America ~
British Christmas cards never caught on as a craze. Cole's famous 1000 cards did not sell.
It was hoped it would take off. But the mail system in the UK was new and expensive. And the cards themselves were something only the wealthy – like the Queen – could afford.
Prang tried however launching Christmas cards in the 1860s. Here is a published story from 1865 detailing his efforts to sell sets of cards as gifts of art at Christmas time: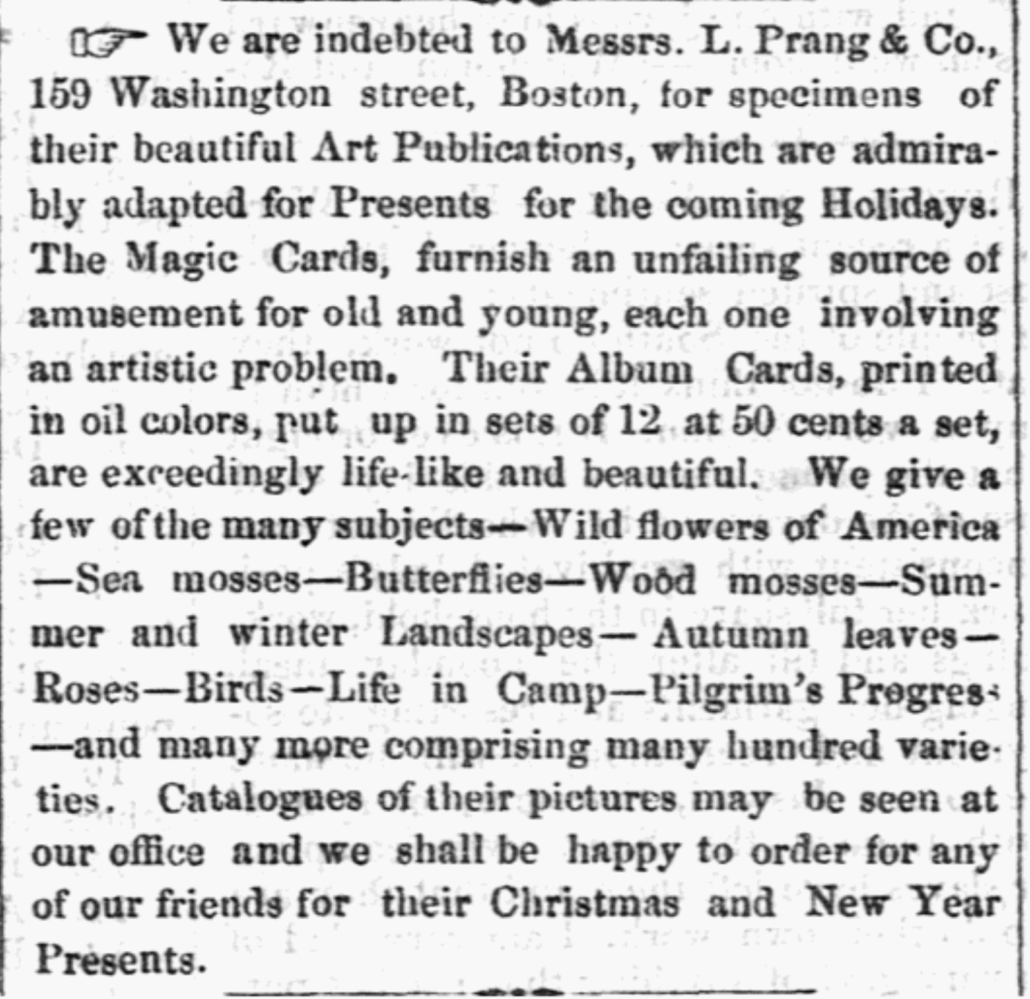 But just like in England the cards proved to be too expensive and too limited in distribution to become popular.
Some historians note that it was just too early. After all, Christmas did not become an official holiday in America until 1870.
But just because it was official does not mean Christmas was not popular.
Santa Claus had been embedded in American's Christmas consciousness for over half a century already and most had adopted the tradition of Christmas trees in America.
Prang knew Christmas represented a huge opportunity for his printed products. He just needed something to guide his efforts.
His inspiration came from the real craze of the 1860s – photography.
This was the decade when the likes of famous photographers such as Matthew Brady gained noticed.
Just as print shops popped up in greater abundance in the 1840s thanks to widely available presses it became the normal for even small towns to have a photography studio just after the American Civil War.
Like Prang, photographers were anxious to distribute art by taking photographic copies and selling them. Here is once such advertisement during Christmas 1868 in Baltimore: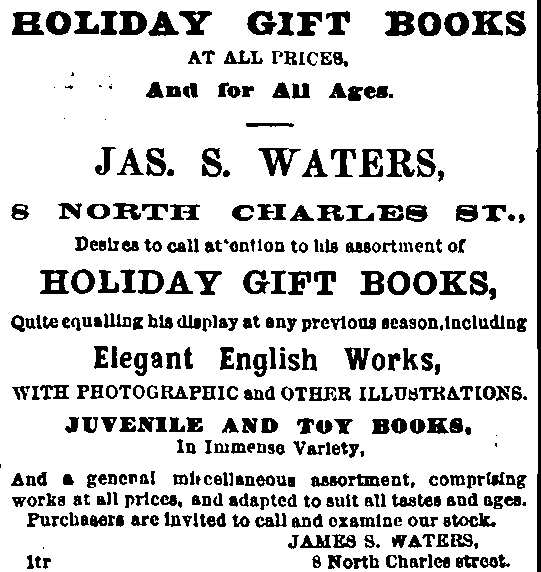 While duplicated works of art did sell that was not the big fad in photography in the late 1860s. Getting one's "likeness" take in a photo studio proved to be very popular, even with those who could ill afford it. Here's a notice from a Lewiston, Maine paper in 1865 about "photographic likenesses":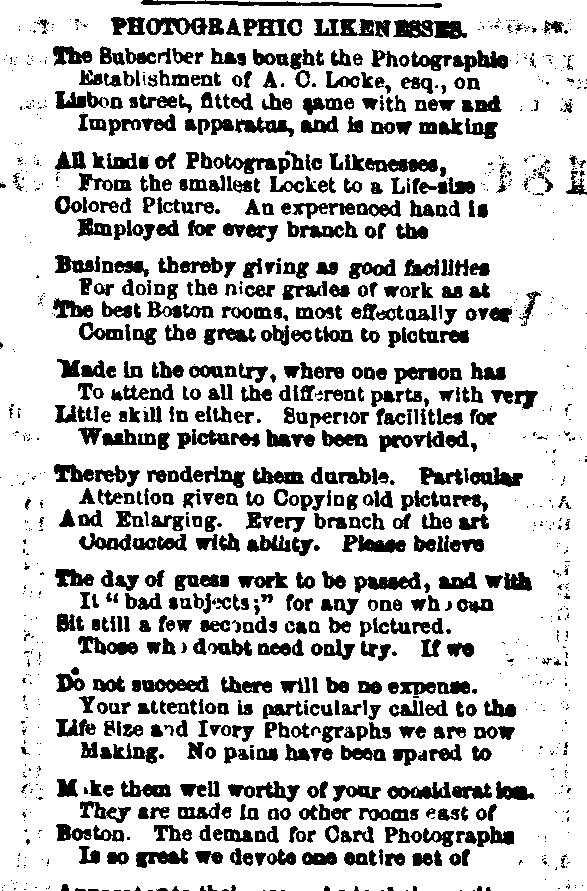 Here is another less complicated ad: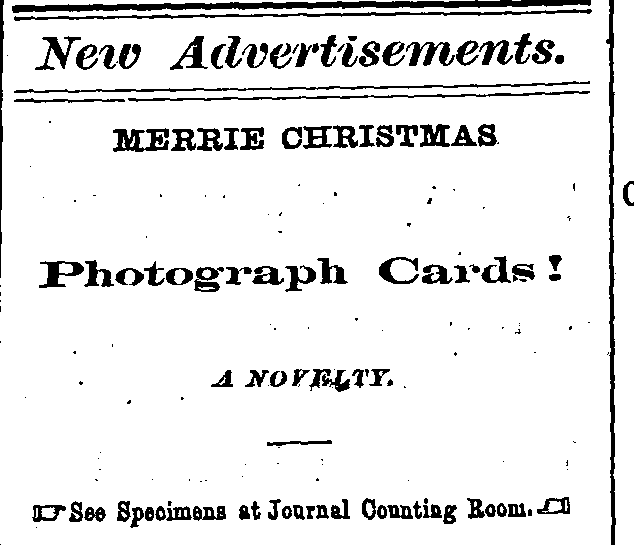 Sending copies of pictures of themselves to loved ones started to become a trend in Christmas gift giving and it did not escape the attention of Louis Prang.
In fact, "photograph cards" became such a Christmas trend that Prang took to changing how he marketed his "cards" at Christmas by calling them "Christmas cards":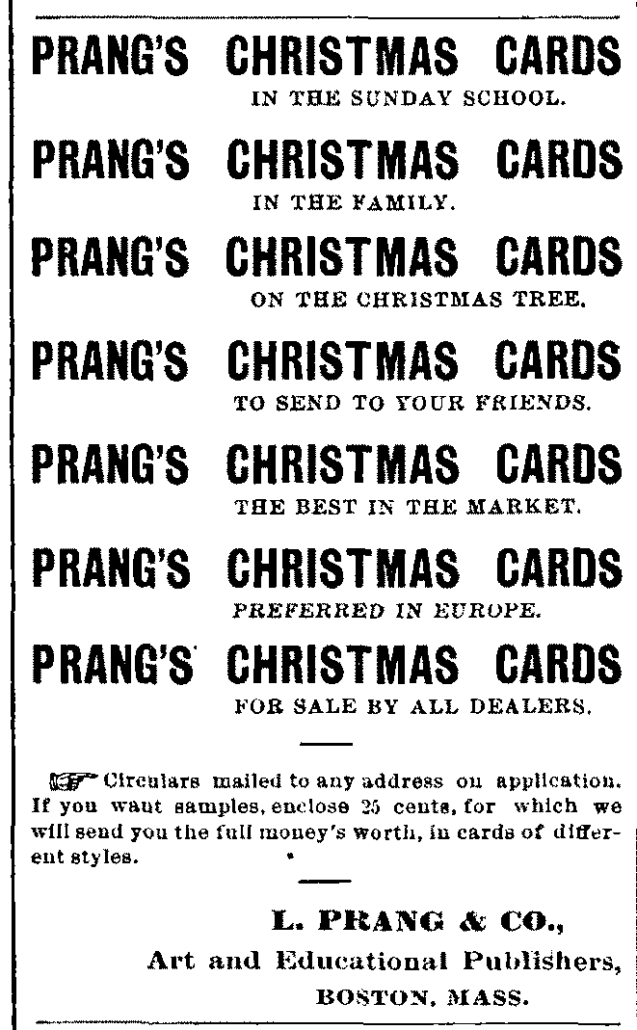 But even for all his persistent efforts Prang's printing of Christmas card still did not yet catch on.
He needed something else and he finally discovered it in 1880.
Since Prang's focus was art he decided to sponsor a contest of new art designs.
The contest caught the attention of the public for two reasons: the contest would be judged by renown art experts and winning designs would win a handsome reward – more than $1000 to the first place winner.
Prang's contest exploded in the media across the country. He received thousands of submissions and by the time the entries had been judged it nearly became a sport to evaluate the judging of the contest. Here is a clip from the New York Tribune in 1880:

Prang's efforts were noted coast-to-coast. This article from Portland, Maine pronouncing his cards as "one of the necessities of the Christmas season" is typical of the media response that jump-started the Christmas card giving craze in America: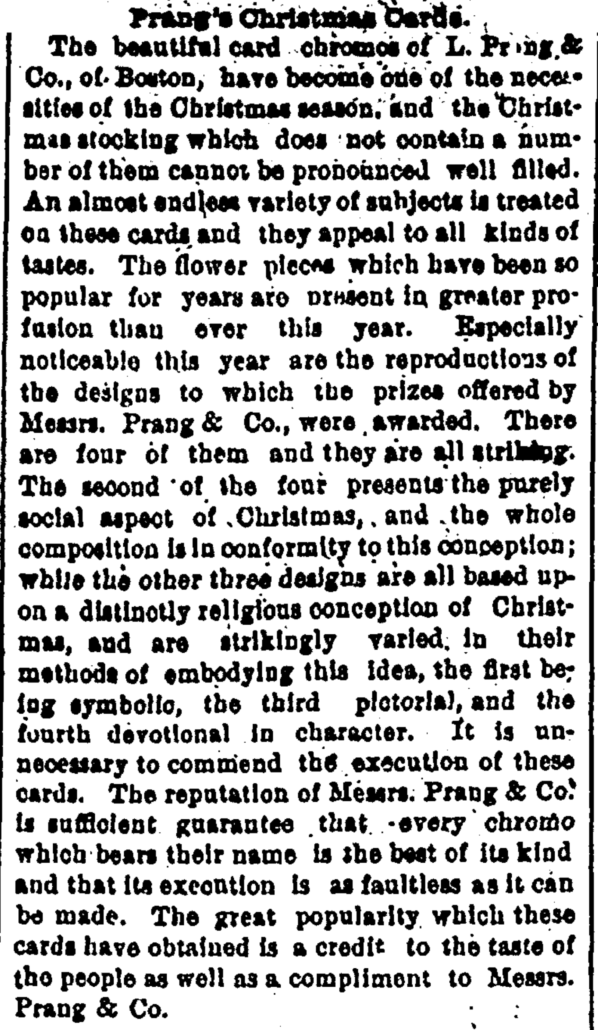 ~ Christmas Cards Go Crazy ~
From that point forward Christmas cards were a de facto American Christmas tradition. Prang held his contest every year and every year new designs came out by the thousands.
Prang found his success not in selling sets of cards but in offering unique and ever-more expensive single cards.
His first-year contest revealed another important fact.
In 1881 the New York Tribune reported: "…the exhibitors showed a better understanding of the elementary proposition that Christmas cards ought to have some reference to Christmas…"
As Christmas cards started to reflect the art of Christmas sales took off. Soon, other printers were marketing Christmas cards of all types that featured Christmas imaging.
Within a few years the market was so flooded with different kinds of cards a few began to predict the Christmas card craze was on the wane. Here's a note from the New York Sun: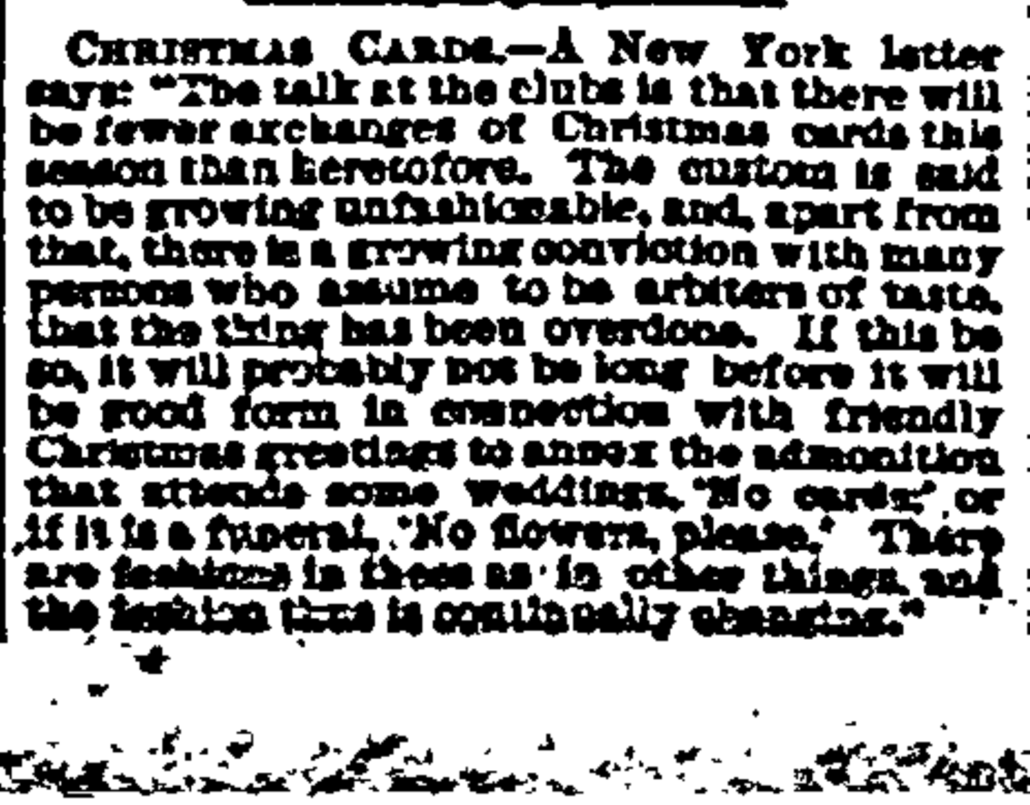 Other publications would predict something new to replace Christmas cards as a way to send Christmas greetings. This article from 1911 claimed silk flowers were the "new fad" in Christmas greetings: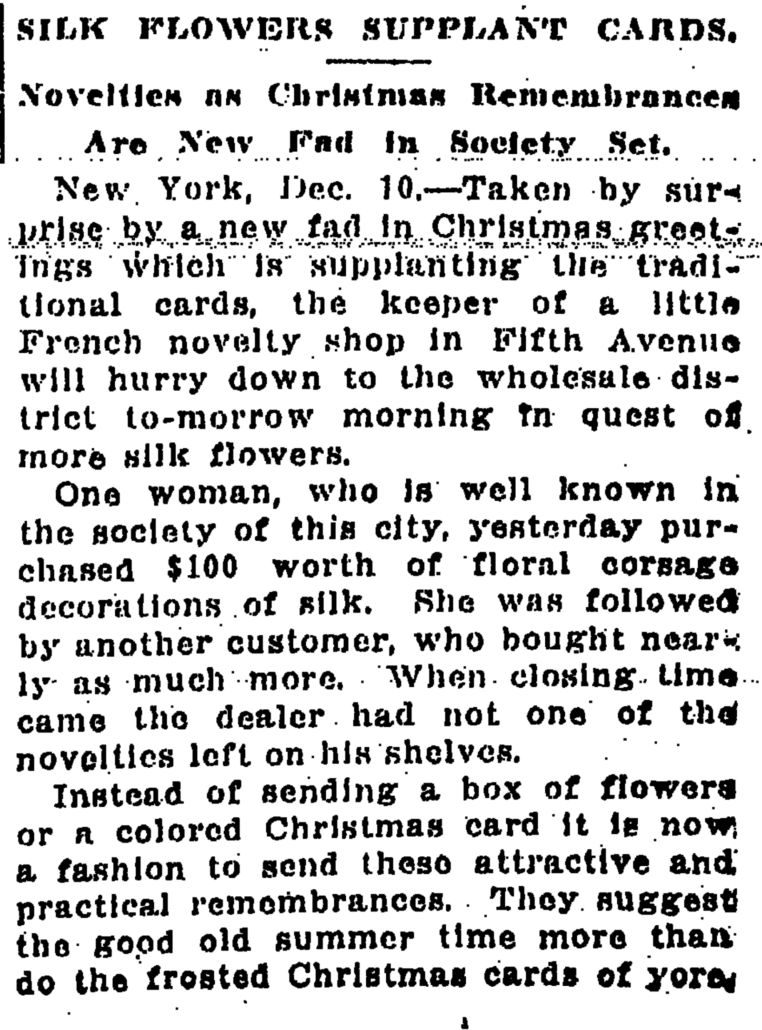 With the saturation of cards came new elements to Christmas that were not there before.
First, came the problems of shopping for Christmas cards.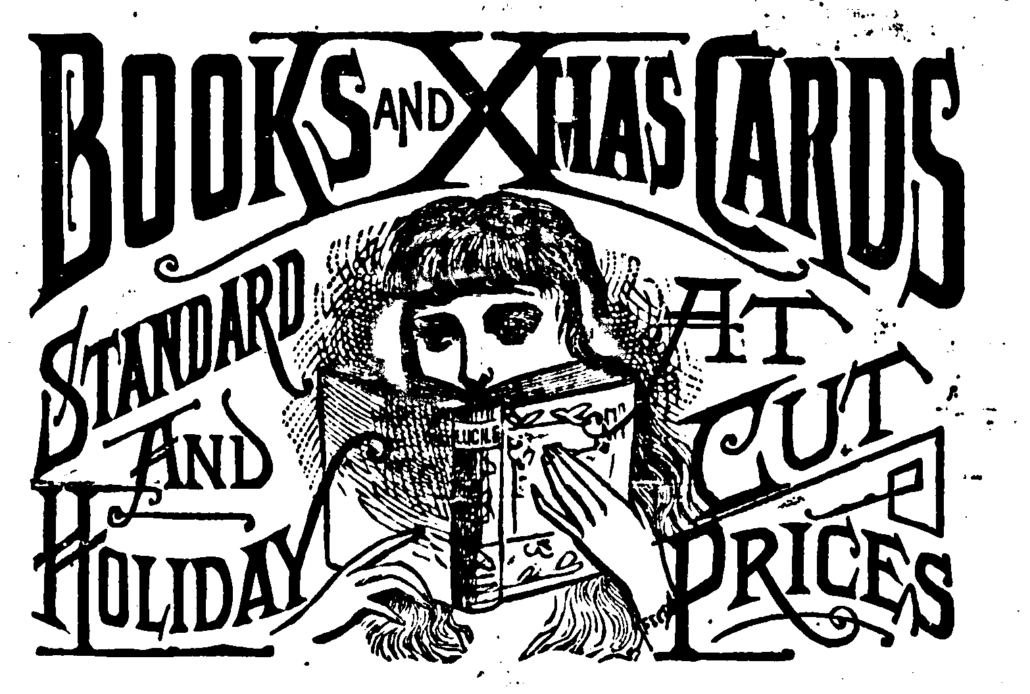 Cards were made available in all kinds of businesses but since they were considered an individual purchase intended as a gift it took time to find the right card.
Cards were available at counters that were serviced by salespeople.
The designs were varied and so were the prices. From 1883 a reporter for the Wisconsin State Journal witnessed this exchange with a Christmas card buyer:
"…Here is a young man with a painfully puzzled look on his countenance, who is evidently selecting a card for his sweetheart. Of course, he wants something chaste and striking….a souvenir that will at once show his good taste and the strength of his devotion. He has examined some hundreds of cards of varied pattern and device which are displayed on the counter, and he is still undecided.
A pretty chromo with a nice red fringe has pleased him immensely, until he is told the price. Twenty-five cents, indeed! It is a cold day when he cannot afford more than that. "Show me something better," he says.
"Here, what's the price of this?" and he points out a little painting mounted on high-beveled gilt boards.
"Four dollars," replies the clerk.
"Je-rusalem! Four dollars! Are you sure?"
"Yes, quite sure. How high would you wish to go?" and the clerk look him over and takes his measure at a glance.
"'Bout 50 or 75"
~ New Realities of Christmas Come with New Traditions ~
Not only was shopping for Christmas cards a complicated proposition the art of getting them to their destination was a new Christmas challenge.
Both Christmas cards and Christmas packages taxed the postal service at a time when they lacked motorized transport outside of trains.
From 1886 a report in the Kalamazoo Gazette said: "Oh, but we're just flooded with mail these days, " said C. H. Dunbar, the popular mail agent. "…why Thursday, coming from Chicago five of us could not work up the mail. There are generally three of us on that run….Those people out west I guess will wait a day or so for their presents. The Chicago office is packed full and unworked mail is coming in on every train. Why, in the run from Cincinnati, the mail agents worked all night and then brought in 200 sacks of unassorted mail."
These anecdotal reports soon became a media Christmas tradition. Every year from about 1890 forward it is easy to find newspaper accounts of overwhelmed post offices. This report from 1911 is a good example: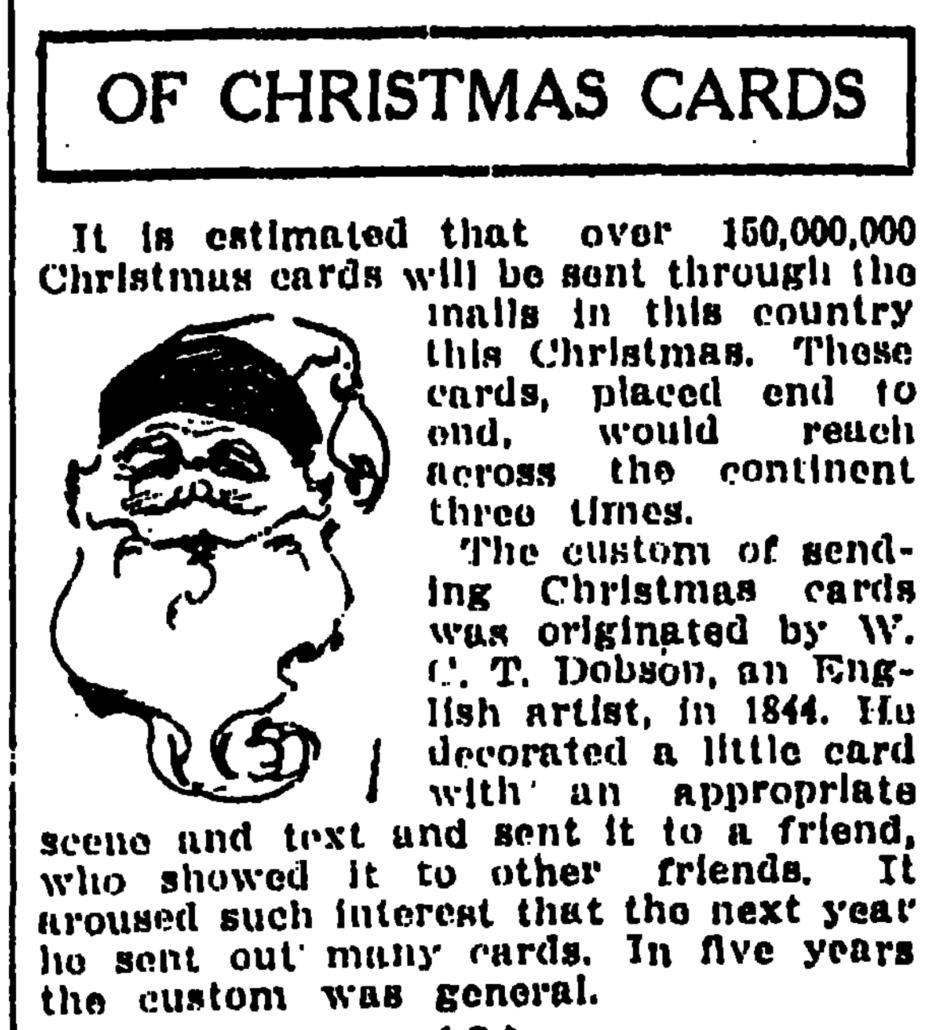 The statistic in the article above is interesting. It mentions 150 million Christmas cards being sent by a nation with a population of only 93 million people.
Who were they sending all those cards to?
By the turn of the century there were a number of traditions related to Christmas cards that had started.
For example Christmas clubs were in fashion. These organizations had many purposes. Some were practical, such as savings clubs sponsored by banks that encouraged stock piling money for spending at Christmas time.
Some clubs were social. It was common for newspapers to sponsor penpal programs that naturally extended to single adults. A Christmas card in December substituted for other forms of introduction between men and women looking to date and marry.
Other clubs were purely service minded, including this group who sent piles of Christmas postcards to orphan children:

In that same spirit, Christmas cards themselves became fund raisers for charities, as reported here by the Dallas Morning News in 1914: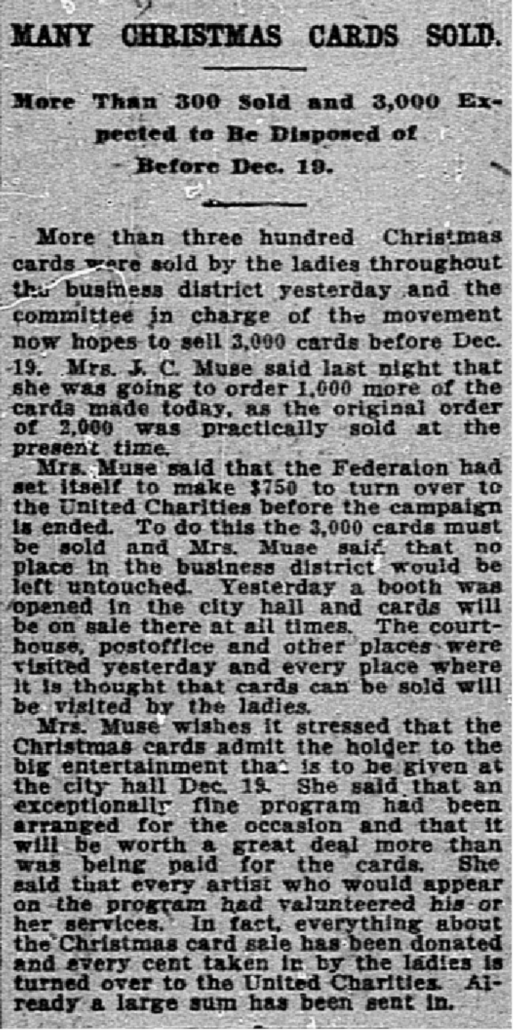 ~ Christmas Cards of the Rich and Famous ~
Christmas cards were such a staple of the holidays that even Christmas cards of the rich and famous made the news.
While the White House reports that official presidential Christmas cards were not a "thing" until the Eisenhower Administration there are media reports of presidents who sent and received Christmas cards for decades.
In the Baltimore Sun of December 26th, 1922 it was reported that President Harding was "Like a Boy on Christmas" with all his holiday activities which included "an avalanche of presents and…a few bales of Christmas cards…"
The President is not the only politician to receive a lot of Christmas cards. A report from the Dallas Morning News in 1960 warned readers "Don't feel slighted, but your senator may never see that Christmas card you sent him".
It goes on to report that most senators receive thousands of Christmas cards each year.
Hollywood, of course, embraced the Christmas card enthusiastically as a tradition. After all, it's publicity.
A Dallas Morning News report from 1937 reported on the Christmas card activity of Joan Crawford, Spencer Tracy, Error Flynn, Jack Benny and other Hollywood stars. It noted, however:
"The award for the prettiest Christmas greeting this year goes to Bing Crosby. He is sending a large four-flap car. On the Santa Claus wields a baton. On the inside is a bar of musical notes, six of them. The first note is a picture of Bing. The second, his wife, Dixie. The third, Gary, eldest of the Crosby children. Fourth and fifth are the twins. The last note is blank, but has the words "Me, too" (for the expected baby). They cost 50 cents each and 500 will be mailed."
~ Fads within the Fad ~
Christmas cards have seen lots of trends over the years. Card sizes and shapes have changed with the times. Colors and themes have come and gone.
The 1950s were a very creative era in Christmas cards as that was a time when making your own cards grew in popularity: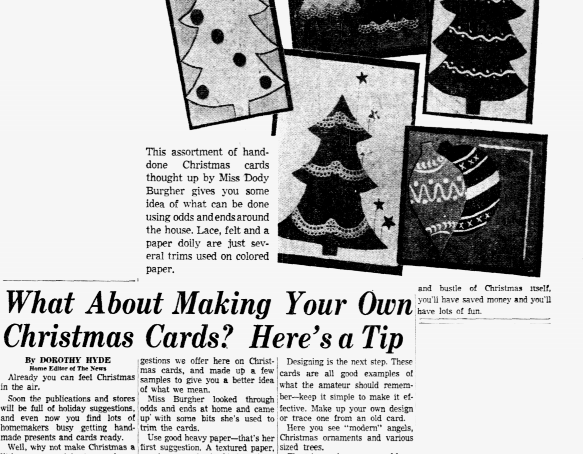 Reporters in the 1950s made note of "slenderized" Christmas cards as well as cards with religious themes.
These baby boom post war years were noted for a lot of changes with Christmas. The National Association of Greeting Card Publishers said in 1955 religious cards were making a big comeback as 20 percent of all cards carried "a religious motif". Just a decade earlier, right at the end of the war, it was only 5 percent.
Another post-war focus of sending Christmas cards came in the form of advice on card sending etiquette. Said one article from 1949, "Perhaps the most perplexing problem many face at the holiday season is the decision whether or not to send a card to a family recently bereaved. If the cards are most carefully chosen – ones with a religious theme or expressing a friendly, sober message – it is perfectly acceptable to remember such persons at Christmas."
The 1950s and 60s also saw the trend of sending formal and sometimes custom printed business Christmas cards. The "rules" were more complicated in sending these cards, especially as the practice expanded into the 1970s. Not only were massive quantities of cards sent for business purposes the cards had to be business-appropriate: not too religious, full of trendy colors, and nobody on the company list could be forgotten.
~ Modern Christmas Card Complexities ~
With the ever-growing popularity of Christmas cards well past the mid-century mark why did it take the Post Office Department so long to issue its first Christmas stamp?
One reason was the expected blowback from people who contended that doing so would be a violation of the separation of church and state.
Sure enough, when in response to mounting pressure from the public the Post Office Department overcame its fears and issued a 5¢ Christmas stamp on Nov. 1, 1962 (Scott 1205), the naysayers expressed their opinions despite the fact that the stamp design was not overtly religious: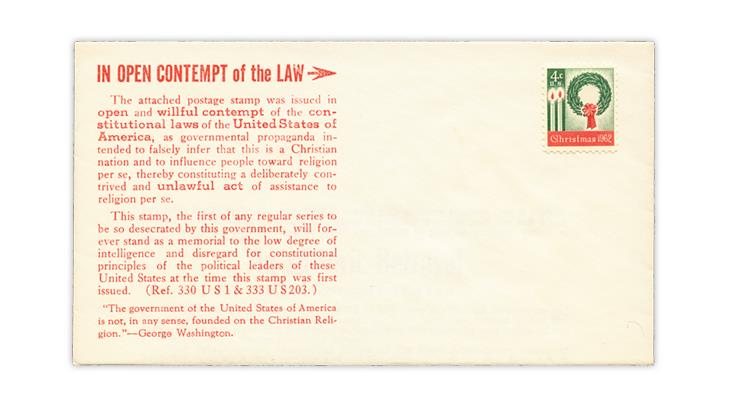 Of course, the demand for Christmas stamps far overwhelmed the protests against them.
In time, the Post Office Department settled into a policy of issuing new stamps each year, both sacred and secular in design.
These stamps, like all others, have become quite collectible over time.
In the 1980s another change would impact the tradition of Christmas cards: the computer.
The advent of email in the late 1980s naturally lent itself to seasonal greetings. ANSI art or even simple text messages were easily created and electronically sent.
In the 1990s as websites began to populate cyberspace so too emerged new forms that expressed Christmas greetings: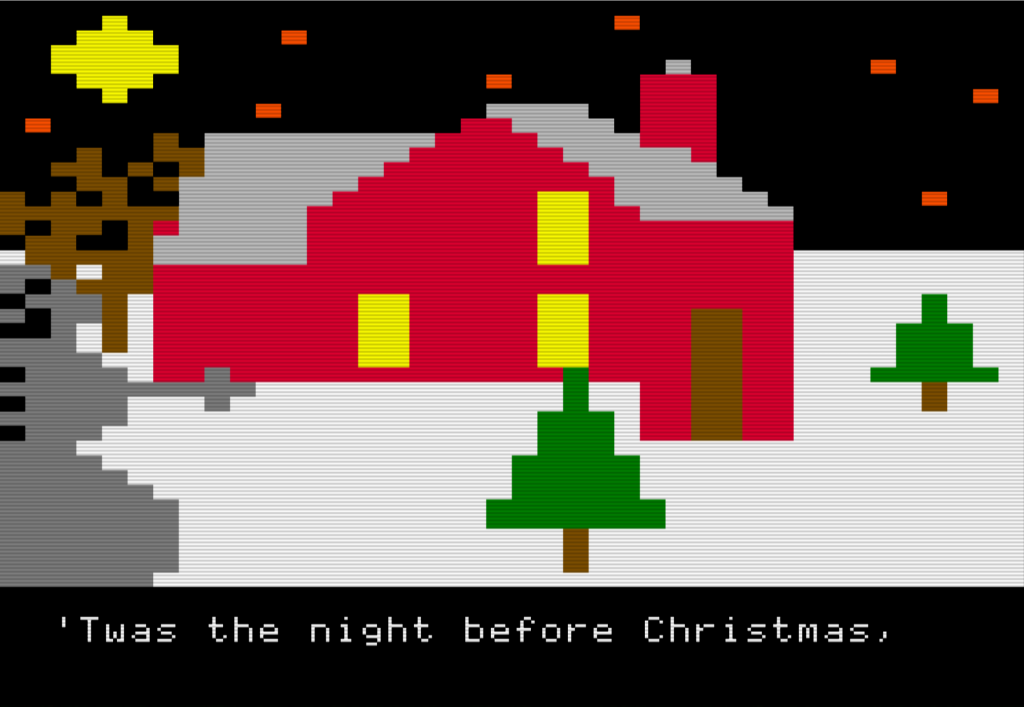 Changes in the way Christmas cards are sent sometimes leads to the conclusion that the tradition is dying out.
According to the U.S. Post Service, 2.9 billion cards were sent out in 2002. By 2012 Time Magazine said that figure was down to 1.4 billion.
While the sending of cards via the mail has decreased the sending of greetings electronically has likely increased the total number of greetings sent out. In other words, the digital transformation of cards is akin to the digitization of images – it's more popular than ever.
The digital age is actually coming full circle with the social nature of sending Christmas cards. Just as late 19th century Christmas clubs gave rise to sending cards to strangers for introduction purposes between single adults so too has the Internet brought together people who are unknown to each to send Christmas cards to each other.
The Christmas card exchange here on MyMerryChristmas.com has enjoyed steady popularity for nearly two decades.
The exchange opens in July, closes in November, and features participants from all over the world. Between Thanksgiving and Christmas site members make or purchase cards to send to each other in a very personalized way.
The exchange has no shortage of fans. Many view it as a happy addition to Christmas celebrations. It adds to the décor of their home and brings the flavor of Christmas from all over.
Christmas greetings – whether in the form of art, homemade crafts, store-bought mass produced cards or the online digital variety of images and text – are as popular as ever.
Click the images below to see Christmas cards and how they have looked in the past:

Father of 7, Grandfather of 7, husband of 1. Freelance writer, Major League baseball geek, aspiring Family Historian.