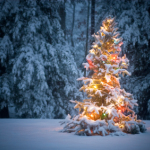 Today is December 25th, 2014 — and it is Christmas. Merry Christmas!
If you have followed us all year in this merry countdown, thank you! If you just joined us somewhere mid-stream, thank you! And if you're just joining us now, thank you!
Today is Christmas Day, the biggest day of the year and the one around which all other holidays rotate.
Historians grapple over whether this date actually is Christmas; they debate the reality of Christ; they twist it into messages of political expediency; they decry how it is commercialized, hollow in meaning and devoid of real substance. Critics of Christmas sometimes dismiss it as being only for children, as a season of excess, and a time of year for the worst of human weakness is demonstrated in greed, discrimination, and selfishness.
Christmas is defined in different ways by different folks but universal amongst all who celebrate is a love of peace and goodwill.
If you only look around you there in reality abounds the celebration of charity, the giving of service, the light of hope, love and compassion.
With that in mind, offer on this day of days this wonderful reminder of all that is good and wonderful about Christmas:
https://mymerrychristmas.com/x/wp-content/uploads/2014/12/Christmas-tree-in-the-snow.jpg
150
150
Jeff Westover
https://mymerrychristmas.com/x/wp-content/uploads/2020/05/logo2-300x88.png
Jeff Westover
2014-12-25 00:05:00
2014-12-31 05:35:38
Merry Christmas