The third Friday in December has come to be known as Ugly Christmas Sweater Day. That day this year falls on December 15th – and of course, My Merry Christmas will celebrate it.
How? By giving you a way to showcase your ugly Christmas sweater.
Yes, we'll have those who will post up their pictures right to the Merry Forums.
But we think a gloriously fun exhibitionist event like Ugly Christmas Sweater Day deserves something more. Stay tuned for those details.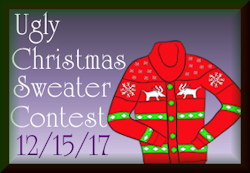 In the meantime, do a little research online into the art of ugly Christmas sweaters. It is a wildly creative event, one you can put a lot of fun into.
We're looking for ways to do this together, to provide prizes, to make an event that is nothing more than an extension of everything else we do for Christmas on MMC.
Ugly Christmas Sweater Day began in 2011 and some mistakenly call it National Ugly Christmas Sweater Day. The truth is that this is now a truly International Christmas observance, one that is driven by social media.
Millennials in particular LOVE Ugly Christmas Sweater Day and why not? What more can the "look-at-me" generation do that is better than this?
An ugly Christmas sweater is a train wreck we want to see. It is never too much, never absurd, never out-of-line and always worth a laugh, a smile or a joke. It is, in short, a great bump in the road that leads to Christmas.
So go out and get your ugly going. Buy a sweater, make a sweater, borrow a sweater — it doesn't matter. Just be prepared to SHOW US YOUR UGLY SWEATER.
Share your ugly with the world here on My Merry Christmas come December 15th.

Father of 7, Grandfather of 7, husband of 1. Freelance writer, Major League baseball geek, aspiring Family Historian.