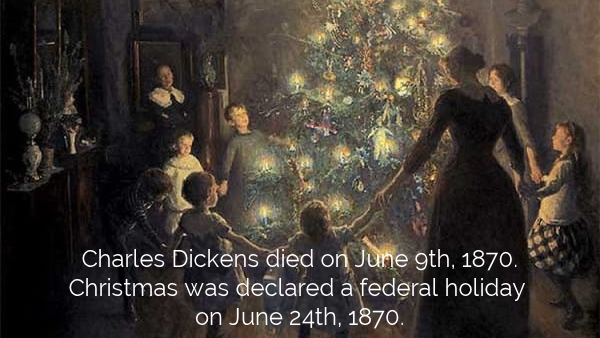 June of 1870 is a month of incredible Christmas history.
It was during this month that the Congress of the United States passed a blandly worded law making Christmas a legal national holiday and it was the time that the world mourned the passing of Charles Dickens.
Christmas in America was an ancient tradition. Contrary to many modern historians and popular culture that tells us Christmas was a secular invention of the middle part of the 19th century, it is a well- documented  fact that Christmas was celebrated in America from the very beginning.
What was the first thing Columbus did when landing near Cuba? He celebrated Christmas with the natives and named his island landing spot "La Navidad".
The French explorers who first sailed up the Hudson, arguably before Columbus, did what when they arrived? They celebrated Christmas.
The pilgrims of Jamestown recognized Christmas. Puritans banned the drunken Christmas but celebrated the sacred Christmas.
The influx of immigrants, those English, Germans, Swedes, Italians, Norwegians and Poles to North America in the 1700s and 1800s all brought their traditions with them, including Christmas trees, Christmas carols, Christmas foods and Christmas decorations.
Christmas was not declared a national holiday in 1870 by the U.S. Congress because it was new. It was declared a holiday because it was already celebrated.
The event came about because of a labor dispute. Federal workers just wanted the day off like their private sector counterparts and until Congress made it a holiday they worked every Christmas.
After 1870, with the day formally recognized, it became an official holiday for everyone – a day that most already celebrated.
That was why you find almost no press or media related information about Christmas from 1870.
The declaration of Christmas as a holiday was not big news to anyone – but federal workers. To everyone else, it already was a holiday and they didn't need the government to say so. So the media hardly covered the news of its declaration.
But the passing of Charles Dickens was a different story altogether.
His death was news of Christmas that got wide spread notice.
Charles Dickens was one of America's first true media superstars. In an age before television and radio Dickens became a household name forever linked to Christmas not only because of his 1843 published work "A Christmas Carol" but also because of his ever-present exploitation of the media every Christmas thereafter.
He was a rockstar.
He would come to America and people would flock to see him. At Christmas time he would perform a reading of A Christmas Carol to rave reviews wherever the event was held. And it was held a lot.
Dickens continued to write Christmas-themed stories that would be published both as short books and in newspapers. He was, for the most part, nearly all Christmas all the time for the final 20 years of his life.
So it is no wonder that we see media tributes like this from the Connecticut Current of 1870:
"We presume that thousands at this season have felt anew the loss of Charles Dickens. He had so identified himself with the spirit of love and charity and good will to men of the day that a Christmas without one of his stories to brighten it seemed to lack some very important thing."
From the New York Tribune it was written:
"This must be a sad Christmas to all English speaking peoples, for we all must feel that the great master of the feast is no longer with us. The merriest chimes will ring a hurried knell to our hearts, on the day he loved. In the blithest Christmas Carol there will be something of the dirge; wherever we worship, our tender thoughts will wander to the solemn old abbey, to the dim poet's corner, where he lies. Let us wreath his picture with holly, and keep his memory green, from Christmas to Christmas."
The Albany Journal said:
"Charles Dickens was preeminently associated with this holiday time. He gave us our best Christmas stories. He illustrated the true Christmas spirit. He depicted the fairest Christmas characters. Christmas lives scarcely less in the influence of Saint Nicholas than in the beauty of Dickens' stories. He has taught its sweet lessons of charity and love with a power and humanity beyond all others. He has impressed himself upon the day, and to the great world of his readers, they must remain inseparably associated. So thoroughly identified had they become that we looked to his regularly expected Christmas story as the event of the season. That pen, possessing undiminished power a year ago, is now dropped forever. But while it lived it created enough to endear it always with the memories of Christmas."
These glowing tributes were not just open mourning for Dickens. They were marking the end of an early American Christmas tradition.
There were far more Christmas contributions from Charles Dickens than A Christmas Carol. They were an annual event – the equivalent of an Andy Williams Christmas television special or a Bob Hope Christmas tour.
Charles Dickens was celebrated at his passing because people knew then that the Christmas they had known is their day would no longer be the same.
That was because Christmas existed long before the U.S. Congress ever said so.

Father of 7, Grandfather of 7, husband of 1. Freelance writer, Major League baseball geek, aspiring Family Historian.