By Tad Archer

This is a submission from our Christmas in July event for guest blogging on My Merry Christmas. Tad chose the topic "The Christmas I Remember Best" as the theme for his blog post.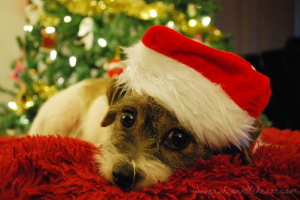 Mutt is a horrible name for a dog. But that was what we first named the scraggly looking thing because that's what he was – a medium sized, wired-haired, brown-eyed, dirty dog. Little did I know that this dog would become the Christmas Mutt.
He had followed us all the way from the school. We were walking home on a lazy summer afternoon was it was just too hot to play. The other guys teased him for how ugly he was and
I'm ashamed to admit I wasn't very nice to him.
A day or two later, on a hot summer morning, I headed to Oscarson's Pond to go fishing and he appeared again out of nowhere and followed me. This was the day I learned how amazing of a dog he was. This was the day I learned that dog could fish.
It was not a good day for fishing and I did not think I'd catch anything. It was later than was best and it was so very hot. But I had my line in the water for only a short time before up came a trout, maybe six or seven inches long. As I started the bring him in the dog got excited, jumped in the water and grabbed the fish in his mouth and brought it to me.
I had never seen anything like that before in my life.
Right there on the spot I named him Neptune, if only because I couldn't think of a better name for a fishing dog.
Neptune and I made a bond that day as we caught three fish together, each moment better than the last.
As I walked home with my string of fish, Neptune following me with a big smile on his face, we passed Grandpa Devon's house.
Grandpa was on his porch and called out to me as Neptune and I marched past. "That has got to be the ugliest dog I have ever seen," Grandpa said.
"Oh yeah?" I answered. "Well, he caught these fish!"
Grandpa started to laugh and called us over – this was a story he had to hear. He gave me a cold soda as I sat down to tell the tale and I admitted to him that Neptune and I were really just new friends, that he wasn't really my dog.
Grandpa smiled and laughed.
"Well," he said, "The first thing you gotta learn about having a dog is that Neptune isn't a boy, she's a girl."
Being nine, if I had known that I never would have allowed Neptune to follow me to Oscarson's Pond.
But now, it did not matter.
Over the course of that summer Neppie proved herself to be the greatest of all dogs.
She could fetch. She would stay right where I told her to stay. She could catch birds and mice, as well as fish. And she was the best right fielder you ever saw.
I kid you not.
We would play six guys to a team because that's all of us we had to play.
One day we were playing and Neppie was dutifully sitting on the sidelines, watching the game and waiting for some way to become involved.
I was at third base when a drive was hit to right field – and we had no one there.
Neppie leaped into action, going after the ball that was hit so far down the line. From where I was I called to her and she found a new gear, retrieving the ball and running it in to me. She reach me before the runner got to third and dropped the ball at my feet in time for me to scoop it up and tag the runner out.
Of course, an argument ensued.
But right then and there I put Neppie out in right field and called her legitimate. She couldn't do anything with a fly ball but she always made the guys think about taking extra bases because she was that fast and knew what to do.
Keeping Neppie was a little problematic.
We lived in a tiny house with just two bedrooms. Our yard had no fence and our one car garage had a car in it. There was simply no room for Neppie.
In the summer that hardly mattered. At night as I was called in by my mother Neppie would come home with me and duck in underneath our back porch – her little spot in the world.
Mother could see how much of a pair we were becoming and all summer long she warned me that come winter Neppie would have no place to go.
But when summer ended and the cool winds of autumn changed to the snows of winter Neppie stayed there under the porch to my amazement. We got her some old blankets and once during a snowstorm my mother let me bring her inside the kitchen.
Somehow we got through that winter with Neppie living with us.
No matter where I went Neppie went with me. I learned quickly she was a year round buddy, not just a pal of summer. When we went sledding she came along and over time I was able to teach her to ride a metal garbage can lid down Bunker's Slide, which is where we did our most serious sledding.
If she was big enough, I tell you I could have had Neppie riding a bike. I'm convinced she thought she was one of us and not a dog.
Back in those days a little town like ours would not have a Christmas tree lot. We would have to drive a long way or head into the local hills to find a tree to bring home for Christmas. Such an excursion was made for Neppie.
My Dad sawed down the tree after something of a hike in the cold to find it. But once it was done he tied a rope to two sides of the tree and we dragged it home, him on one side and me on the other. I choked up on the rope and Neppie was at my side, taking up the slack.
My father started to laugh. "That's one great dog," he observed – finally! After months of complaining about Neppie's appearance and presence.
Slowly Neppie became a part of the family. And always she did amazing things. She brought in firewood – a piece at a time. She guarded my little cousin Gerty, who was about 18 months old. And in the mornings, even in the deep snow, she would fetch the morning paper for my Dad.
By the time summer rolled around again Neppie was a fixture in our home and a legend in our neighborhood. Every time I went fishing I had someone come with me because they wanted to see Neppie fish. She never failed to show them what she could do.
But at the end of another glorious summer my father brought devastating news – we were moving and Neppie could not come.
Our family was going from small town to uptown, from house to apartment. Our new world would be no place for Neppie and I had until about Christmas time to figure out what to do with her.
My first thought was that Neppie would just go live with one of the other guys. But nobody's parents would allow it. Either they already had a dog or the thought of a scraggly looking mutt like Neppie was too much for them.
As moving day approached I was sadly told by my father by the light of our tree that the time had come – it was time to "do something" with Neppie.
I thought at first he was suggesting that we put her down.
It turned my brave little boy heart to anger just to think about that. But Dad calmed me down and explained that he could never suggest that for Neppie. But he had a better idea, he said.
He told me to introduce Neppie to Mrs. Cranston, a feeble old lady who lived down on the corner.
I was immediately opposed to the idea.
"She's a boy's dog," I argued. "Neppie will hate living there. Mrs. Cranston would probably bore her to death".
But with just a couple of days to go my mother took me over there – with Neppie – to talk about adoption.
I was quite surprised that Mrs. Cranston saw things my way. She had seen Neppie running around with us during the summer and she too was afraid Neppie would be unhappy after spending her days in the company with the kids in the neighborhood.
But Mom talked about all that Neppie could do and what a fine companion she would make for Mrs. Cranston. Mrs. Cranston reluctantly agreed to give it a try, although Neppie would have to have a haircut and a bath because Mrs. Cranston didn't want her to be an outside dog any longer.
A few days later we said goodbye and heartbreak was all I felt.
But Neppie seemed to understand. I told her I was sorry but she just wagged her tail – and stayed.
We moved to a new neighborhood and a new life. I found that while I missed our old life there were things in my new world to capture my attention. I did not forget Neppie and I did miss her terribly but the new life was nowhere near as bad as I feared.
Winter gave way to spring and spring turned into summer. I was active in organized baseball, a swim team and by now I had my own paper route.
Mrs. Cranston seemed to know how attached I was to Neppie. Within a week of our move we received a Christmas card from her with a picture of Neppie looking quite different as an indoor dog with a haircut. But darn if she didn't look like she was smiling in that picture next to Mrs. Cranston's Christmas tree.
Several months later Mrs. Cranston sent a letter with another picture – this time Neppie was shown in the front seat of her car, her front paws on the dash and a look of pure adventure on her face.
I had to admit. Mrs. Cranston was a good fit for Neppie and they seemed to have become devoted friends.
But we did not hear from Mrs. Cranston after that and several months later my mother heard from a friend that Mrs. Cranston had had a stroke.
On a trip back to the old neighborhood near Christmas time we visited and it was a sad situation indeed. Mrs. Cranston's stroke was a devastating event, and she lived now with an adult daughter who had come to care for her.
Neppie was there and she barely recognized me.
She was nice to me but she had become Mrs. Cranston's dog and would hardly leave her side.
"I'm allergic to pets," Mrs. Cranston's daughter, Fran, told us. "But Mama wouldn't let me get rid of her. And she is amazing, too. That dog can do anything."
Fran commanded Neppie to turn on the Christmas tree lights. Neppie jumped up, went across the room and put a paw on the switch. Everyone was amazed but no one was surprised.
From her bed, Mrs. Cranston would command Neppie.
She could not move one whole side of her body and her voice was weak and her words were slurred. But Neppie understood and did everything.
I left that house feeling that everything was different.
Neppie was no longer a playmate. She was a nurse. And she was perfect for the part.
Of course, I could not be upset by that. She was living a good and useful life.
After the first of the year, during a cold wintry day, we learned that Mrs. Cranston had died. My first thoughts and concerns were about Neppie. What had become of her?
Fran started to weep over the phone as I listened in on the extension.
"That damn dog," Fran said between tears.
She told how as Mrs. Cranston became weaker how Neppie would climb up in the bed with her and lick her face to wake her up. When Mrs. Cranston couldn't talk any more it was as if Neppie could read her mind.
She pulled the covers up. She barked at the mailman. She was ever present and dutiful.
Fran said she could get Neppie to go outside to go to the bathroom but she would always rush back inside to Mrs. Cranston's side. Near the end Neppie would never leave and she took a protective stance against strangers who would enter the house.
First a doctor came and then a nurse and both tried to get Neppie removed, thinking she was "in the way". But Neppie did not even need Fran to defend her presence as Mrs. Cranston would somehow find a way to communicate that the dog was going nowhere.
"That dog was everything to her," Fran said. "And now she is everything to me." Neppie had been adopted yet again.
A year before Neppie had been a Christmas gift from a little boy to an old lady. And now she was a Christmas gift from a mother to a daughter. A true devoted friend.
What better Christmas gift can there be than that?

Father of 7, Grandfather of 7, husband of 1. Freelance writer, Major League baseball geek, aspiring Family Historian.