Pocketful of Miracles is a 1961 Frank Capra movie that is full of Christmas. Like Capra's other Christmas movie, It's a Wonderful Life, Pocketful of Miracles is not exactly a Christmas movie but one that enjoys cult status at Christmas time.
The movie, after all, has Christmas music, Christmas trees and plenty of Christmas sentiment – just like It's a Wonderful Life.
The movie is actually a remake – Capra remaking Capra. The first time around was in 1933 and titled Lady for a Day. Both screenplays were adapted from a 1929 Damon Runyon short story titled Madame La Gimp.
The story revolves around two contrasting characters – Dave the Dude, a kind-hearted New York gangster and Apple Annie, a street peddler who sells apples and rides rough-shod over a group of compassionate panhandlers on Broadway.
Dave the Dude needs Apple Annie because he is superstitious – her apples bring him good luck. He needs a lot of luck because he's about to tie his New York operation into a nationwide crime syndicate, run by a man named Darcey.
Just as he reaches out to Annie on the night of his big meeting with Darcey Annie gets enveloped in crisis.
Long ago in her past, this raggedly old lady had a child and sent her off to school in Europe. The girl grew up thinking her mother was a New York socialite. Now she was coming back to New York, the betrothed fiancé of a Spanish heir.
In order for Dave the Dude's problem to be solved Apple Annie's problem needs to be solved. In frantic Capra-esque style, this story moves quickly, features fast dialogue and familiar faces.
Dave the Dude is played by Glenn Ford, who was not the first choice for the role. But, since he helped Capra finance the film, the role fell to him. Bette Davis plays Apple Annie, a role that came along well beyond the prime film years of her career.
There are several notable character actors that make this film, especially Peter Falk in an Academy Award nominated role as Joy Boy, Dave the Dude's right hand man who seems to get all the film's best lines.
The film has several familiar faces. Thomas Mitchell, who famously played Uncle Billy in It's a Wonderful Life, gives his final screen role as Apple Annie's fake husband.
A fresh-faced Ann Margaret, in her motion picture debut, plays Apple Annie's daughter.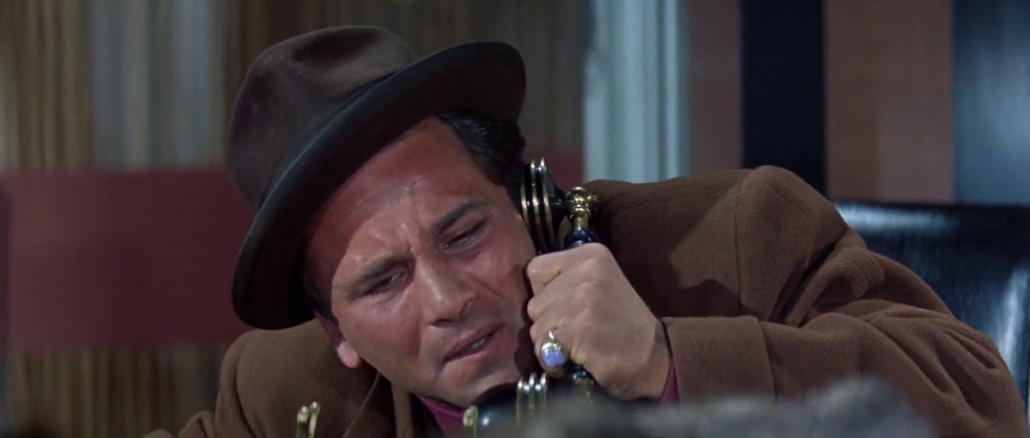 Sheldon Leonard, a legendary actor who also played the role of the bartender Nick in It's a Wonderful Life plays the mob boss Steve Darcey in this film.
Jerome Cowan, famous as the prosecuting attorney in Miracle on 34th Street, plays the Mayor of New York City in this film.
Ellen Corby and the wonderful Jack Elam also have small parts in this film.
It is odd to see a Capra film in color. The dialogue, pacing and sentimentality of the film screams of Capra's style. It is as times frantic, a little over-the-top in its dramatic moments, and the comedy ranges from laugh-out-loud to groaning eye-rolls.
But the movie is well meaning and its outcome is never in doubt as the many flawed characters band together in helping Annie convince her daughter that she is "somebody". The movie proves that gangsters, panhandlers, bums and frauds can have a heart and pull together in a common cause.
In all Pocketful of Miracles provides a welcome escape from the world and another view on Christmas through the lens of Frank Capra.

Father of 7, Grandfather of 7, husband of 1. Freelance writer, Major League baseball geek, aspiring Family Historian.