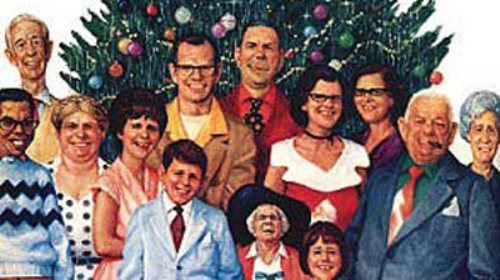 Nothing cools a summer heat wave better than a Christmas movie in July. And no movie is seemingly most appropriate for early season viewing than Christmas Vacation — that John Hughes classic from 1989 that never seems to age.
The great thing about Christmas Vacation is that it is based on an even older Christmas. Hughes scripted the movie based on a short story he wrote titled Christmas '59. Tech Times has a reprint of the original article as it appeared in National Lampoon magazine in 1980. It's a cool read.
As far as Christmas movies go Christmas Vacation breaks a lot of rules. It's about Christmas but the characters never actually make it to Christmas in the story. There is no Santa Claus, Griswold as a character redeems himself with his golden heart but he's superbly human (and outrageously funny). And the dysfunction of the Griswold clan is closer to real life than we ever saw from the likes of the Bailey's of It's a Wonderful Life.
What makes Christmas Vacation a classic is that it was all original and it didn't take too much seriously. But part of the winning formula was also due to these lost or unknown details:
1. The cast of Christmas Vacation never rehearsed. Yes, there was a script. But Chevy Chase was something of a wildcard. He was Clark to the core but much of it came from Chevy just being Chevy.
2. Cousin Eddie is no stretch from reality. Randy Quaid based the character off of someone he knew. And based on what we know of Randy Quaid these days maybe he really does have a metal plate in his head….
3. It was almost as if Hughes knew he had a classic on his hands. The tie-ins to It's a Wonderful Life were plentiful. The most obvious is when Clark takes the chain saw to the newel post but Rusty is caught watching the movie on TV and Frank Capra III — grandson of the famous director of the classic film — was an assistant director.
4. The scene where the cat gets electrocuted almost didn't make the movie. Studio executives were nervous that animal rights folks would be upset. And these days they probably would (and are). But the scene is consistently surveyed as one of the funniest moments of the movie.
5. The squirrel used in the movie was completely real — but untrained. You could have fooled me.
6. Clark's epic meltdown is likely the most replayed clip of the movie. But Chase couldn't get through it without a lot of reminders. He had back stage crews holding up queue cards with insults on them all over the set out of camera range so he had plenty of material to choose from. Word is he used them all.
https://mymerrychristmas.com/x/wp-content/uploads/2015/07/national-lampoons-christmas-vacation-3.jpg
280
500
Jeff Westover
https://mymerrychristmas.com/x/wp-content/uploads/2020/05/logo2-300x88.png
Jeff Westover
2015-07-31 07:22:57
2015-07-31 07:24:18
Stuff You Did Not Know About Christmas Vacation