The Black Friday mania is starting to ramp up as evidenced in this Sunday's newspapers coast-to-coast. Supposedly Christmas shoppers are cheering the blockbuster deals already.
But no doubt you have seen percolating on social media the inevitable memes showing which retailers will "honor employees and their families" while staying closed on Thanksgiving day or evening. One looks like this: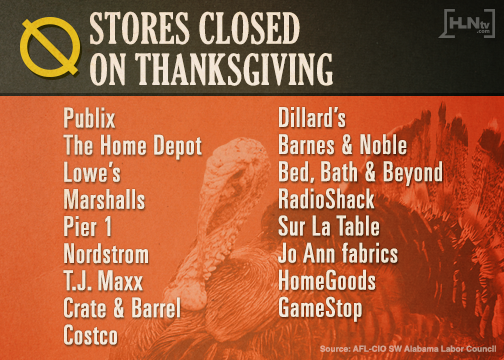 Retailers are falling all over each other to stake a claim by issuing high minded press releases that tout either not doing business or by offering deals so beneficial for families that they will want to shop on Thanksgiving.
Do not buy into any of it. There are no heroes.
Listed below are stores so far that we know will be opened or closed on Thanksgiving. But EVERY single one of these retailers has a website and those sites never close. And ALL of them will be beating each others' brains out starting Thanksgiving morning to bring in the dollars from shoppers. NOBODY is truly closed on Thanksgiving. No, not Costco. Not the snooty Nordstrom. Even outdoor retailer REI, who last week stole headlines by claiming to closed both Thursday AND Friday of Thanksgiving week "so that employees and their families can enjoy the great outdoors" (yeah, can you believe the bluster?), will stay open online and take your cash.
Who is to blame?
Amazon. That's the truth, kids. All this started more than a decade ago as Amazon year after year put pressure on Black Friday. This year their sales online will dwarf that of most retailers, including Walmart. And all of this hoopla is to compete with the King of Christmas, Amazon.com.
If you are really upset about this don't shop at all on Thanksgiving or Black Friday. If you don't buy, maybe one day they will return the sacred family time of Thanksgiving.
But don't bet on it. They are betting you can be swayed. After all, in 2014 massive online campaigns were launched to shame retailers and hundreds of thousands of people signed online petitions to curb retailer activity on Thanksgiving. But nothing worked. Shoppers showed up in droves and Amazon still won the day.
Here is the list of who is opened and who is not. We said avoid them all:
Stores Opening Thanksgiving Day/Evening
Sears
Macy's
Rite Aid
Burkes
Reeds
Walmart
Best Buy
ToysRUs
Target
Kmart
JCPenney
Kohls
Office Max
Walgreens
Office Depot
Lowes
Dollar General
Shoe Carnival
Sports Authority
PetSmart
Modells
Gander Mountain
Family Dollar
Sears Outlet
Shopko
Dick's
Beall's
Peebles
Goodys
Belk
BonTon
Stores Closed on Thanksgiving Day
Costco
GameStop
Half Price Books
Harbor Freigh
REI
Sam's Club
TJ Maxx
Staples