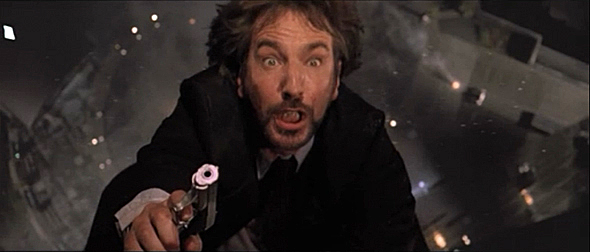 Die Hard is an aptly named movie. It just won't go away – and it shouldn't.
For years we have consistently polled it as a Christmas movie. That means we ask YOU, our readers and it ranks with other movies as a Christmas classic – unsolicited.
It is again in the news as Amazon has released a behind the scenes book about Die Hard that some say settles the "Is it a Christmas movie?" question at last.
In a nutshell they say, NO, and if you think Die Hard is a Christmas movie you're a whackjob.
Their logic is flawed, of course.
They say that since Christmas isn't intrinsic to the storyline of the movie it's not a Christmas movie.
Well, hold on, bucko.
If that is what makes a Christmas movie we can delete a lot of Christmas movies from the list then, starting with the #1, Queen Mother of all Christmas movies, It's a Wonderful Life.
Or The Bishop's Wife. Or Home Alone. Or even Elf, for that matter.
You want to go there, pal? I didn't think so.
Here's why Die Hard is a Christmas movie: because we say so.
It gives us that Christmas glow. It makes us think of Christmas. It give us good cheer and makes us want to give, baby.
Besides, what's NOT Christmasy about John McClane?
When he says "Just once, I'd like a regular, normal Christmas. Eggnog, a f***in' Christmas tree, a little turkey. But, no! I gotta crawl around in this mother***in' tin can!" – you know who he sounds like? He sounds just like George Bailey.
Think about it.
And Hans Gruber, the greatest villain this side of Heat Miser? When he says "Now I have a machine gun. Ho ho ho." we just get all gushy inside.
So get off it.
Die Hard is a Christmas movie and it's a great Christmas movie.
And it is the best of the best kind of Christmas movie – you can play it year round and nobody looks at you cross-eyed because of it.

Father of 7, Grandfather of 7, husband of 1. Freelance writer, Major League baseball geek, aspiring Family Historian.