The celebration of Leon Day is a real thing. Every June 24-25th Leon Day comes around to remind that the year, at last, has turned the corner on Christmas. It's the halfway mark to Christmas, a kind of merry hump day for those who love the countdown to Christmas.
Don't laugh. Counting down to Christmas is not only a popular thing it's an ancient thing. Ask any advent calendar follower. There are many days and reasons to countdown to the season.
But how do you do it? What possibly could be done to mark this very merry un-birthday? Here are some of the best Leon Day tips we have found:
~ Go Big and Go Backwards ~
Leon is "noel" spelled backwards. So it makes sense to have a backwards day of Christmas on Leon Day, just as they do at the North Pole.
How do you do that? Talk backwards, dress backwards, eat backwards. None of that costs money, which is a kind of backwards way of celebrating Christmas, eh?
But it extends to other Christmasy type stuff. You could have cold cocoa instead of hot cocoa, for instance.
Give yourself some time to contemplate the backwards Christmas. It sounds silly but also kinda fun.
~ Gather Round the Tree ~
Nothing says Christmas like a Christmas tree. In this age of the everlasting artificial tree how hard it is to pull it out of the basement and put it up?
Hang the lights, hang the decorations and let it stay up all through Christmas in July.
Not only will it drive the neighbors nuts it will as well add a festive element to the other things you do to celebrate Leon Day.
~ Christmas from Down Under ~
We Northerners tend to forget that half the world celebrates Christmas with sun, sand and surf every December. It's winter for them now…so why not celebrate Christmas like they do?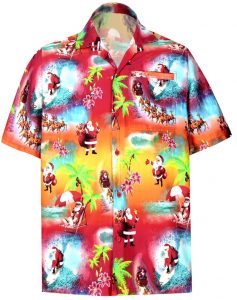 Have a Christmas barbeque, dress in festive Christmas beach wear, put your eggnog on ice. (Yes, they really do that!)
For some Christmas isn't Christmas without Frosty, White Christmas and roasting chestnuts.
We're not knocking the cold Christmas….but give the summer Christmas a try.
~ Sign the Petition! ~
Leon Day is a safe, sane holiday. Why not make an effort to spread the cheer and turn people on to the idea of a Happy Hump Day. There's a petition to get it going as a national holiday.
After all, what else is there to celebrate between Flag Day and the 4th?
We need Leon Day on more calendars.
~ Do Some Christmas Bargain Shopping ~
Christmas in July, let's face it, is all about buying stuff. And when it comes to Christmas itself, June and July is THE time to snag Christmas bargains.
Retailers love to drag out Christmas trees, lights, decorations, fashions and even food stuff left over from the season before and clear it out before the new stuff comes in.
But that's not all for savvy shoppers. Amazon's 2nd biggest selling day of the year behind their Christmas-themed Black Friday sales is their annual Amazon Day sale in July.
By the time Leon Day arrives you might actually know when the big July sales event it. The weekend of Leon Day is the best time to browse and plan. Who knows? You might actually get a lot of your Christmas taken care of.
~ The Summer Christmas Film Fest ~
One of the biggest complaints we hear each season is the lack of time people have to get everything in they love to traditionally do every Christmas.
Movies are one of the biggest things people miss.
Even though they've seen It's A Wonderful Life, Elf, The Santa Claus, Home Alone, Christmas Vacation, The Muppet Christmas Carol, The Bishop's Wife or the Grinch a million times before it just doesn't seem like Christmas to some folks until they've seen them all again.
Summer and specifically Leon Day is the time to get your Christmas film watching started.
It is a time honored tradition for hard core Christmas celebrants to darken the house, light up the tree and put on the festive flicks during the hottest days of the year. Leon Day is when that all begins.
Your Leon Day celebrations do not require a lot of planning and they certainly don't have to cost money. But dragging out all the holiday stuff you already have and doing a little Christmas celebrating halfway there is a unique way to put a little fun in your summer – and to put a little more Christmas spirit in your life.
Looking for more on Leon Day? Take a listen to the Merry Podcast!

Long-time Christmas freak, first time expert. B. Francis Morlan has written for MyMerryChristmas.com since 2013. He lives in Beaumont, Texas with his ...