Stress at Christmas is a fact of life. In fact, it could be called a time-honored tradition.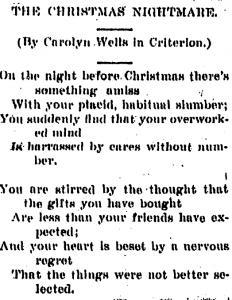 In our ongoing exploration of Christmas past we stumbled upon this poem, titled The Christmas Nightmare, written by Carolyn Wells and published in newspapers for Christmas 1900.
It could have been written today:
On the night before Christmas there's something amiss
With your placid, habitual slumber;
You suddenly find that your overworked mind
Is harassed by cares without number.
You are stirred by the thought that the gifts you have bought
Are less than your friends have expected;
And your heart is beset by a nervous regret
That the things were not better selected.
You cannot lie quiet, your brain's in a riot,
And fears for the dinner oppress you;
The goose may be tough or the cook in a huff,
Or the children's behavior distress you.
You can't get your breath, you're worried to death
Lest the weather may turn out unpleasant
Your eyes ache and burn as you toss and you turn
And think over every one's present.
That Dresden affair, expensive and rare,
Is really quite wasted on Dora;
And you're tempted to wish you had given the dish
To Alice or Ethel or Flora.
Dick never will look in that beautiful book,
So you think you're transfer it to Maisie;
Then you'll have to give Dick that ebony stick –
But by this time you're just about crazy.
As you tumble and roll, a feat thrills your soul
Lest some one left out should feel slighted.
Though you doubt if you're able to seat round the table
The guest you've already invited.
The cream may fall short – there's only a quart —
And some one may keep dinner waiting;
Then the soup will get cold, and Edward will scold,
And give the late guests a berating.
You flounder and sigh – you're ready to cry –
Coy sleep won't allow you to win her;
Oh, the night before Christmas holds nothing of bliss,
If you'd asked your relations to dinner.
By 1900 Christmas was more than a well-established tradition. Nearly everything we still associate with the season was a thing: trees in homes, Christmas cards, community performances of A Christmas Carol, and even Christmas lights.
Christmas from the very beginning in America was a family affair. Gatherings, meals and gift exchanges all happened as a matter of tradition.
That more or less means that stress for women has long been a thing. In fact, it may have been a bigger thing 100 years ago because families were so much larger.
For Carolyn Wells, who wrote the poem, it could have been a reflection of her own busy family experience.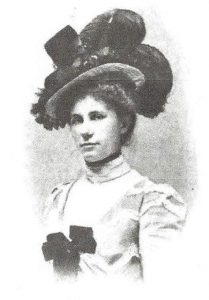 Born in 1862 and deaf from the age of six, Carolyn was still living with her parents in 1900. She was, however, the very model of the modern woman.
After completing finishing school she went to work as a librarian, where her voracious appetite for books led her to a legendary literary career.
From 1896 until her death in 1942 she wrote more than 170 books that covered several genres: children's books, mysteries and detective stories, anthologies and many humorous writings.
Poetry, as well, was a passion and her poems were frequently published in newspapers, which is where we found The Christmas Nightmare. (Carolyn Wells has another Christmas work of some fame known as The Christmas Alphabet.)
Wells grew up with a prolific Yankee heritage. Both her father and mother came from large families based in the New York City area, which was instrumental in the evolution of Christmas celebration in the United States in the 18th century.
The Christmas season was officially established in this general region by opening with Thanksgiving and closing with Epiphany on January 6th. The cultural melting pot so frequently noted in the New York area fueled the 19th century traditions of Christmas – including Christmas stress.
Being a commercial center New York was a hotbed for Christmas commerce. Everything new associated with Christmas flowed through their harbors and into American homes.
It is a common misconception that Christmas in America was not widely celebrated in the early 19th century. Nothing could be further from the truth.
While it was celebrated differently from region to region that does not mean it wasn't celebrated at all. The common thread among all Christmas celebrants could be boiled down to one term: stress.
The commonalities associated with stress were the same then as they are now: family gatherings, social expectations, and celebrations spread between the home, church and community taxed time, resources and nerves.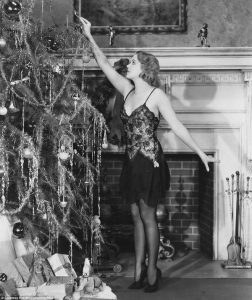 Surviving newspaper clips, photos and journals all show how the evolution of Christmas added to stress from the season at that time. This image from 1910 shows a woman in early-flapper style at a Christmas tree. It is hard to say which is more scandalous – the way she is dressed or the fact that she is lighting a candle on a tree.
From Pennsylvania in 1827 a newspaper called the Saturday Pennsylvania Gazette described Christmas there: "We like a holiday, and so does every care-worn, labour-stricken animal in the community, and the preparation, preliminaries, and anticipations of a pleasure are frequently quite as agreeable as the reality. Of all the religious festivities, none are so religiously observed and kept in the interior of our state, especially in the German districts, as Christmas. It is the Thanksgiving day of New England. Every one that can so time it, 'kills' before the holidays, and a general sweep is made among pigs and poultry, cakes and mince pies. Christmas Eve too, is an important era, especially to the young urchins, and has its appropriate ceremonies, of which hanging up the stockings is not the least momentous. 'Bellschniggle,' 'Christkindle' or 'St. Nicholas,' punctually perform their rounds, and bestow rewards and punishments as occasion may require."
In a delightful feature from 1893 a New York newspaper asked "old timers" to describe their first Christmas memories, many of which dated back to the 1830s. Said one man:
"My first recollections of Christmas festivities are connected with a large room in a lonely house, set among the hills of Cherokee, Georgia. Walls hung with mistletoe from the chestnut trees and festooned with wild vines, a roaring fire of pine knots in a vast black cavern of a fireplace, a table loaded with the dishes of an old time dinner. There was a turkey to carve and a pig to destroy, both hot from the oven, and there was a bewildering show of vegetables.
I knew how to be hungry and how to enjoy eating in those days, and I am no duffer at the board even now. We were nine in the family, a jolly circle, and we went in for a good time in a wholesome way. We would sing songs and laugh loudly with fear of disturbing our neighbors on the other side of the Cherokee hills. Our first house there was a log one, with immense rooms. The rafters overhead were smoked black but the floor was white and the furniture comfortable. We could lay logs six feet long on the study firedogs of the hearths.
Our climate was pleasant most of the winter , and lived a great part of the time out of doors: but on Christmas, it seems to me, we stayed in and ate dinner all day, or rather, all night, for a caravan of people from the little town six miles off came to join us at our evening meal, and we made it a matter of almost in-numberable courses. It was high revelry without a drop of wine, but the men smoked like tar kilns and told excruciating stories. What I best remember of the women is that they were all, it seems to me, very beautiful, and every one was dressed in stuff that still rustles in my ears."
If this is indicative of what Christmas was like – and many other stories we have gathered from that time share these elements —  it had to be a stressful event to plan for and to execute.

Father of 7, Grandfather of 7, husband of 1. Freelance writer, Major League baseball geek, aspiring Family Historian.