User name:
GWarren
Christmas Review Type
-- Christmas Book
What is it called?
-- 12 Deaths of Christmas: A Holiday Horror Anthology
Please provide a link, if available
--
https://www.amazon.ca/12-Deaths-Christmas-Paul-Sating-ebook/dp/B07GT6VS9N
Photo Upload
--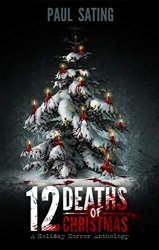 How did you acquire it?
-- I bought it
Where did you purchase it?
-- Amazon or other online retailer
How much did you pay for it?
-- 13.99 CDN
In your own words please explain your experience, what you liked, what you didn't, etc.
-- Slay bells ring.
Not to be confused with the 2017 movie, this collection of twelve gruesome holiday stories are guaranteed to keep you up at night. Paul Sating is the author of twelve holiday themed stories in this Christmas anthology and his story telling is on par with some of the best. Not one of the stories is boring, cliche or lackluster.
Paul came up with the stories while playing a caroling game with his family. Each one had to come up with an alternative title for a popular carol and Paul realized that each one could turn into a dark, twisted tale.
While this may not be the first book to come to mind for the holidays, it is definitely one to choose for someone who likes their stories a little darker. This is the perfect gift for the reader who is tired of the popular horror writers and is looking for something fresh and new.
A note. These stories are not for children. There is strong language, adult themes, and many, many gore-filled scenes. That being said, I thoroughly enjoyed each and every story. My recommendation comes with a knowledge that the buyer knows the recipient well enough so he/she appreciates the genre.
Was it worth the money?
-- Yes
Please give a rating
--
4 Stars - Very Good
Would you recommend this to other Christmas enthusiasts?
-- Yes
Any advice or suggestions you would give to the maker, artist or producer?
--